The Mrs. Jacket: Our Bridal Denim Jacket Collection
At Revelle, we are always trying to find new, fun pieces that we can bring out for our clients to help them style their wedding day look, and one of our favourite ways to do this is with our Mrs. Jackets!
Our Mrs. Jacket collection consists of five denim jackets, each in different washes, some decorated with embroidery and some with hand-painted calligraphy, that can be worn with any of our gowns to enhance your wedding day look.
These beautiful jackets are available to rent or purchase, so you can borrow it for the weekend or buy one custom to keep with you forever!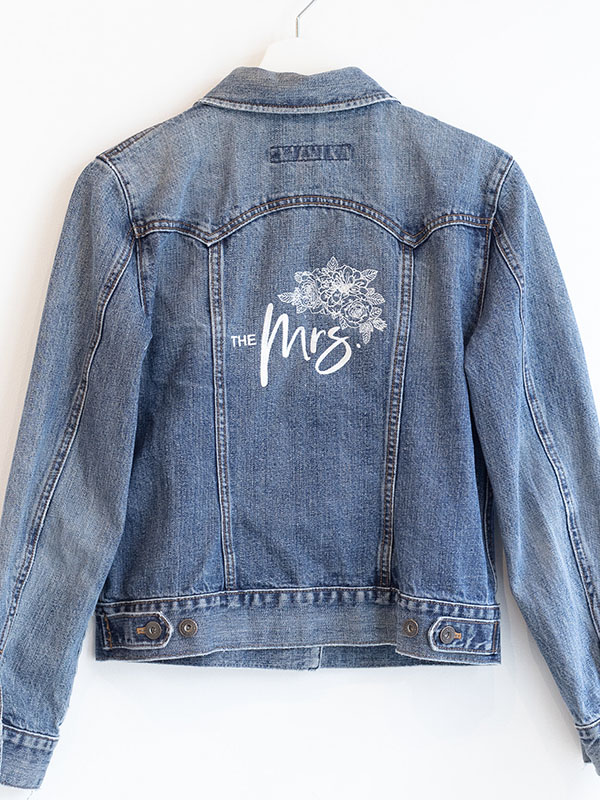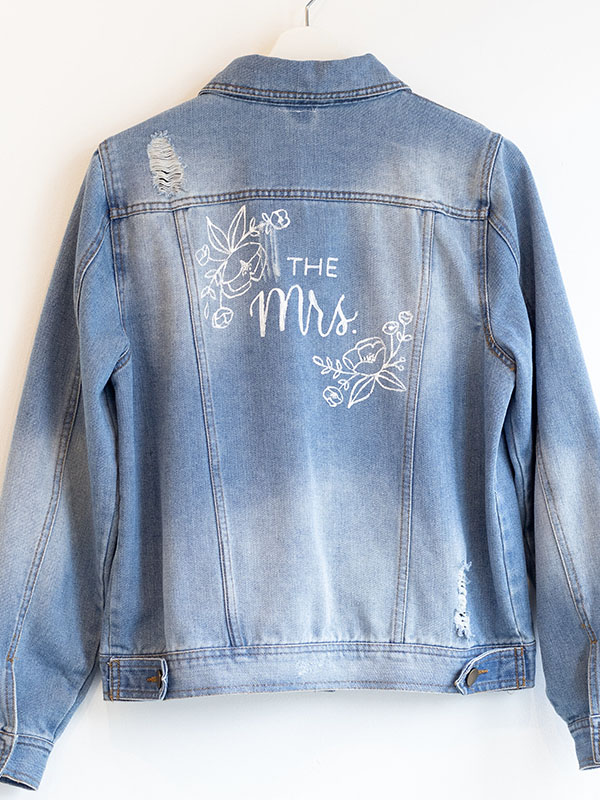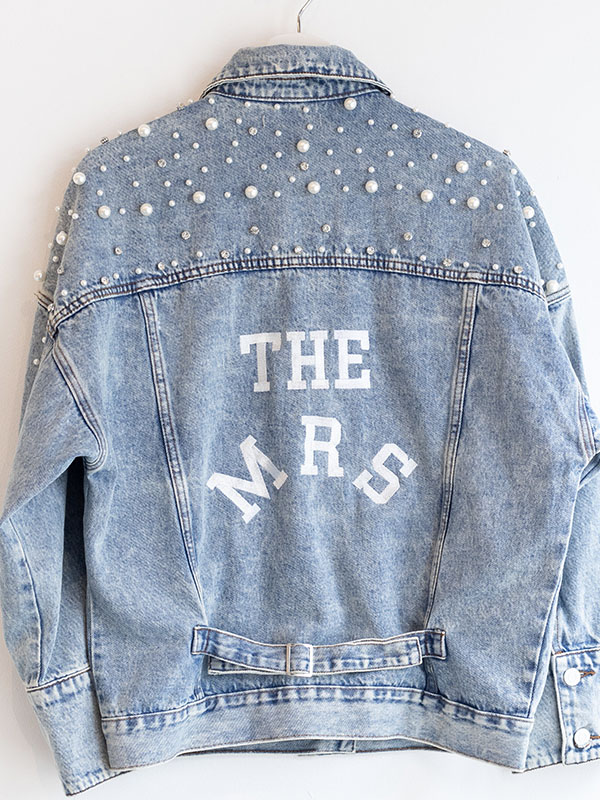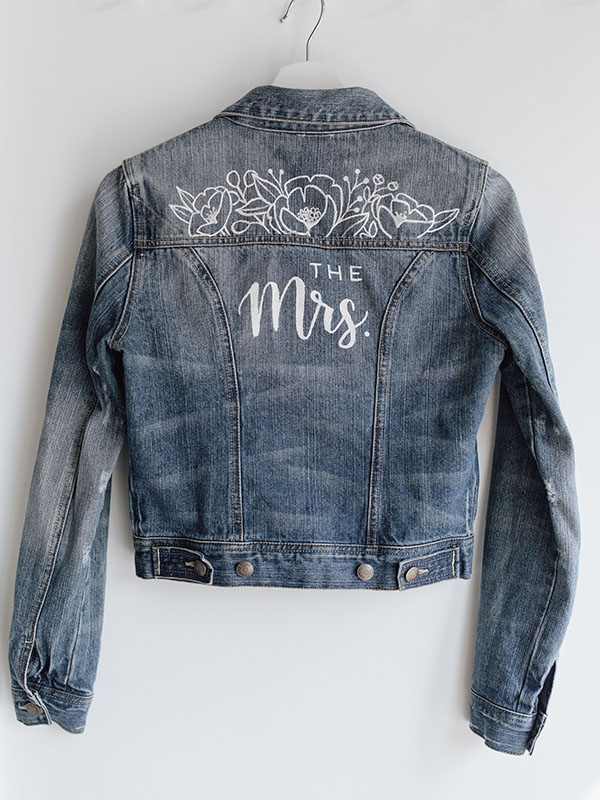 You can rent the Mrs. Jacket from us to make it your "Something Borrowed" and we absolutely love getting to be such a special part of your day! The Mrs. Jacket not only adds a pop of colour to your photos, but it's also a modern and fun way to stay true to the tradition of incorporating blue into your wedding day look.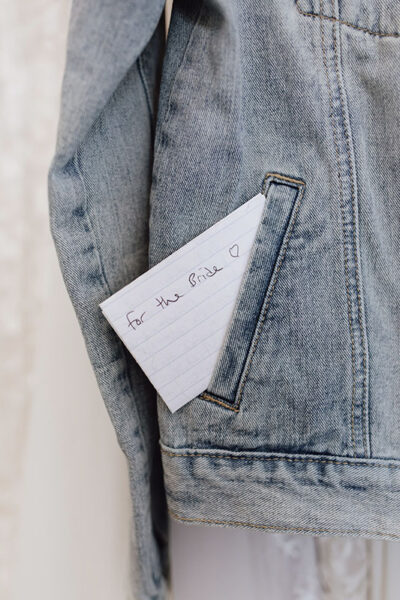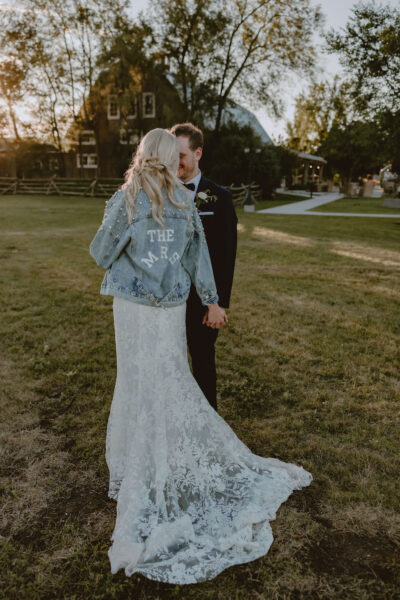 What to Expect When Renting a Mrs. Jacket
When you rent the jacket from us, you will pick it up the Thursday before your wedding and drop it off the Wednesday after.
The jacket will come in a cute little tote bag, complete with instructions for caring for the jacket, a special note from us, giving you our best wishes for your special day, as well as a note from a previous bride in the jacket pocket, which adds such a sweet sentimental touch. We love getting to see the kind and special thoughts our clients share with each other!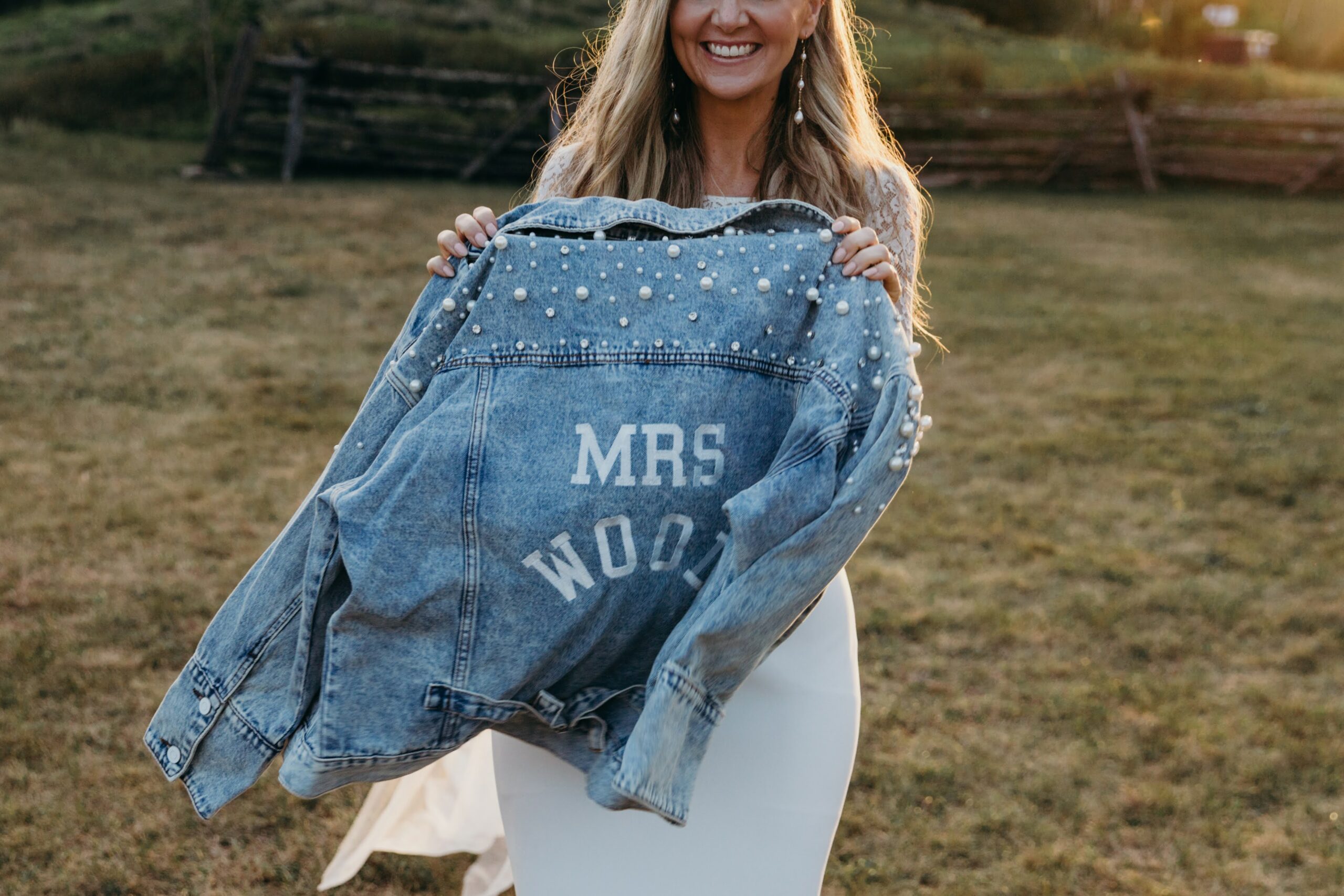 Or Purchase a Custom Jacket for Keeping!
As previously mentioned, each of the Mrs. Jackets can be rented out through themrsjacket.com, but you can also purchase one of these jackets and customize it! You can purchase it through the same website and indicate how you would like the jacket to be designed. You can choose from embroidered or hand-painted writing, and you can add your last name, your fiance's last name, your wedding date, your wedding hashtag, or anything else that you think would be the perfect touch! We love this idea because you can continue to wear the Mrs. Jacket even after your wedding, for example, you could wear it every anniversary paired with a cute date night outfit!
Styling Each Mrs. Jacket
To help you envision how you might style one of our fabulous Mrs. Jackets, we are going to walk you through each jacket available to rent and what style of gown we picture it suiting best!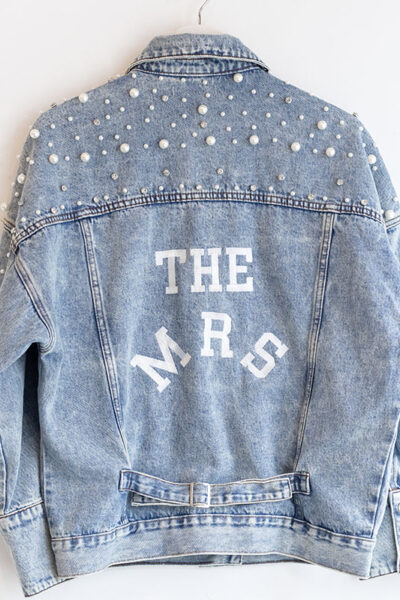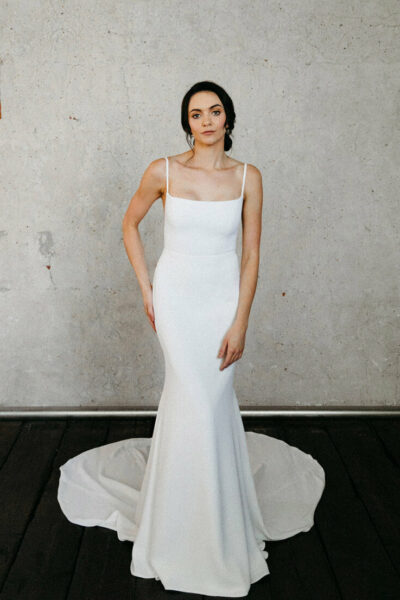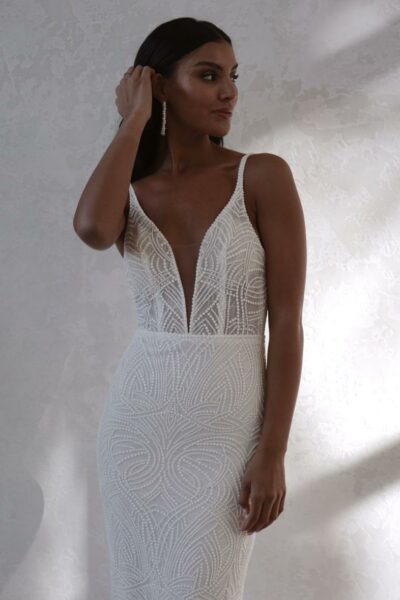 The Grace Jacket
First up is our Grace Jacket, an oversized, light wash denim jacket with pearl and rhinestone embellishments covering the shoulders and varsity lettering to spell out "The Mrs." on the back. 
This jacket is so fun to style and looks awesome in photos. We think it is the perfect jacket to add a little bit of detail to a simple gown, like Natalie by Alyssa Krisin, as well as the perfect compliment to a dotted lace gown like Scottie V2 by Made With Love
The Em Jacket
Second is our Em Jacket, a fitted, dark wash denim jacket with our original Mrs. Jacket logo in gorgeous embroidery on the back.
The Em Jacket looks super cute when paired with a fuller skirted gown, as the jacket itself is a shorter and more fitted style. We would pair the Em Jacket with Huxley Flowy by Made With Love or Calista (Version 2) by Truvelle.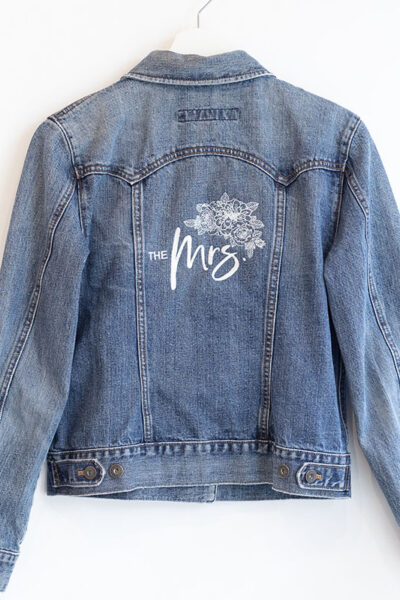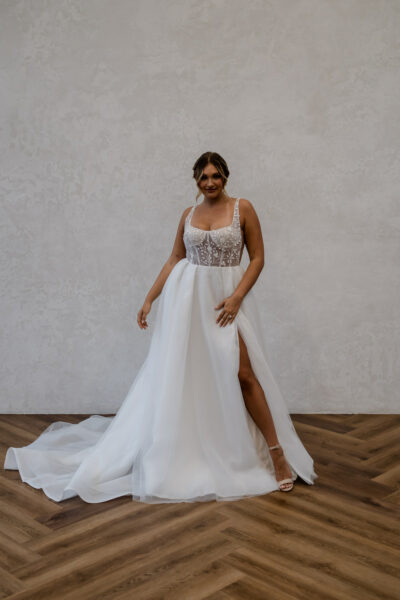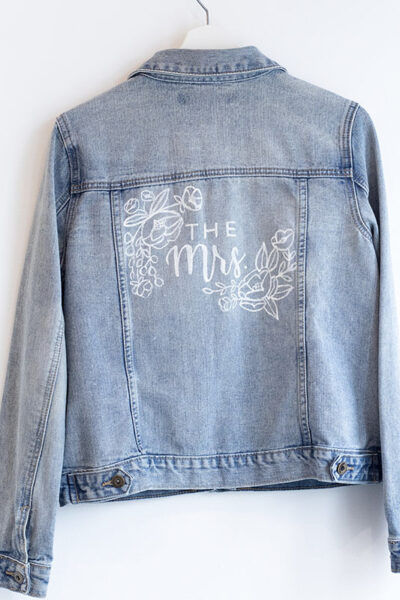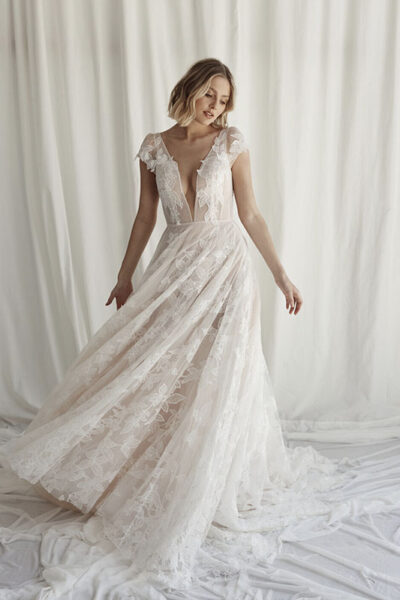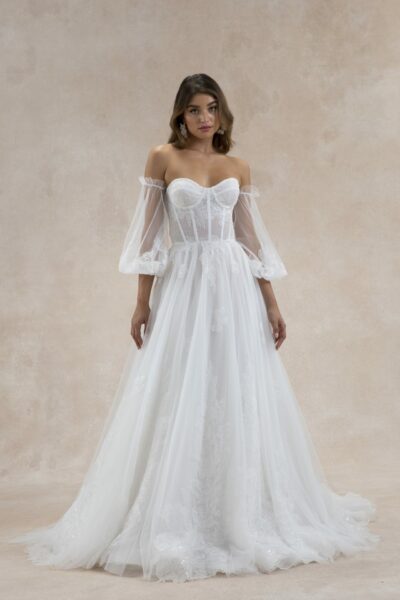 The Victoria Jacket
Third is our Victoria Jacket, a medium fit, light wash denim jacket with hand-painted calligraphy and corner florals bordering "The Mrs."
The Victoria Jacket looks stunning with a gown with floral detailing to compliment the florals on the jacket, such as, Angel by Love Honor and Rydelle by Tara Lauren.
The Katie Jacket
Fourth is our Katie Jacket, a larger fit, medium wash denim jacket with hand-painted calligraphy designs and an intentional rip on the back of the left shoulder. 
Katie looks perfect styled with a more romantic, whimsical gown, as the jacket gives the overall look a bit of edge. We would pair the Katie Jacket with Merche by Anna Kara or Louie Flowy by Made With Love.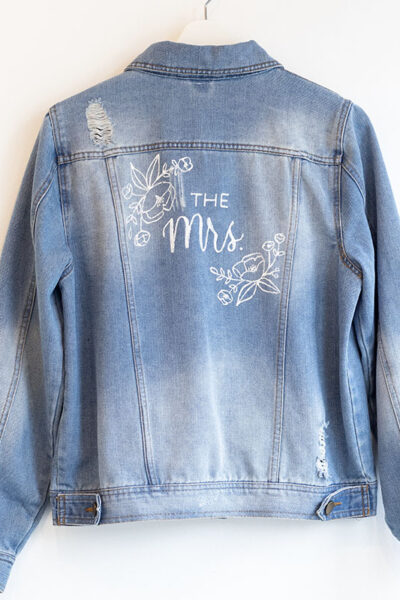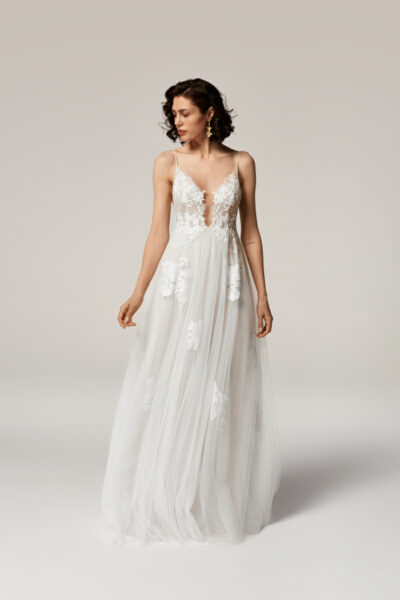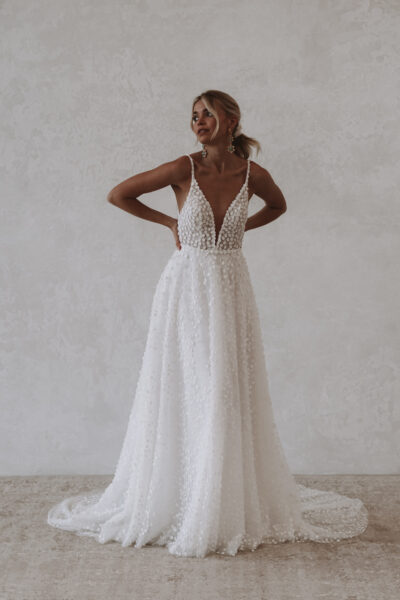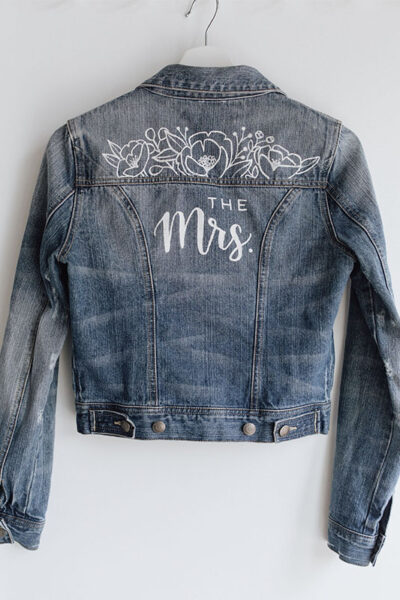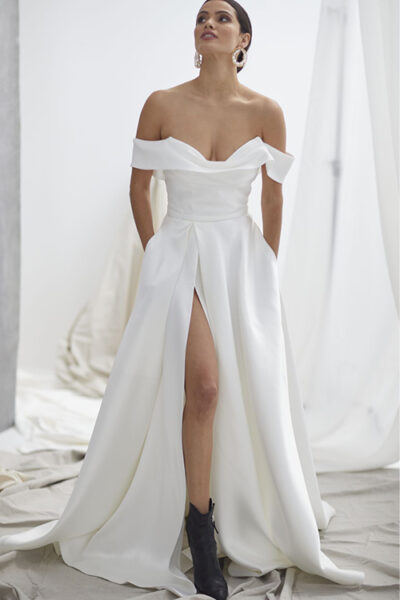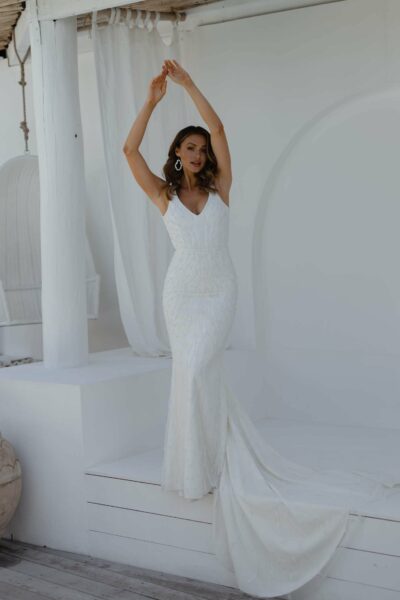 The Jacquie Jacket
Lastly, is our Jacquie Jacket, a very fitted, slightly cropped, dark wash denim jacket with hand painted calligraphy and floral designs at the top of the jacket.
This jacket is perfect for adding on to an elegant gown to make it a little more casual for the nighttime, such as, Le Belle V2 by Hera Couture or Elle by Anna Campbell.
The Mrs. Jacket is a super fun accessory to add on to your wedding day look, but, for us, The Mrs. Jacket is not just about style, but about giving back to the community as well! With each Mrs. Jacket rental or purchase, we make a donation to a charity of our choice. As a team, we keep one another accountable for staying educated and constantly evolving to become better allies and advocates. As a result of these conversations, we research and discuss charities to put the Mrs. Jacket proceeds towards that represent our values and support the community that we are privileged to be a part of. We want to thank all of our brides who have helped us make these donations possible by renting or purchasing a Mrs. Jacket!
If you think the Mrs. Jacket might be the perfect touch to add to your gown or you want to wear it to your bridal shower or bachelorette, book your rental or submit your purchase here! Not only will you get to have your something borrowed and something blue, but you will be helping us along our philanthropic journey!
Get your hands on The Mrs. Jacket
See the MRS Jackets