Say yes in style
The Luxe Bridal Experience
For brides with exquisite taste
Get ready to be treated like royalty during our Luxe Bridal Experience in our BLVD Suite, allowing you to bring up to 7 adult guests with you for your "Yes" moment.  This elevated  bridal consultation includes an extended 2.5 hour session during which your designated bridal stylist will curate a personalized selection of wedding gowns specifically from our Designer Collection which ranges in price from $2,500 to $7,000.  You and your guests will also be able to enjoy some bubbly as well as your choice of sweet treats or savoury bites from some of our favourite vendor partners.
The cost of our Luxe Bridal Experience is $250 for a party of up to 8 people (including the bride), however if you find your dream dress during your bridal consultation (or within 60 days) a $100 credit will be applied towards your special order gown purchase.
Depending on COVID restrictions, please note that guest capacity may be lowered.
** TO BOOK: PLEASE CALL US TO BOOK YOUR LUXE CONSULTATION**
Contact Us To Book Your Luxe Experience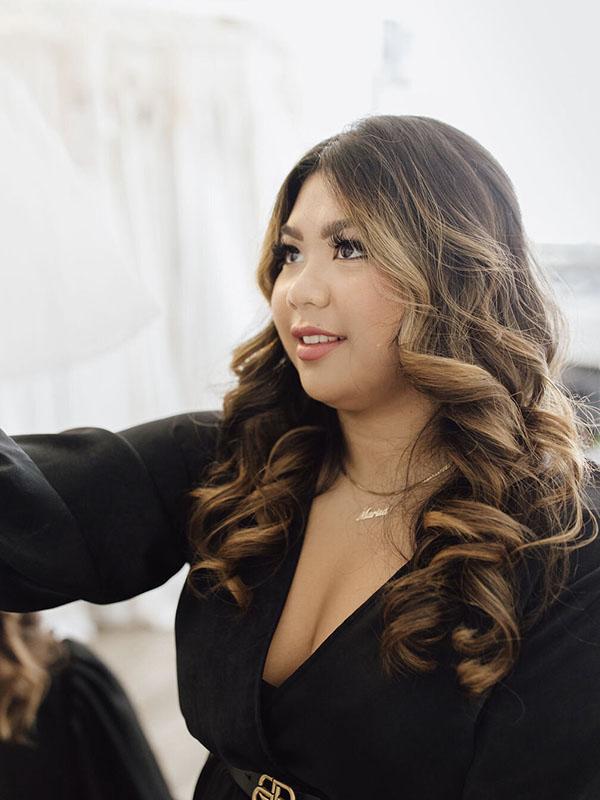 Revelle Bride Erika's Luxe Experience
How did you find out about our Luxe appointments?
I found out after winning a contest at Ottawa's Wedding Show! I had submitted my name at the Revelle booth; it was the first booth I looked at during the show and I knew I wanted to find my dress there.
Were you able to include everyone in your saying YES process?
Yes I was able to include everyone: my mom, sister and aunt were present.
How did you feel about having the whole shop to yourself? Did that help you say YES?
Having the whole shop to myself made the experience even more amazing! I was able to really focus on the dresses and on the experience without any distractions. It really felt like a VIP experience.
Note: our new boutique space allows for a separate room for Luxe appointments instead of the whole shop!
Did you feel having 2 stylists was helpful?
The 2 stylists were very helpful but I have to say that Sasha really stood out! She made such great recommendations and made me feel comfortable. She got along really well with my family too.
How did you know your dress was the ONE at your first Luxe appointment?
I knew my dress was the ONE because of how I felt in it – beautiful, classic, and just me. Because wedding dress taste was towards the simple, classic gown, it fit my vision perfectly! Revelle carries so many dresses in that style, no other store in Ottawa does.
Did you enjoy the Luxe appointments process? Feedback/comments? Anything you would change/add?
Nothing to change or add, but very happy that you are bringing this service back! Your brides will definitely enjoy it and appreciate it.
Would you recommend it to your friends?
I already have and will keep on recommending it!