The Internet's 10 Most Asked Questions About Wedding Dress Shopping
Answering your burning questions
We have been so busy the past few weeks with our bridal appointments and we have been loving getting to know all of our new soon-to-be-weds! A common sentiment that we have noticed amongst our clients is that they feel so overwhelmed when starting the wedding planning process. There is so much to be done but they are unsure of where to start and what exactly to do. We completely understand this and thought it would be helpful for us to answer some of the most commonly asked questions on the internet about wedding dress shopping to provide our readers with some more information to help you along your wedding planning journey!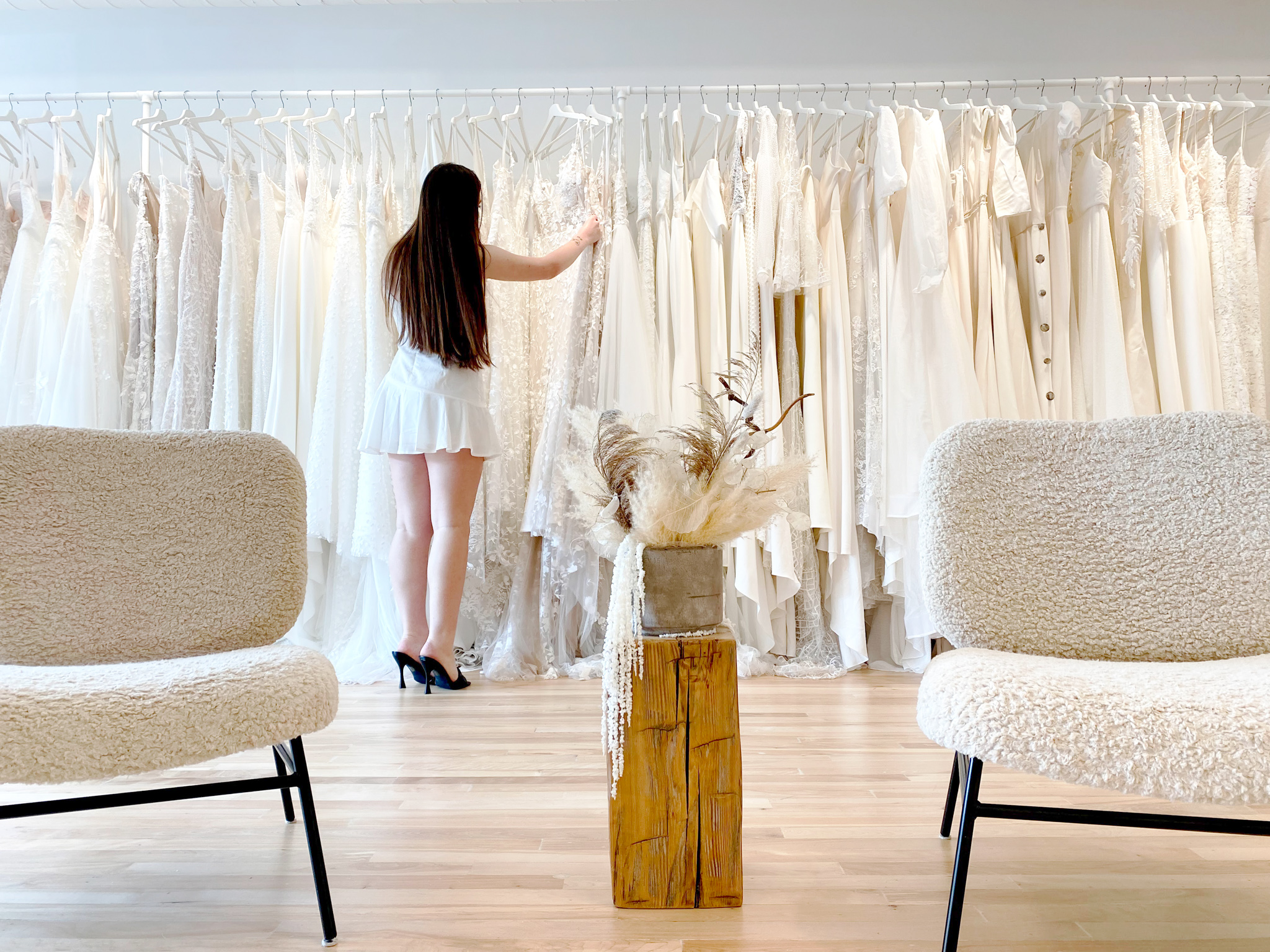 What should I know before wedding dress shopping?
Let go of your expectations of how it should go! Allow yourself to be present with your guests and listen to your gut instincts rather than worrying too much about how you thought the decision making process would go. You may love something completely different than what you envisioned or you may find your dress on your first try, so listen to your intuition and enjoy every moment of your special day!
The gowns in our shop are all sample gowns, meaning, for the most part, they are gowns we have in our inventory that are only available to try on, not for purchase off the rack. The gowns range from size 8-24 so there is no guarantee that your favourite dresses will fit you perfectly, however, we have plenty of tips and tricks to help show you how the gown would fit in your size. Furthermore, if you are having any second thoughts, speak to your stylist so they can help you understand how the dress will fit when it comes in!
When should I start wedding dress shopping?
We recommend that you start shopping approximately 12 months before your wedding so that you have plenty of time to shop around and book any necessary follow-up consultations. We recommend ordering your gown 8-10 months before your wedding to ensure you have enough time for production, shipping, and alterations once the gown has arrived.
Who do I invite to my wedding dress appointment?
As our standard consultations accommodate four guests, we recommend that you choose the four most supportive people in your life – those that make you feel comfortable, confident, and loved. We understand that sometimes you must bring guests who may be a little more challenging, but if this is the case, our whole team will be there to hype you up and you can always rely on your stylist for extra support!
What should I expect during my bridal appointment?
You will come in and spend between 5-10 minutes discussing your wedding details, vendors, and vibe, as well as dress preferences with your stylist so they can get to know you and the feel of your wedding better. 
Your stylist may have already pulled some dresses for you ahead of the consultation depending on what was provided to us in your interview so they will show you what they have pulled and you can decide if you are interested in them now that you are seeing them in person.
Once this is done, we walk you through the gown rack, introduce you to each of our designers and allow you to point out any gowns that are catching your eye – we may throw a wild card in there as well, as long as you're comfortable.
Once you begin trying them on, you can determine which styles you are gravitating towards. Your stylist will also keep notice of what you are liking as they can pick up on common themes you like or dislike in each dress to help you narrow down your style. 
In the last half hour of your appointment, your stylist will get you to circle back to your fave gowns, so that the ones at the top of your list are fresh in your mind and you have great photos of your favourite gowns. 
Some clients will say yes at first sight, but many people need more time, so we encourage you to book a follow up appointment in which you come back and try your favourite gowns on again to help you solidify which one is your gown.
How do I get the best deal on a wedding dress?
There are three things you can do to get the best deal on a wedding gown:
Do some research about the bridal boutiques in your area and book in with whichever shop seems to have the best selection for the price point you are comfortable with. 

Start shopping at least a year in advance so that you don't run into any rush fees and so that your bridal boutique can let you know about any upcoming trunk show promotions so that you can save on your dress! 

Give your stylist an ideal budget and a firm budget so that they know your limits and have a clear price range to work within. 
What makes a wedding dress more expensive?
Wedding dresses typically increase in price depending on the materials that are used to make the gown and whether or not they are made ethically and sustainably. For example, one of our most expensive gowns here at Revelle is Fiora by Love Honor which is a stunning square neck, fitted gown that is completely hand-beaded and takes 150 hours to produce, so when we factor in 150 hours of fair and equal pay, the production of this gown is quite expensive.
Another great example of fabric differences affecting the price drastically is satin vs. silk. Due to the luxury of the fabric, a silk gown is very expensive, whereas a satin gown can look and feel very similar but comes at a more affordable price.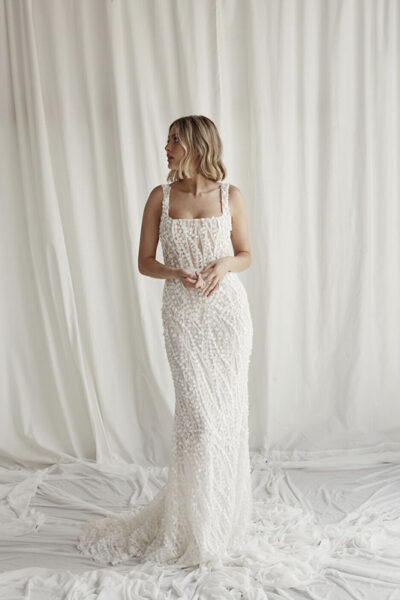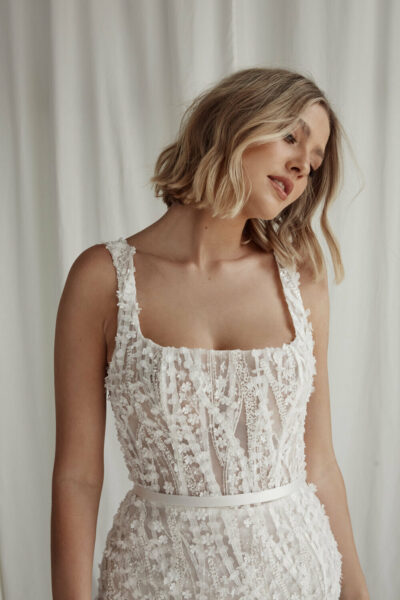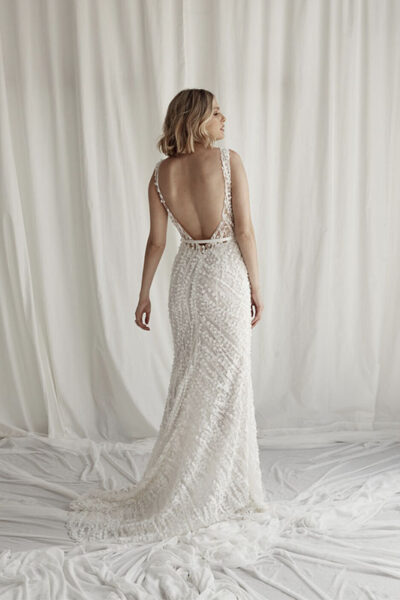 Can I customize my wedding gown?
Absolutely! From changing the colour-ways, adding/removing sleeves, adding buttons, changing necklines and backlines, to changing bust cup sizes. Many of our designers have many customizable options and are always happy to answer our questions from our clients about what possible customizations a dress may have. Our stylists also do frequent product knowledge training to stay up to date with all customization options. If you are ever wondering about a customization, don't hesitate to ask your stylist and we will do the best we can to get a detailed and well-informed answer.
Do wedding dresses have to be long?
Not at all! There are absolutely no rules when it comes to picking your wedding day outfit so choose whatever feels most authentically you! We love a short wedding dress moment which is why we have August Mini by Tara Lauren in our stock, available to try on.
If you are interested in doing a short dress look, you can always pull some inspiration from some of our fave celeb wedding day looks such as Kourtney Kardashian, Cindy Crawford, and Audrey Hepburn!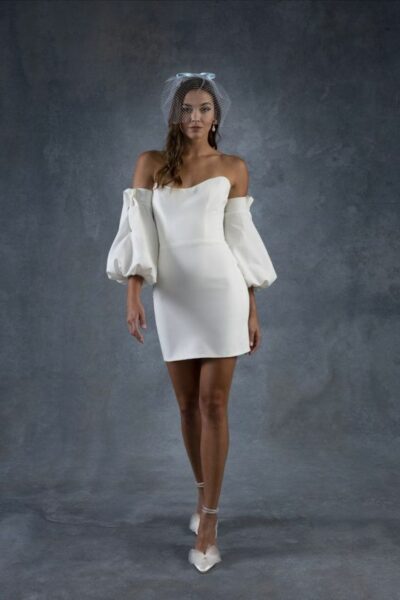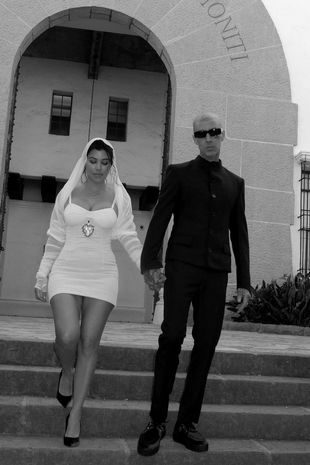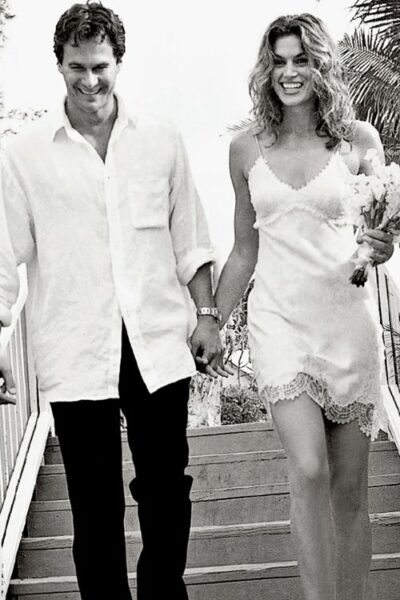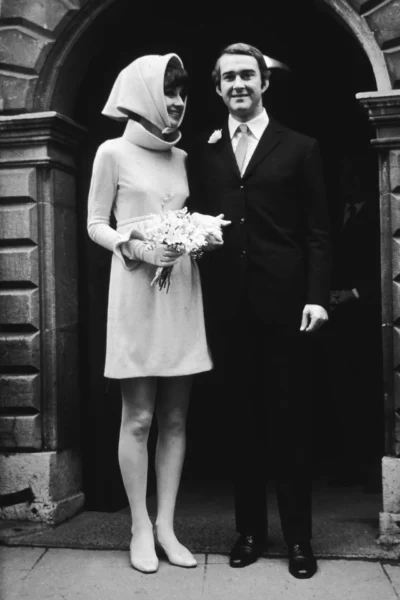 How should I style my wedding dress?
We recommend booking an accessory styling consultation. Creating your wedding day look is so much more than just the dress, which is why creating a trusting relationship with your stylist in which you give them lots of insight into the vibe of your wedding as well as your personal style so that they can help you create a look that feels true to you but extra special.
There are so many different ways to create a unique wedding look from a dramatic veil to a simple hair vine, or a bold statement earring to a dainty bracelet. At Revelle, we have a collection of denim jackets called The Mrs. Jackets that are available for rent or purchase and are such a cute touch to any bridal look. Once you find your dress, you and your stylist can start brainstorming different accessory options to bring some more of your personality into your overall look. Take a look at our Pinterest for more inspiration!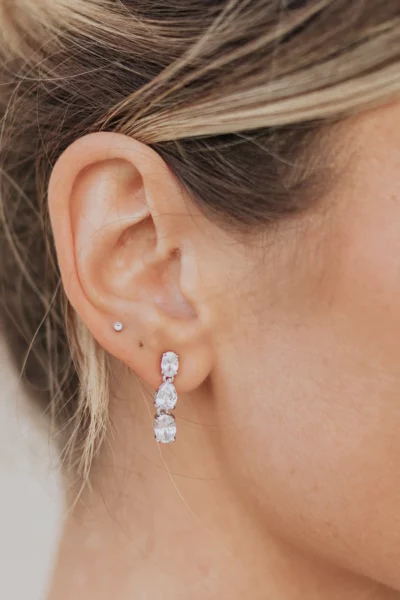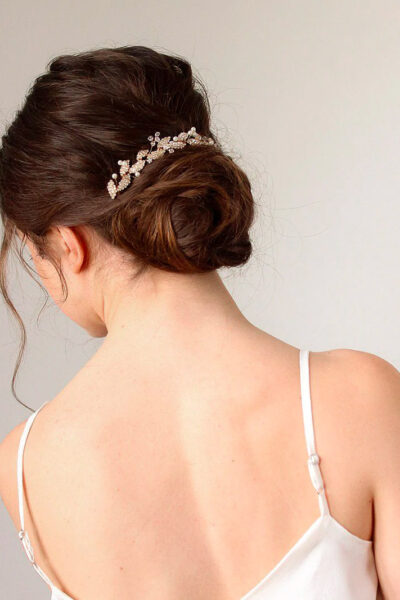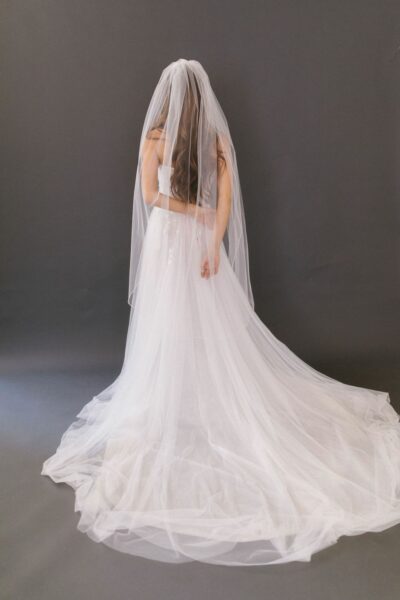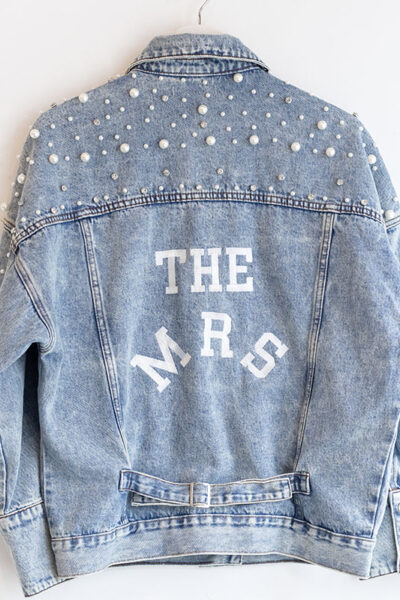 Should I tip at my wedding dress shopping consultation?
Tipping your stylist is completely optional and dependent on the service that you feel you have received. At Revelle, we strive to provide excellent service to everyone that comes into the shop so if you feel like you want to give a little extra thank you to your stylist you are more than welcome to do so, but there is no pressure to do so should you choose not to.
Photography credits:
Revelle Bridal