Chérie by Oui Trunk Show
We are very proud to be stockists of so many wonderful designers who are a huge part of what makes us who we are. We understand the importance of listening to our brides' feedback and keeping our eyes out for new designers who fit the Revelle brand.
One of our favourite ways to test out new designers is hosting trunk shows. We find styles that we don't normally carry in the shop to see if our clients are liking the designs and which gowns are catching peoples' attention. This is a great way for us to find new designers and a great way for our clients to try different styles that, otherwise, may not be available to them. We are currently hosting a trunk show to test out a new designer:  Chérie By Oui. Our clients have been loving the Chérie By Oui gowns and we are so impressed with all of their stunning designs. The trunk show will be continuing until August 17th!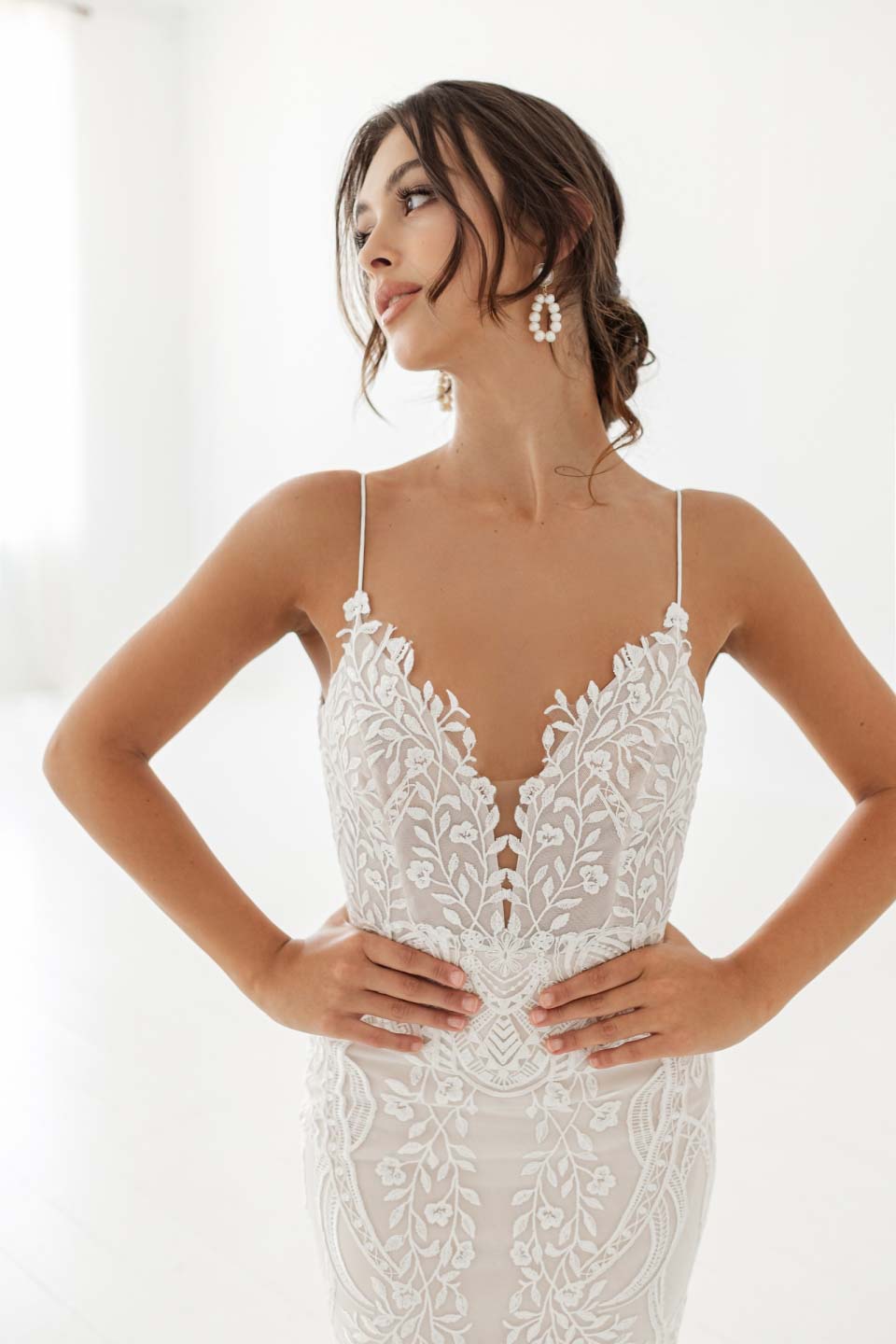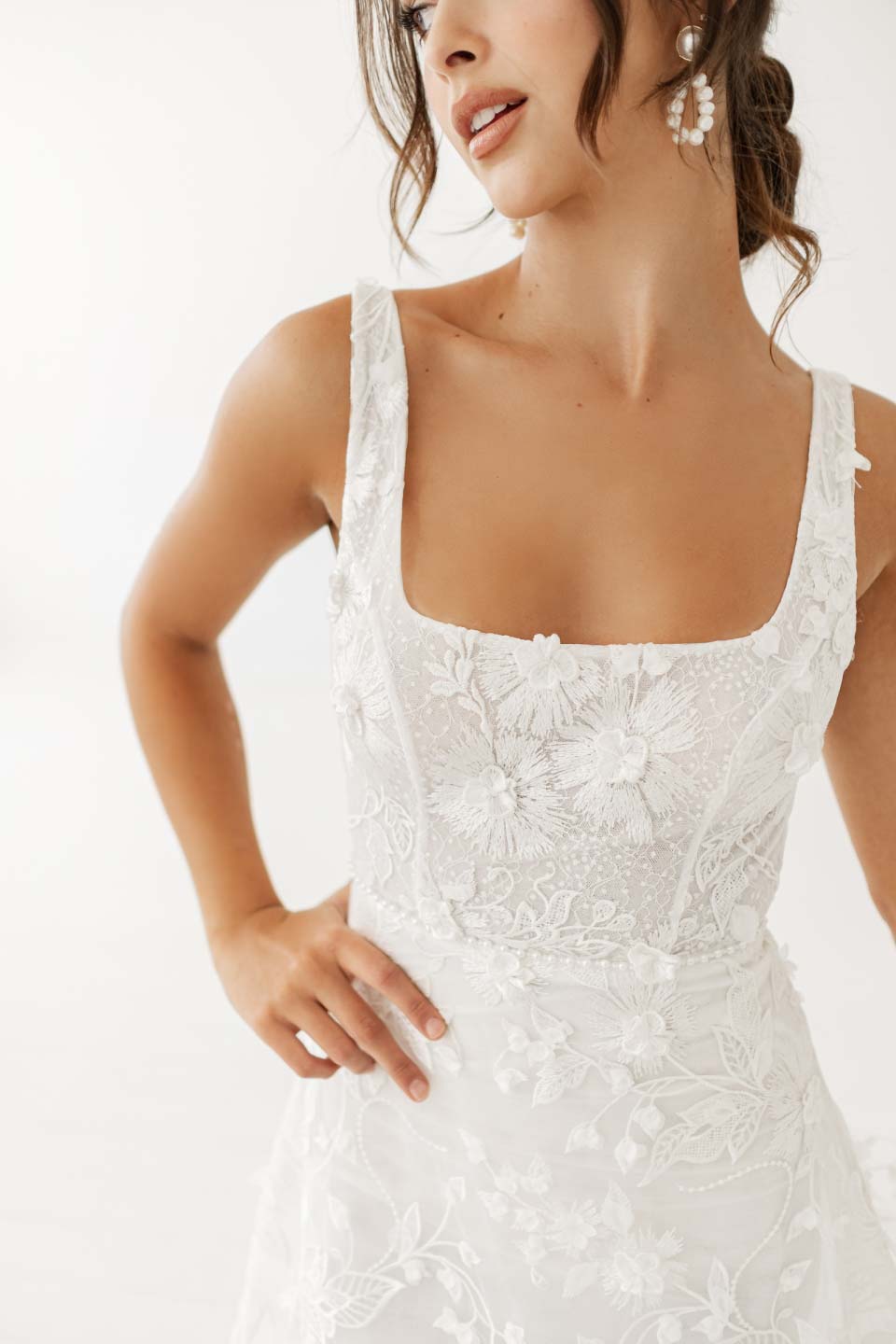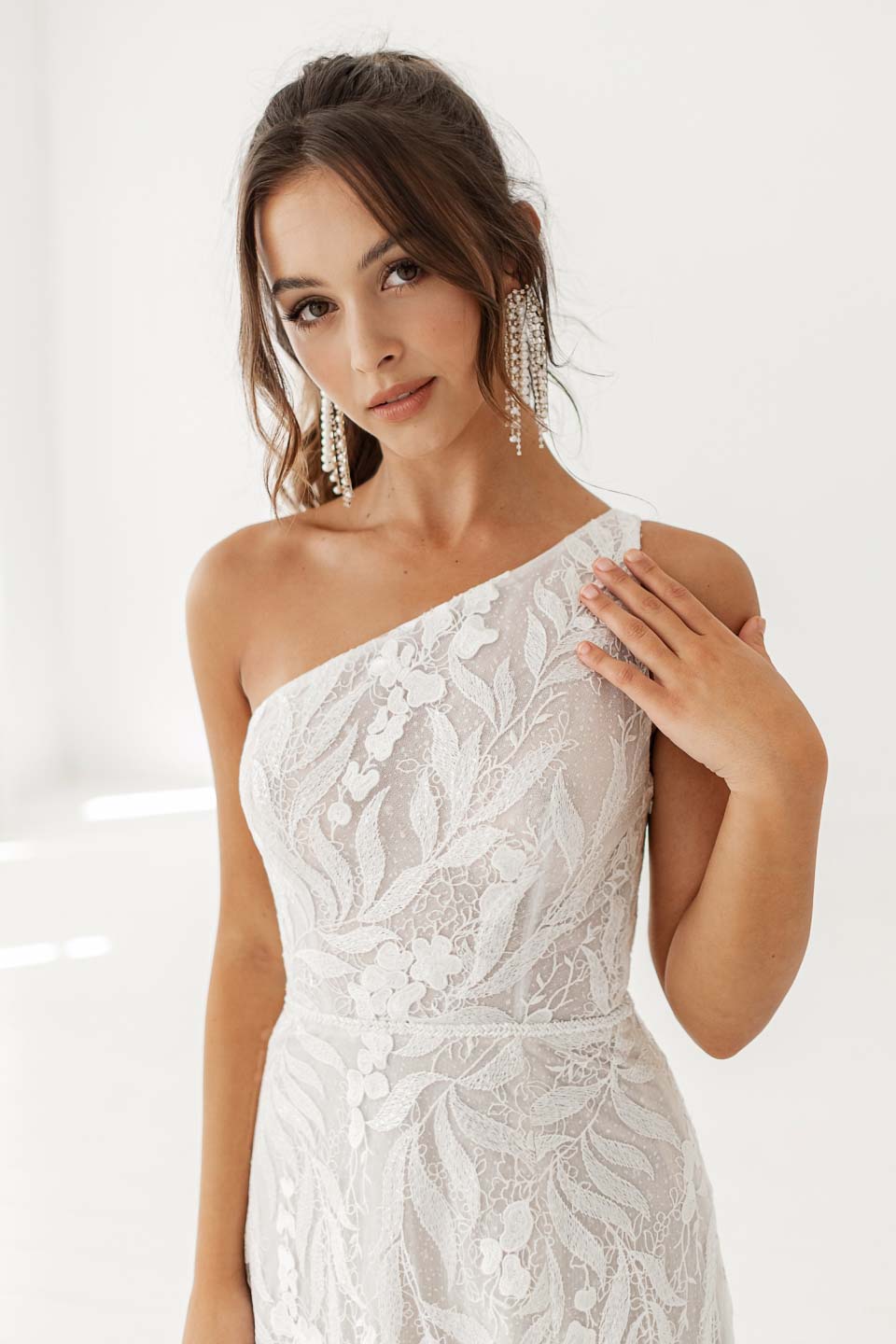 About Chérie by Oui
Oui The Label is a bridal brand that is inspired by modern and edgy style icons and was created with the intention of moving away from bridal norms and shifting more towards promoting individuality through style and designing the perfect collection for the "cool" bride.
Oui The Label was founded in Melbourne, Australia in 2015 by Charles Sidarta, a designer with a background in Interior Architecture. Cherie By Oui is a bridal brand within Oui The Label which was intended to move away from Oui The Label's minimalist aesthetic and bring in some textures and romantic laces to appeal to a broader audience.
All of the Cherie By Oui gowns are designed and produced by a team of women in Melbourne who take around 40-50 ideas and, with the feedback of brides in Australia, hone their ideas down to create the perfect collection.
We are currently hosting the trunk show for the Lover's Sojourn collection which is full of romantic laces, stunning beading, and gorgeous silhouettes so if you think you might be a Cherie By Oui bride, make sure to book in for a consultation with us before August 17th!
Our Top 5 Chérie by Oui Styles
Now that we have had the chance to have a look at and try on many of the Cherie By Oui gowns that were sent in the trunk show, we have compiled a list of our top 5 favourite gowns that were sent to us and we want to share them with you!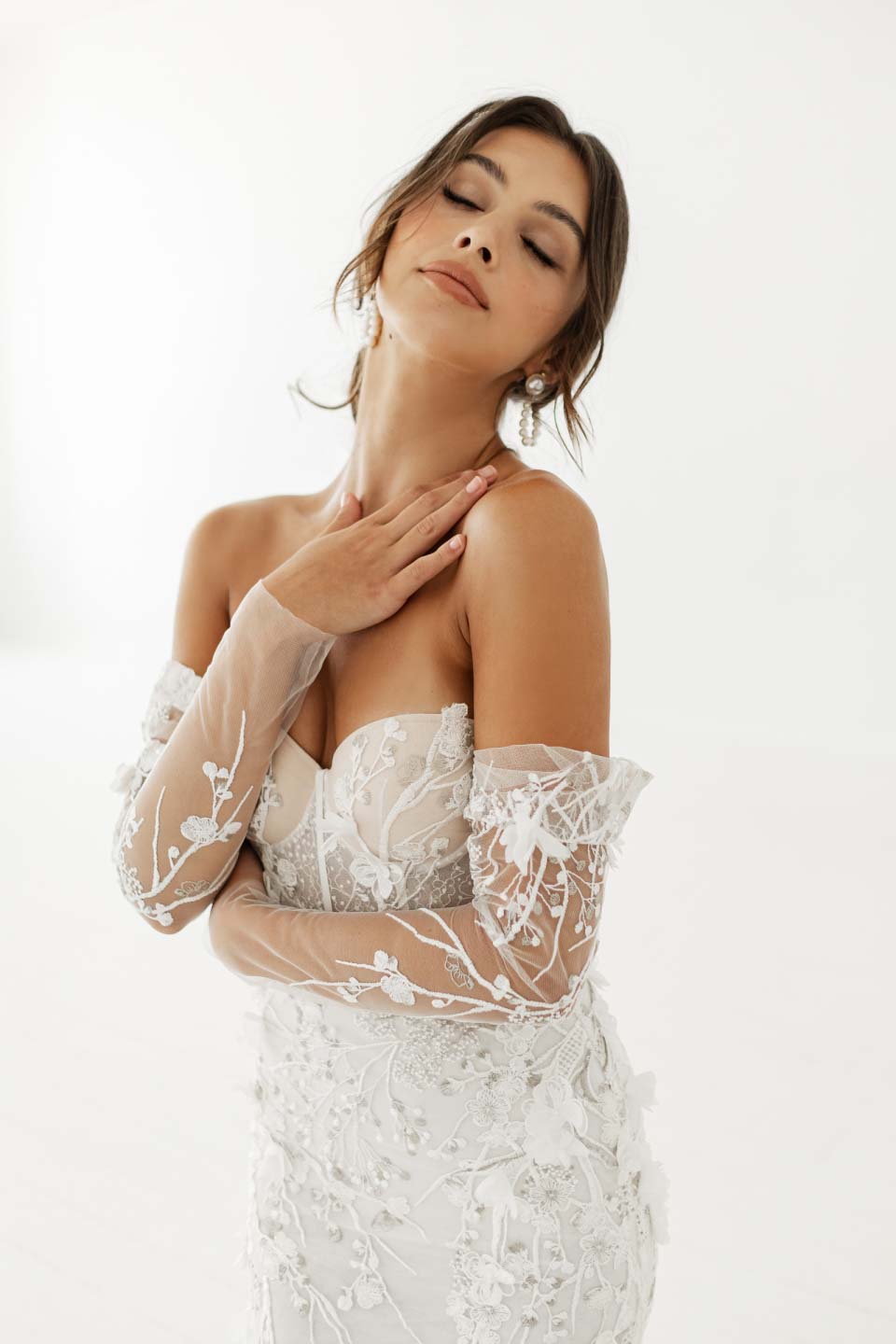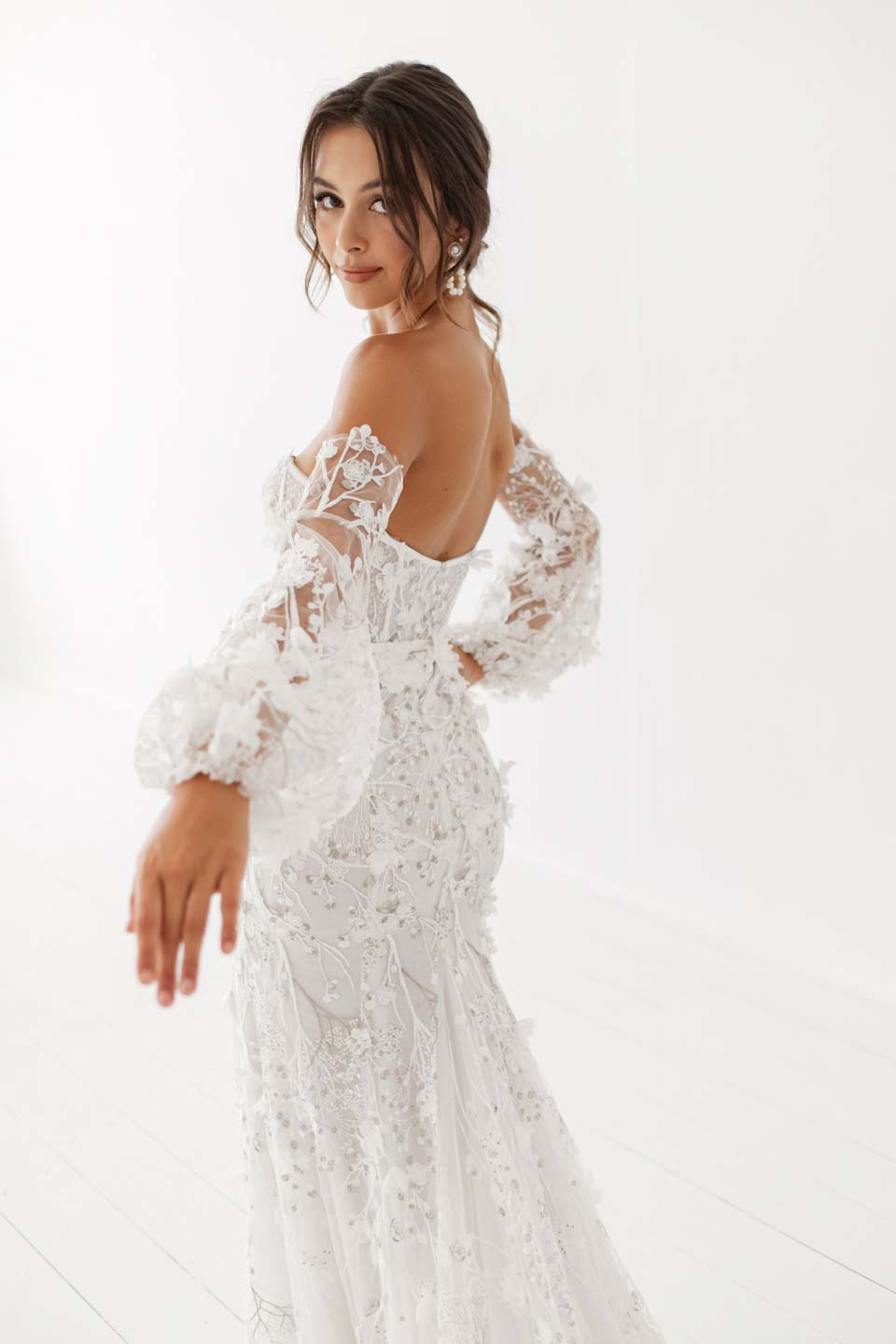 1. Cupid
Cupid is a gorgeous strapless gown that is the perfect blend of elegance and sexiness! It has an illusion corseted bodice, a slinky skirt, and hand-applied 3D floral lace that covers the entire gown. It comes with the option of fitted or balloon sleeves so that each client can customize the look to be more personalized and to provide the possibility of doing two looks, which we always love. The illusion corseted bodice can also be lined with additional mesh to make the bodice more opaque if that suits your style better!
2. Kindred
Kindred is a sexy and feminine beaded and embroidered gown that features a plunge neckline and a low scoop back, as well as a stunning godet train. The fit and flare silhouette adds a layer of soft femininity to the gown to compliment the glitz of the beading and lace. The details on this gown are absolutely spectacular and would be perfect for a glamorous yet romantic look! Cherie By Oui also offers customizations to help create your dream dress, for example, you can raise the neckline on this gown for a little more coverage or close the gap on the back of the gown to meet the waistline!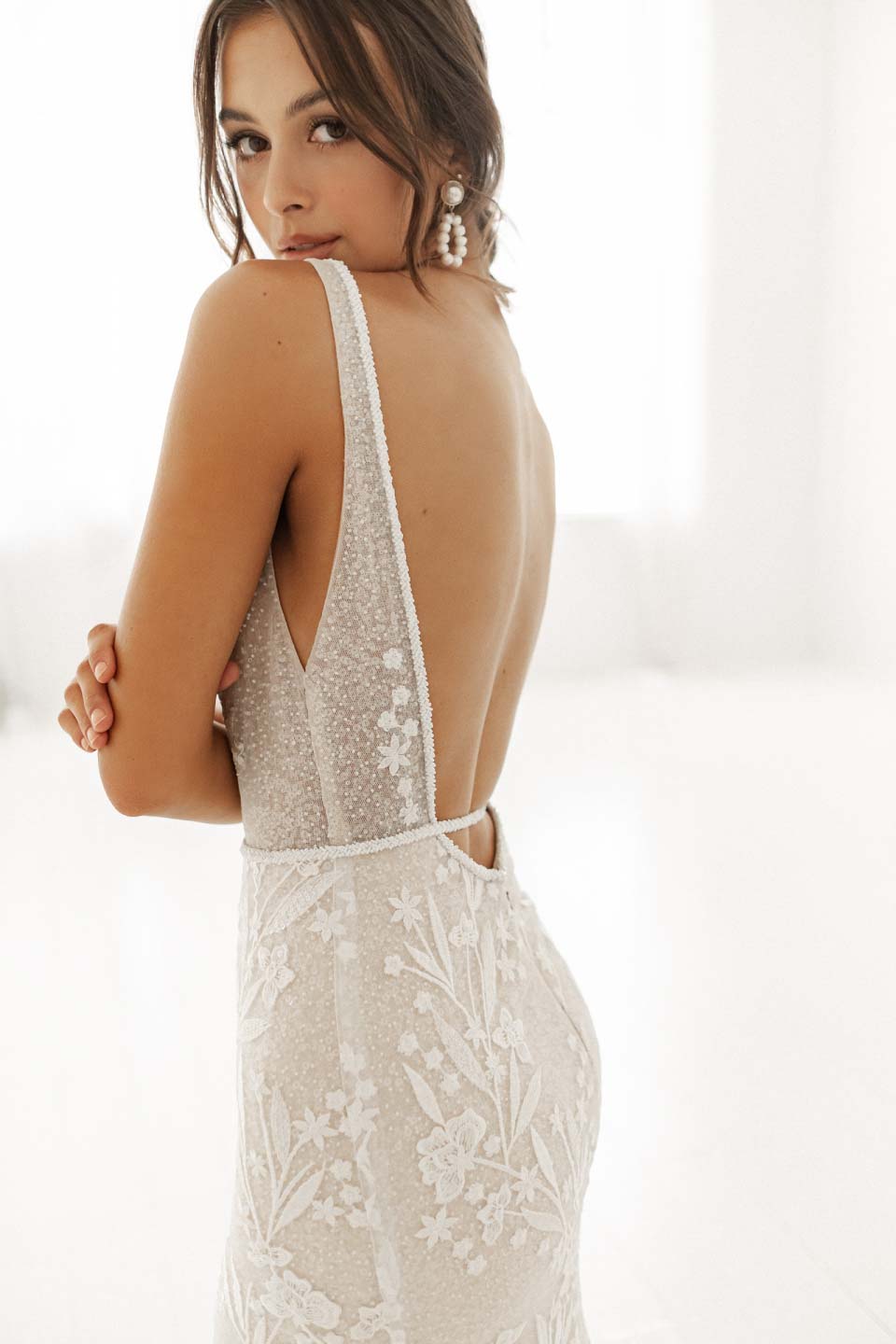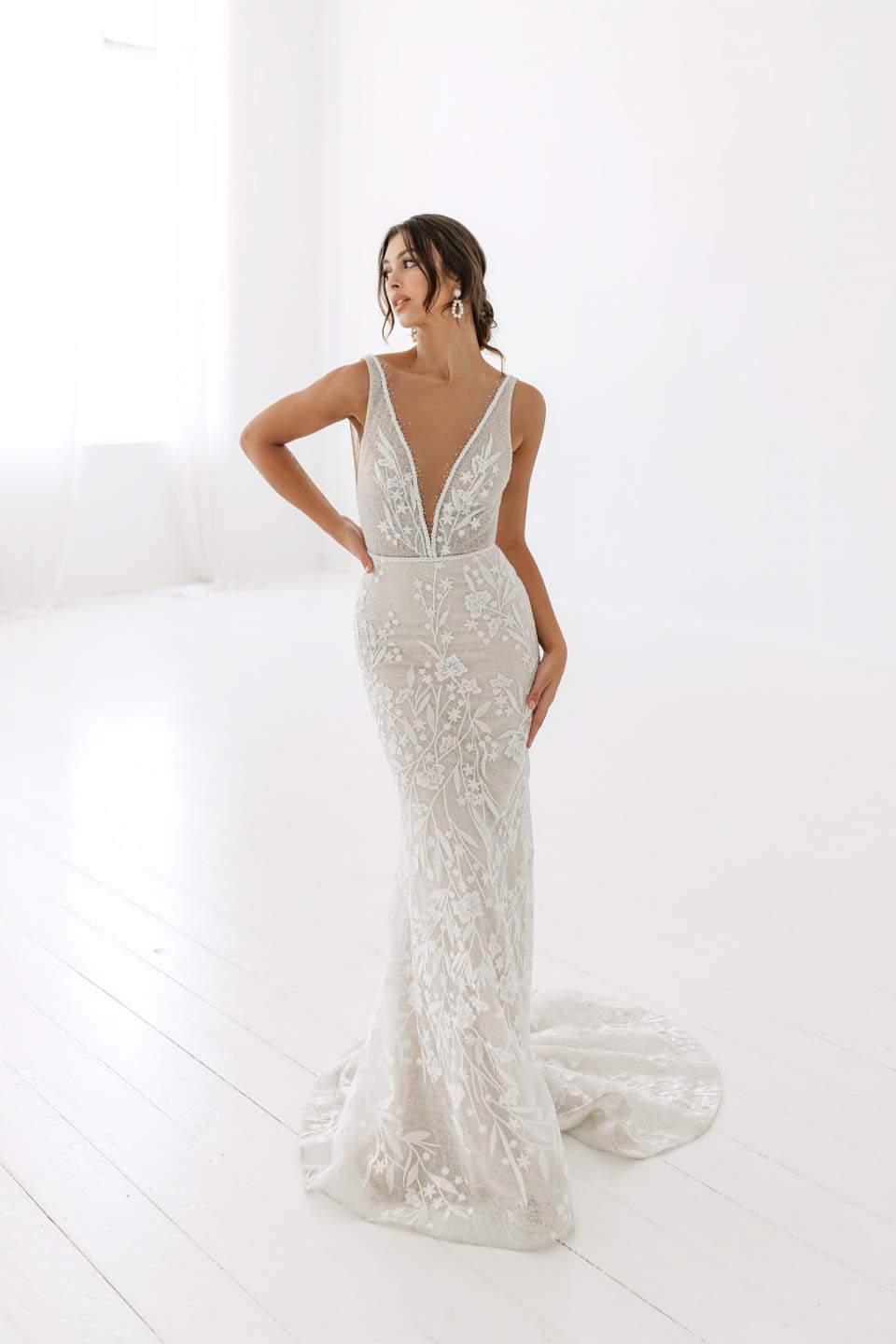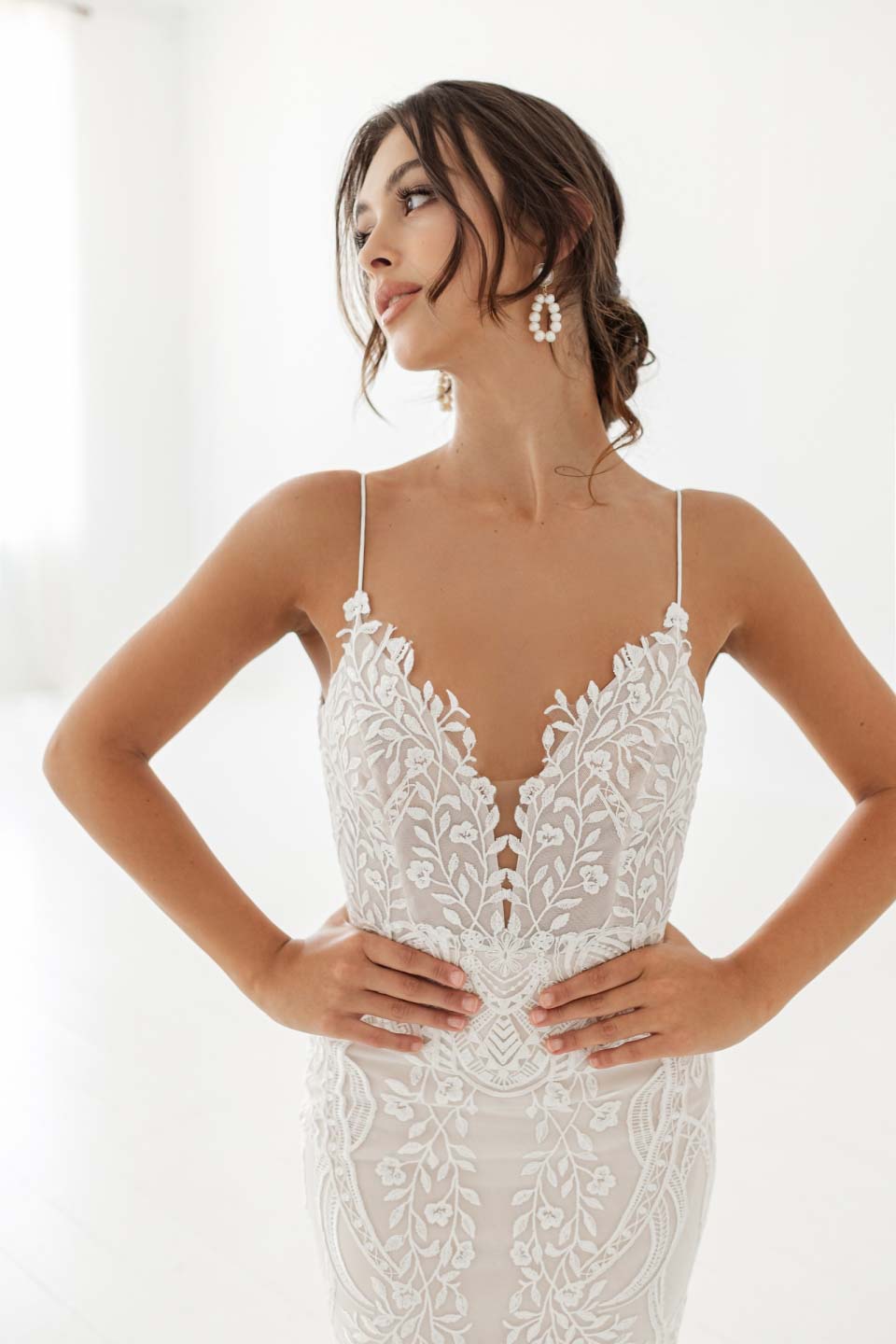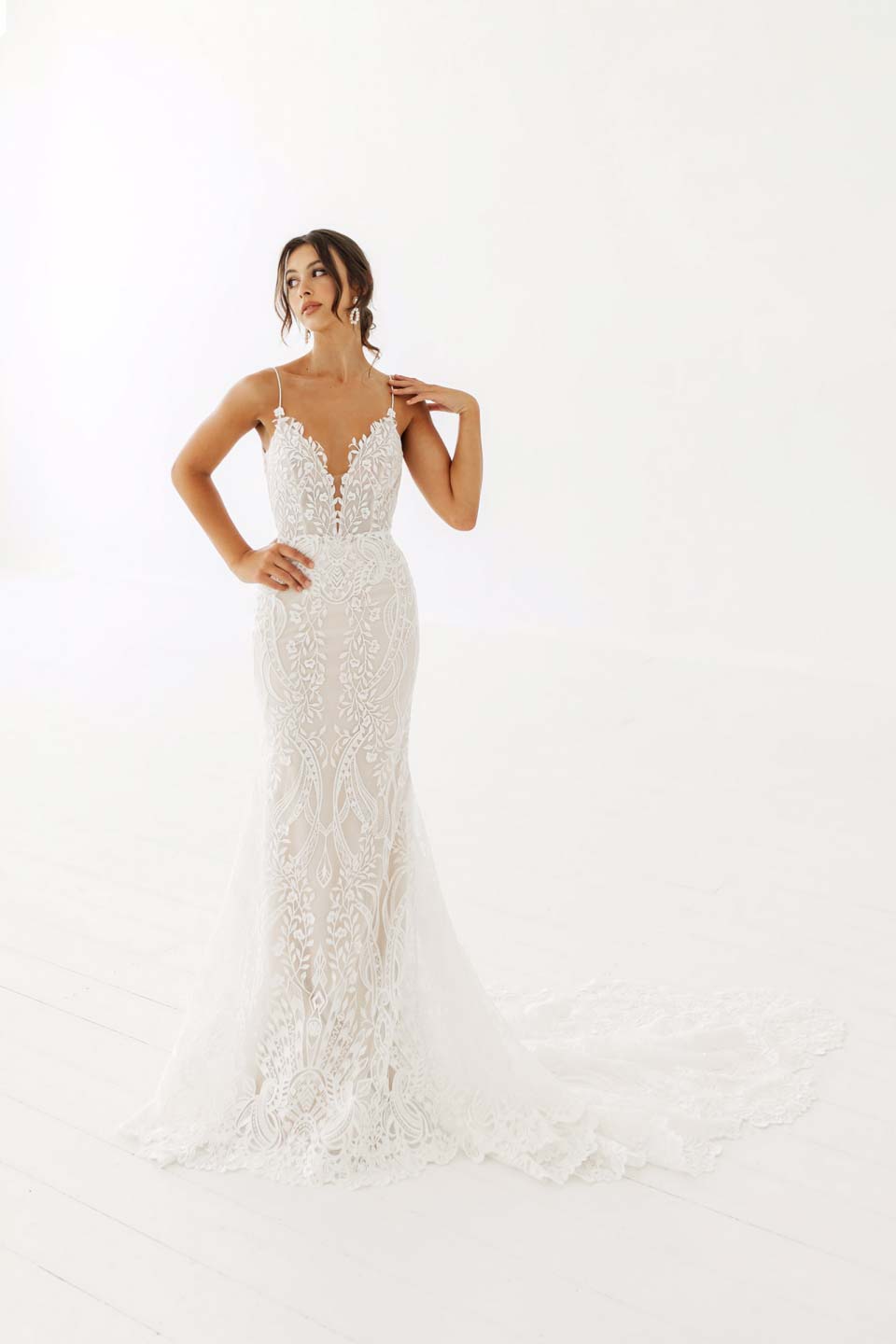 3. Meraki
Meraki has definitely been a fave so far during the trunk show due to its bold and ethereal lace, its dainty spaghetti straps, and its beautiful embroidered train! This gown also features a plunging neckline, framed with hand-appliqued details which stands out among the standard plunging necklines. Meraki has a gorgeous fitted skirt with a lace overlay that flows out at the bottom to create a flattering silhouette. This gown also comes in two different colour: Mushroom, meaning the lining is a darker shade than the lace which makes the lace stand out, and Natural White, meaning the lining and lace are similar shades for a more subtle look, depending on what you are looking for.
4. Stargazer
Stargazer is like nothing we have ever seen before at Revelle and we absolutely love it! It is a glamorous yet edgy one-shoulder gown, with a side split and bold lace detailing. Cherie By Oui describes this gown as being "red carpet worthy" and we couldn't agree more. It is eccentric and unique while maintaining a romantic and effortless look which is perfect for the client who wants to make a statement on their wedding day. The a-line skirt paired with the split makes this gown super comfortable and easy to dance the night away in! The train on this gown can also be extended to create an even more dramatic look.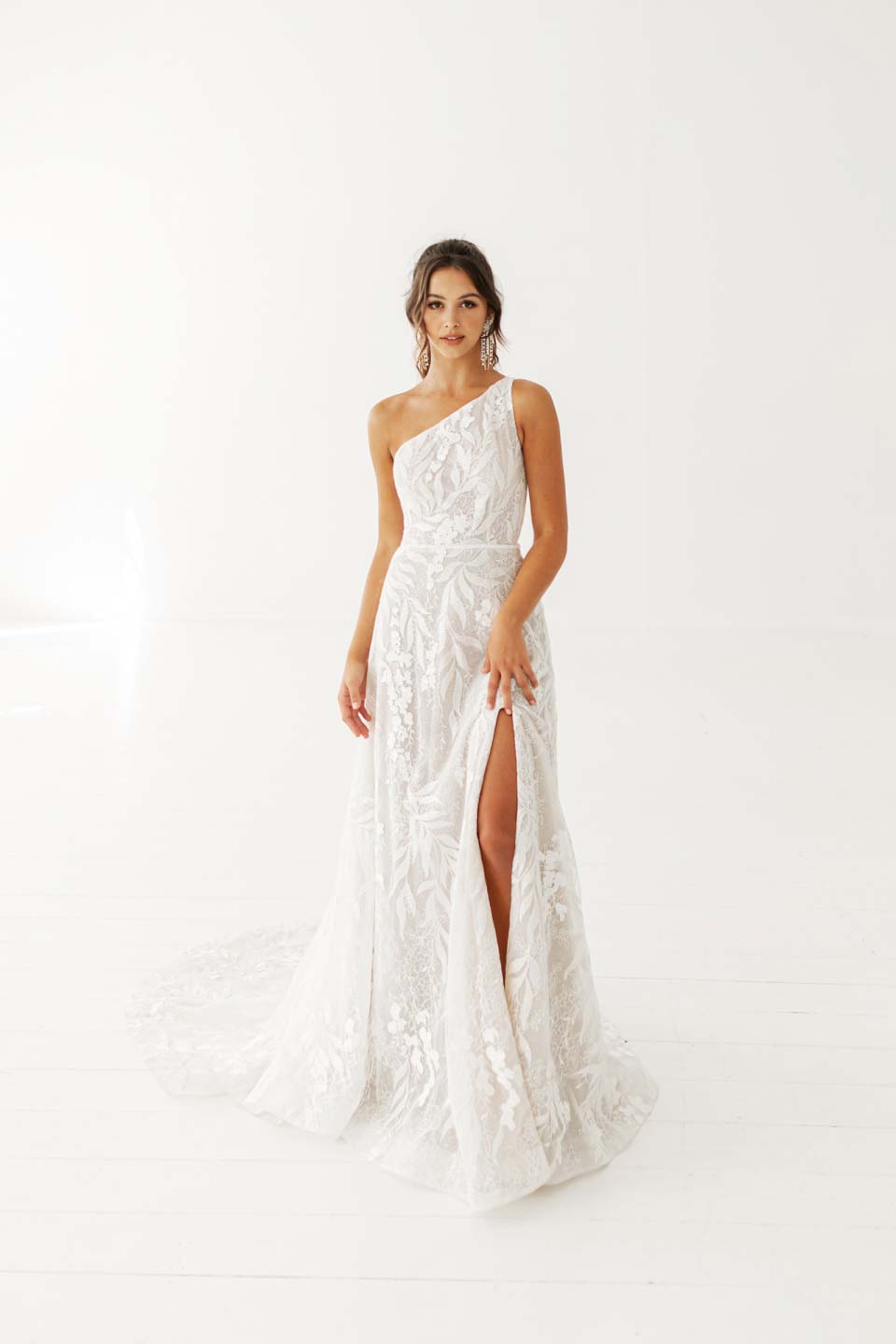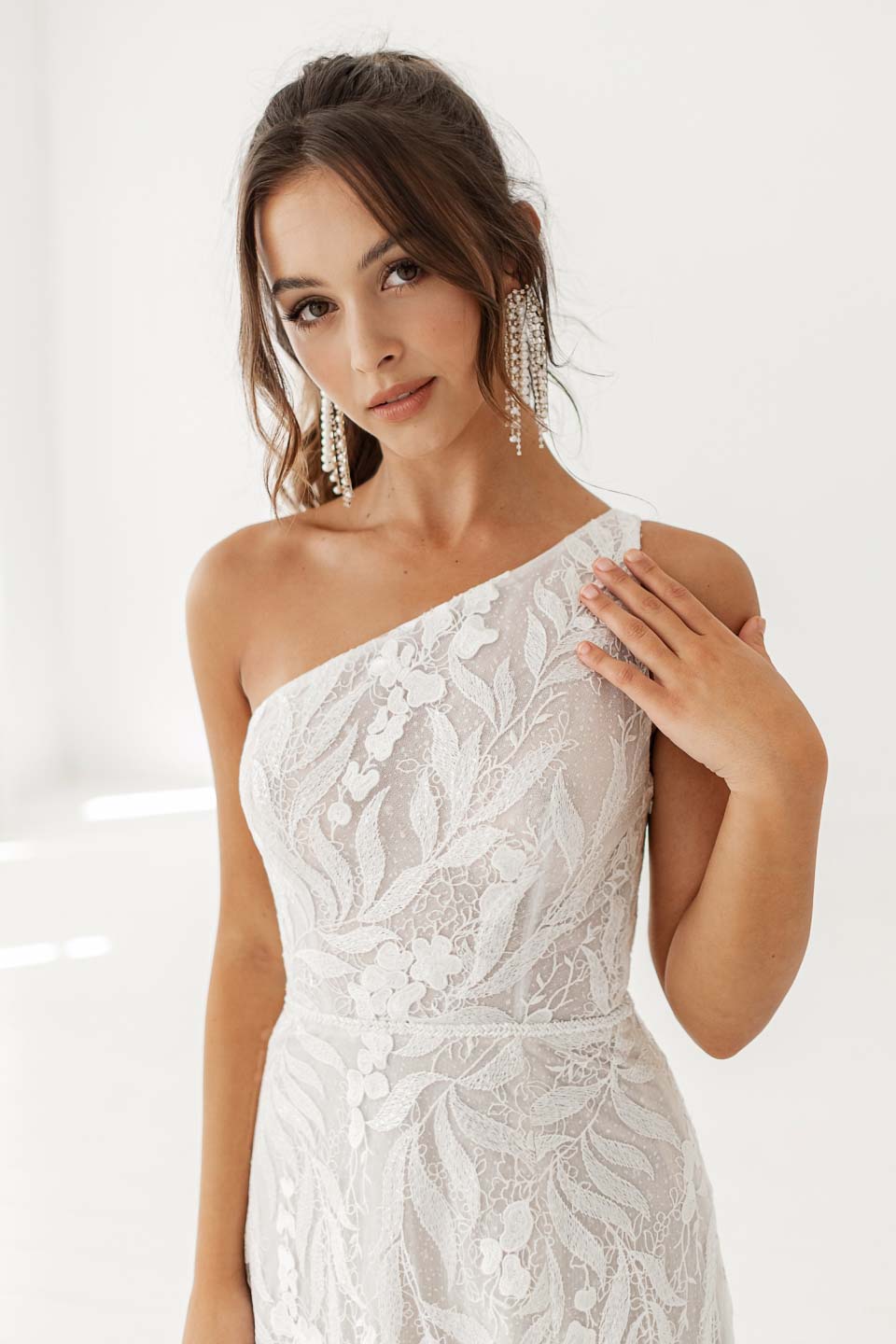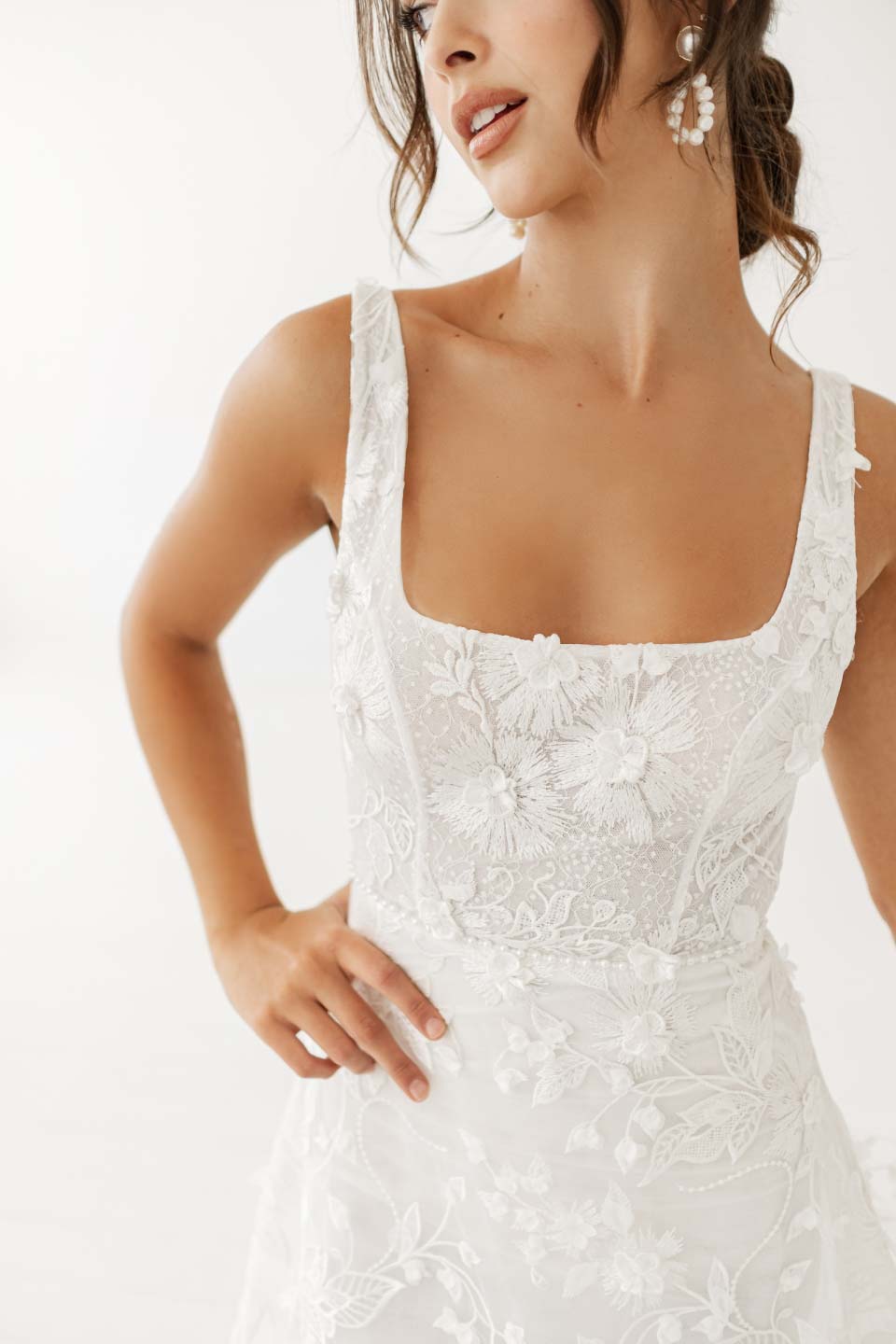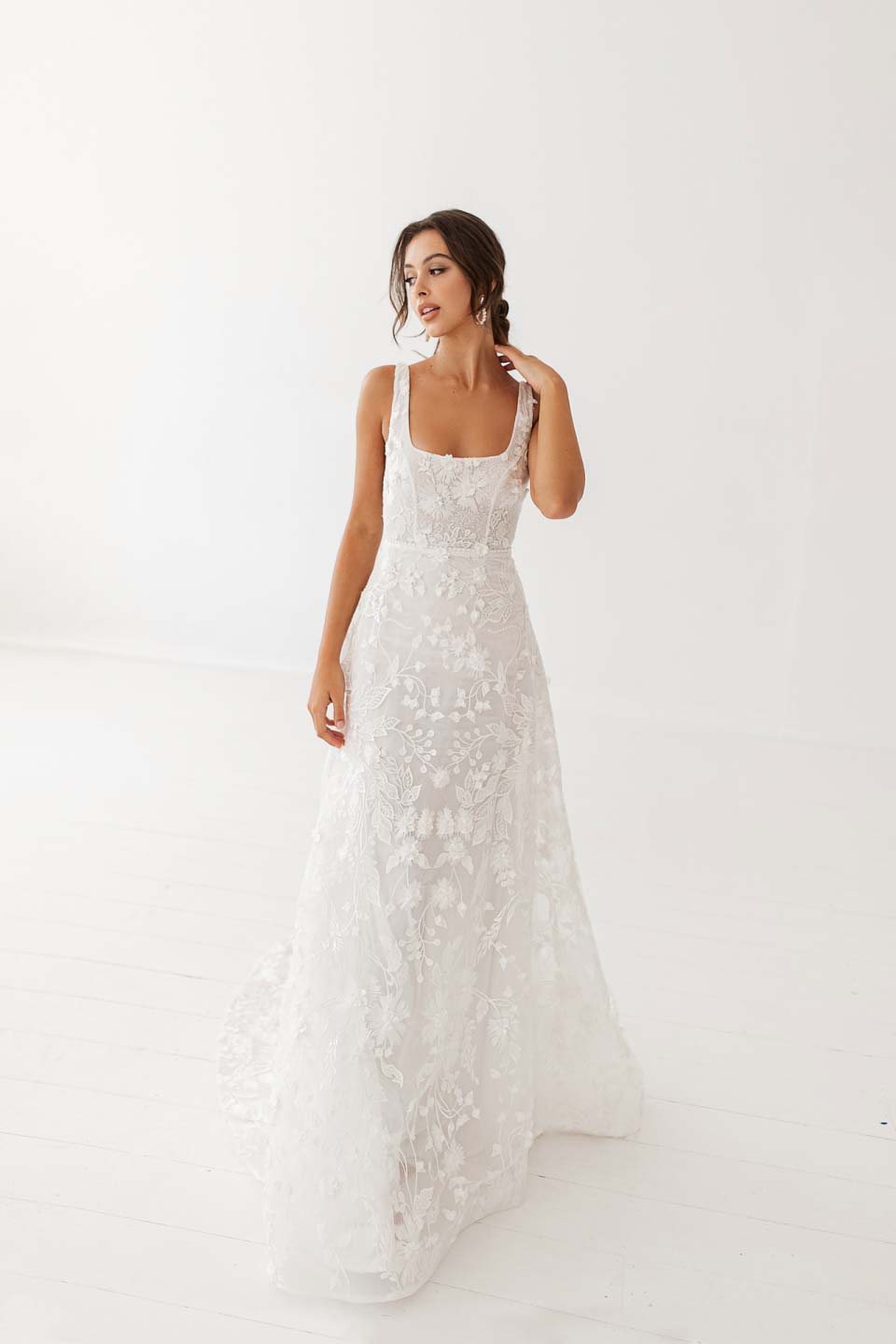 5. Dreamer
Dreamer is the perfect blend of romantic and modern, with stunning floral lace embroidery and a contemporary square neckline. This gown would be gorgeous for an outdoor wedding with lots of greenery or an elegant evening candlelit wedding. Its cinched waist with pearl beading helps create the most flattering shape as the dropped a-line skirt hugs over the hips and then flows out. The Dreamer gown is a wonderful representation of how Cherie By Oui caters to the modern, cool client while maintaining a romantic and whimsical feel that attracts so many different types of clients!
Each of these stunning gowns are from the Lover's Sojourn collection and are all at Revelle right now until August 17th! If you think you could fall in love with a Cherie By Oui gown, make sure to book in with us as soon as possible! Also, if there are any other designers you would like to see at Revelle, please send an email to hello@revellebridal.com or DM us on Instagram so we can look into getting a trunk show!
Book Now