The Tara Lauren Trunk Show
Here at Revelle we carefully and intentionally select each designer we carry and we strive to provide our clients with a variety of styles to make sure we have the perfect pieces for everyone's preferences.
One of our beloved designers that continues to surprise and inspire us with fun, gorgeous, and revolutionary looks is Tara Lauren. We have been stockists of Tara Lauren for a few years now and we are so excited to announce that we will be hosting the Tara Lauren Trunk Show for their 2022 Collection from September 16-25!  During this time, we will have the entire 2022 Collection as well as pieces from their most recent capsule collection available to try on at Revelle.
Trunk shows are a great opportunity for us to test out the new pieces with our clients and for our clients to try on pieces that we don't normally carry in our stock. If you are interested in Tara Lauren and think you could find your dream wedding look in this collection, do not hesitate to book in with us from September 16-25!
About Tara Lauren
Based in Los Angeles, the Tara Lauren brand exudes romance and modernity. The bridal brand is co-founded by sisters Tara and Shaina Healy, who grew up in their mothers' bridal shop and quickly adopted a passion for fashion. They have each acquired significant experience and knowledge in the fashion industry. With Tara's degree in Fine Arts with a specialization in bridal and evening wear from the Fashion Institute of Technology, and Shaina's experience working under celebrity stylist Julie Matos, it is no wonder that they have created a uniquely beautiful and very successful bridal brand.
Tara Lauren Timelines
Their lead times are approximately 18 weeks so we recommend purchasing your Tara Lauren pieces 8 months prior to your wedding to ensure you have adequate time for production, shipping and alterations once the dress comes in. If you have a shorter timeline, feel free to reach out to us to find out if there are any Ready-To-Wear gowns that can be expedited to arrive in time for your special day. With each collection, Tara Lauren brings out– they continue to reinvent the bridal fashion world and bring fresh inspiration not only to Revelle clients, but to future-weds all around the world.
Our Top 5 New Tara Lauren Styles
For this blog, we want to introduce some of our favourite pieces from Tara Lauren's latest collection, demonstrate the impressive versatility of the collection, and offer some suggestions of how we would style these pieces to create your complete wedding day look.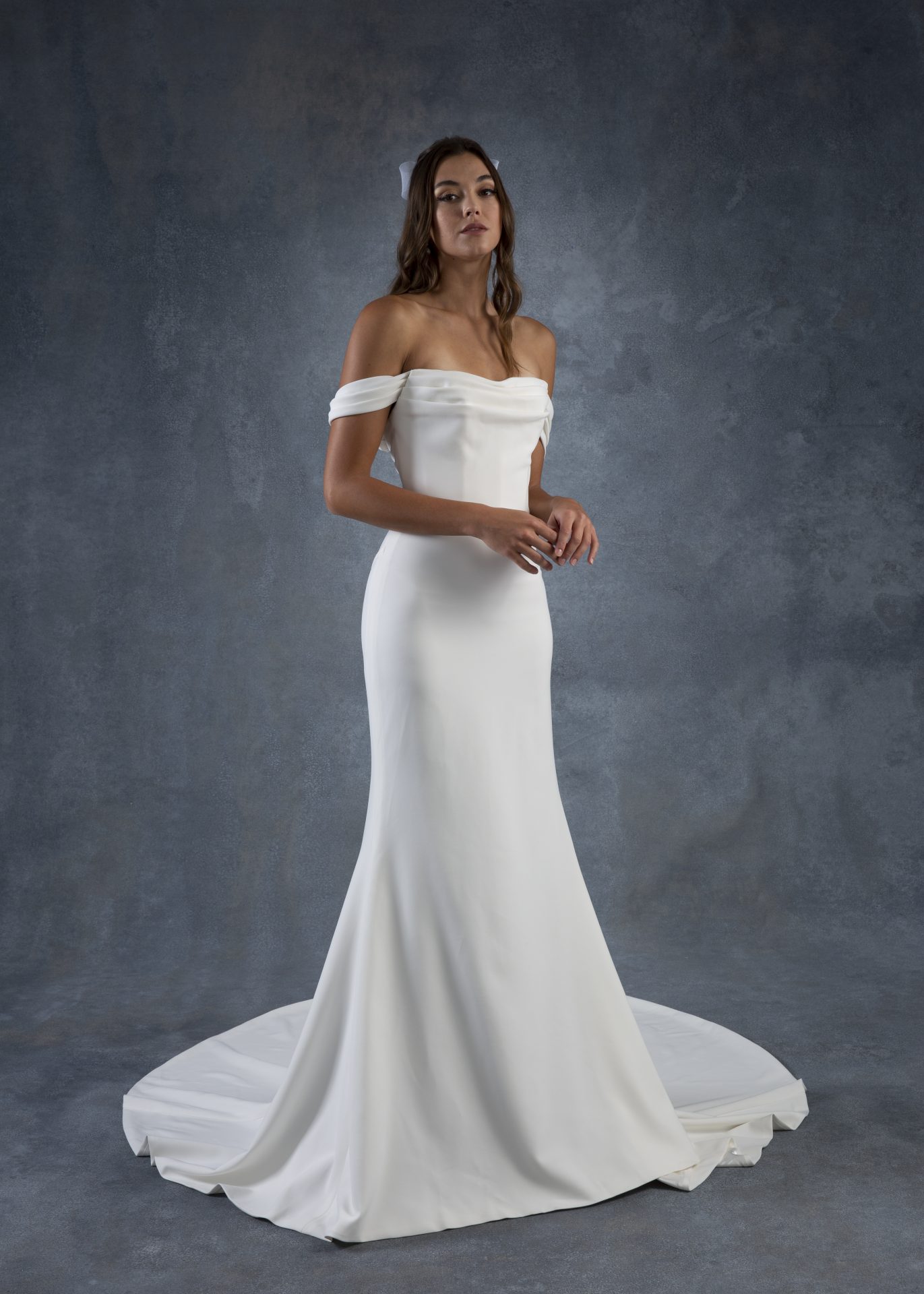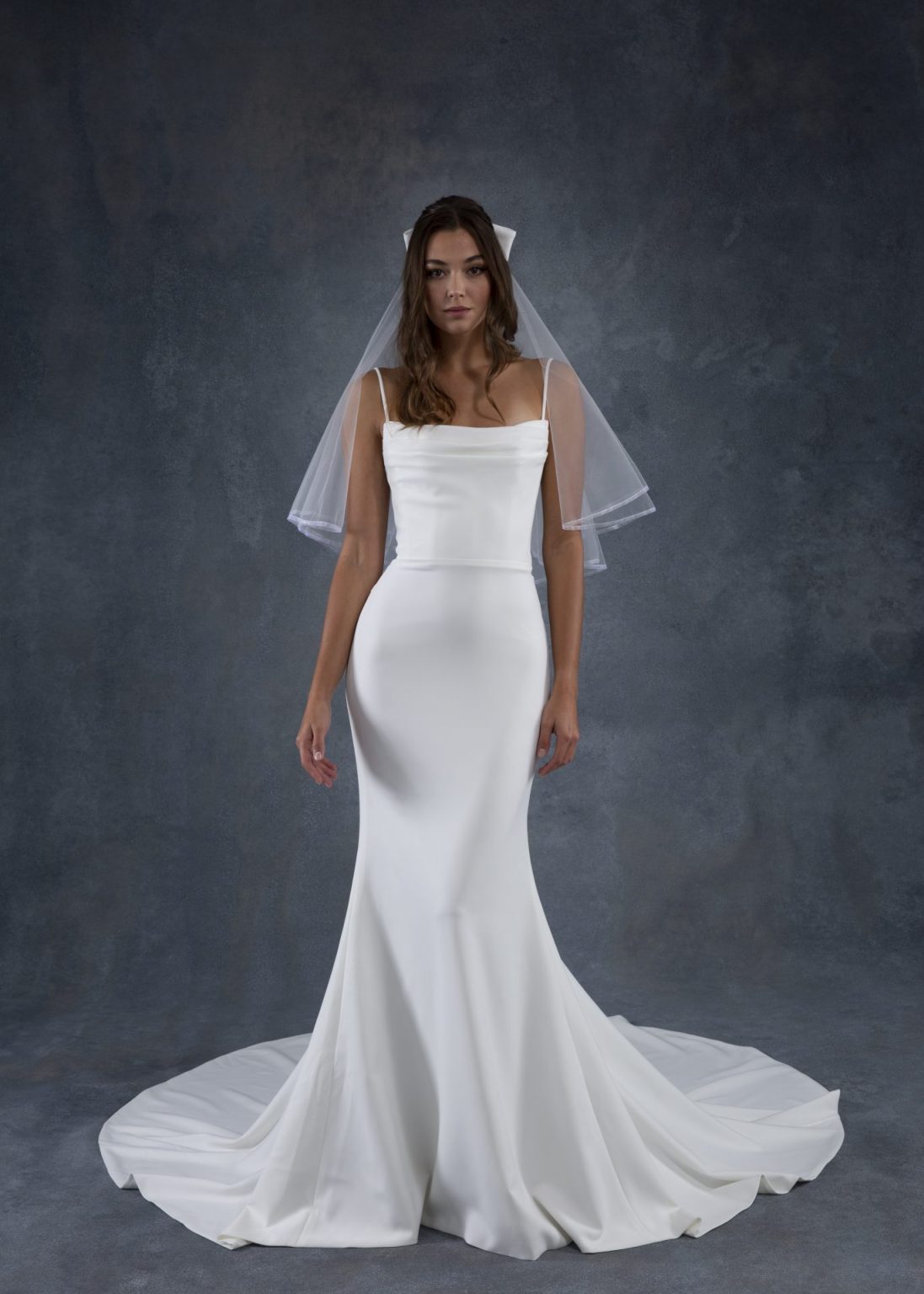 1. Laguna
The perfect gown to achieve a simple and elegant look
Laguna is a stunning crepe gown with a supportive boned bodice, and a flattering cowl neckline. As demonstrated in the photos, Laguna also has two different strap options to choose from, as well as the option to have both the off-shoulder and the spaghetti strap to create two looks. We envision the off-shoulder look for the ceremony, and then switching to the spaghetti strap for the reception so that you can dance the night away without any restrictions.
How We'd Style Laguna
One thing we love about a crepe dress is that you can accessorize it in so many fun ways. We would recommend pairing Laguna with the Jackson Cathedral Veil or the Palm Beach Gloves from Untamed Petals for maximum elegance.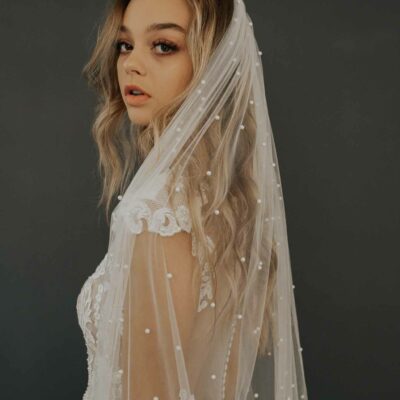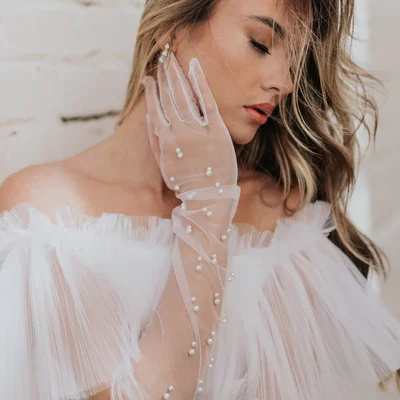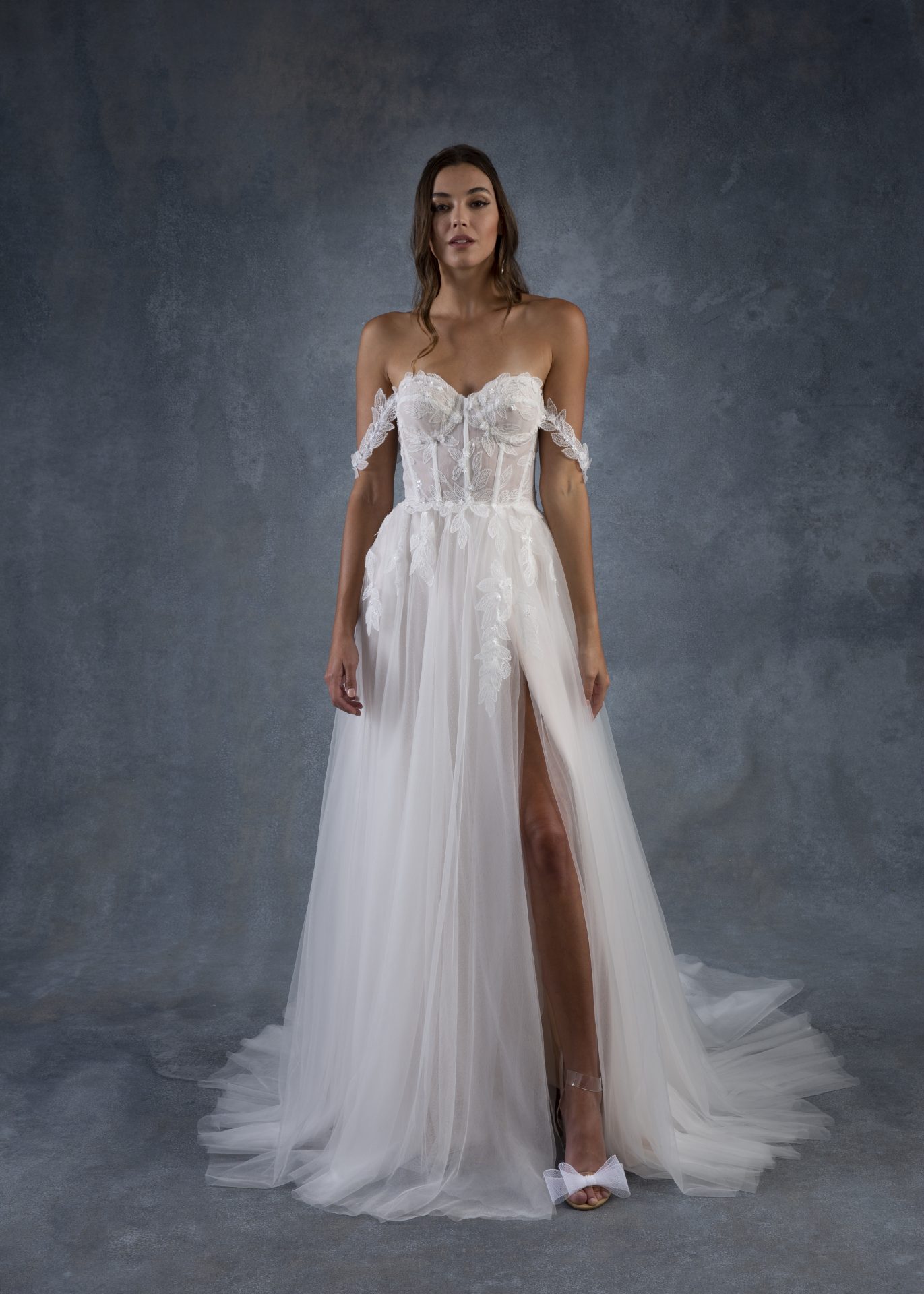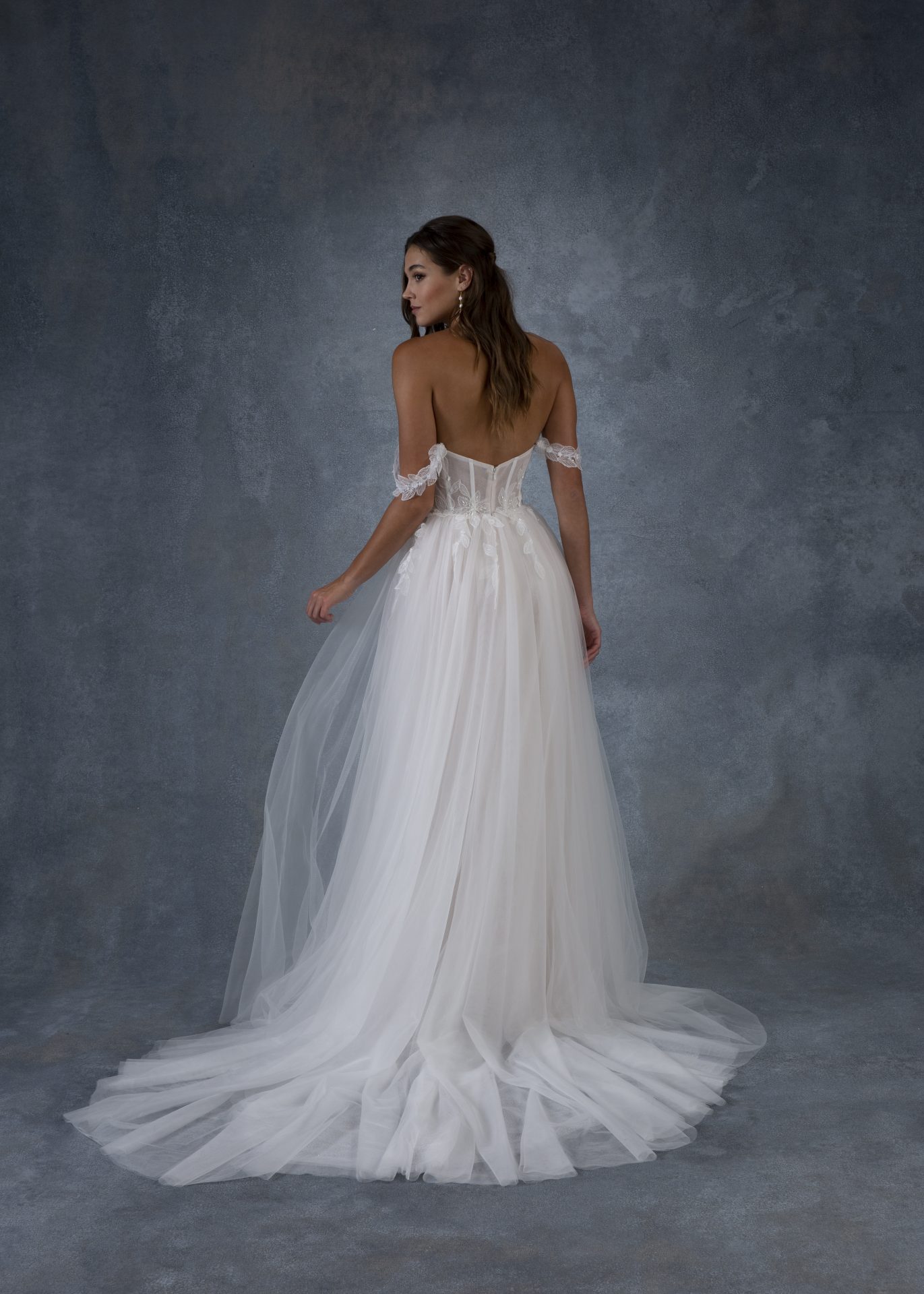 2. Layla
The perfect gown to achieve a romantic and whimsical look
Layla is a light and airy gown with a sparkly tulle underlay, dreamy 3D lace appliques, and stunning boning detail in the bodice. The dainty off-shoulder sleeves and statement slit are the perfect finishing touches on this beautiful gown. Layla is available in blush and ivory and can come without the slit, depending on your preference.
How We'd Style Layla
We would pair the Layla gown with our Katie Mrs. Jacket, a light wash denim jacket that adds a bit of edge to this romantic gown.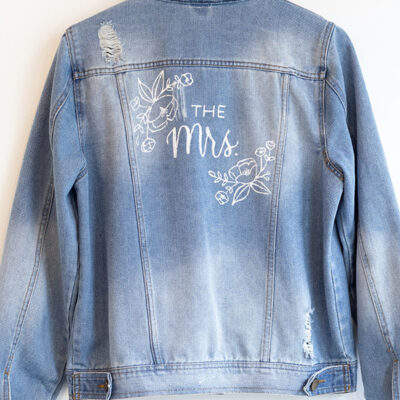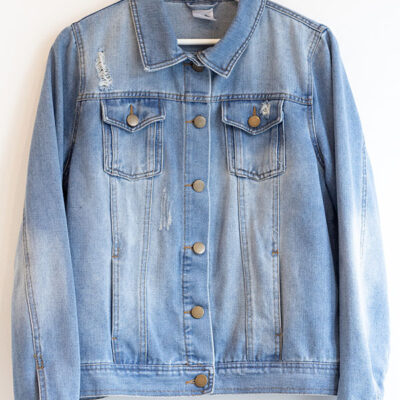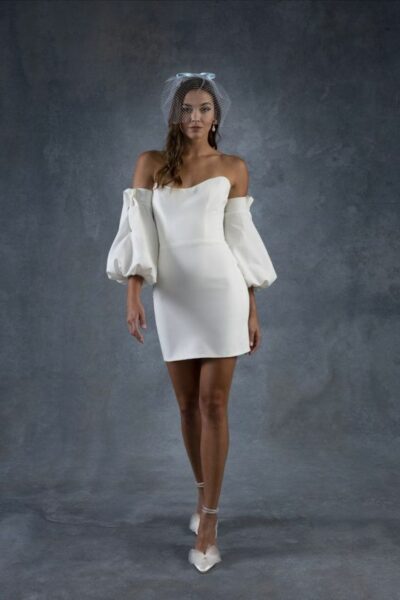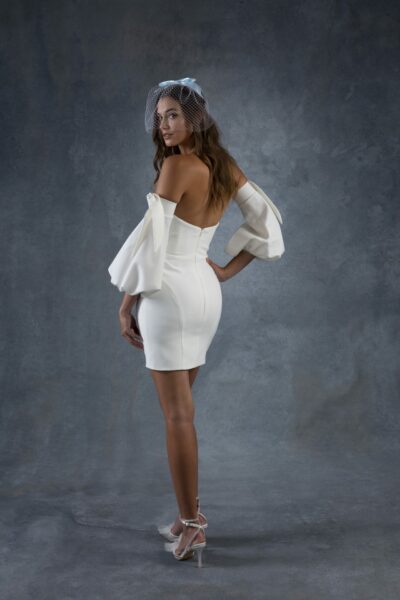 3. August
The perfect gown to achieve a classy yet playful look
August is a flattering, crepe mini dress with a strapless smile neckline and stunning off-shoulder billow sleeves. Its elegant shape and statement sleeves make it a one of a kind dress that none of your guests will ever forget. We also love a mini dress because it gives you the opportunity to wear some extravagant shoes for everyone to admire!
How We'd Style August
The August mini dress can also be dressed up to create two looks by pairing it with an overskirt, like the Lanie Overskirt from Untamed Petals or a tulle jacket like the Avedon Jacket from Tara Lauren.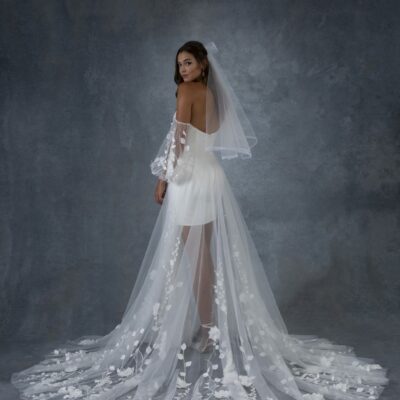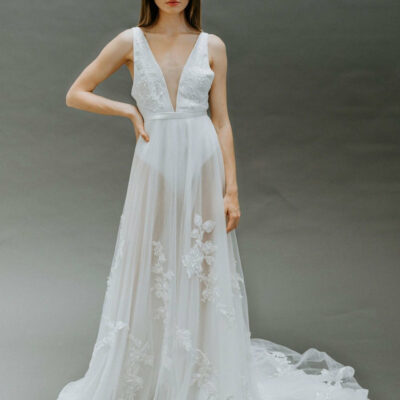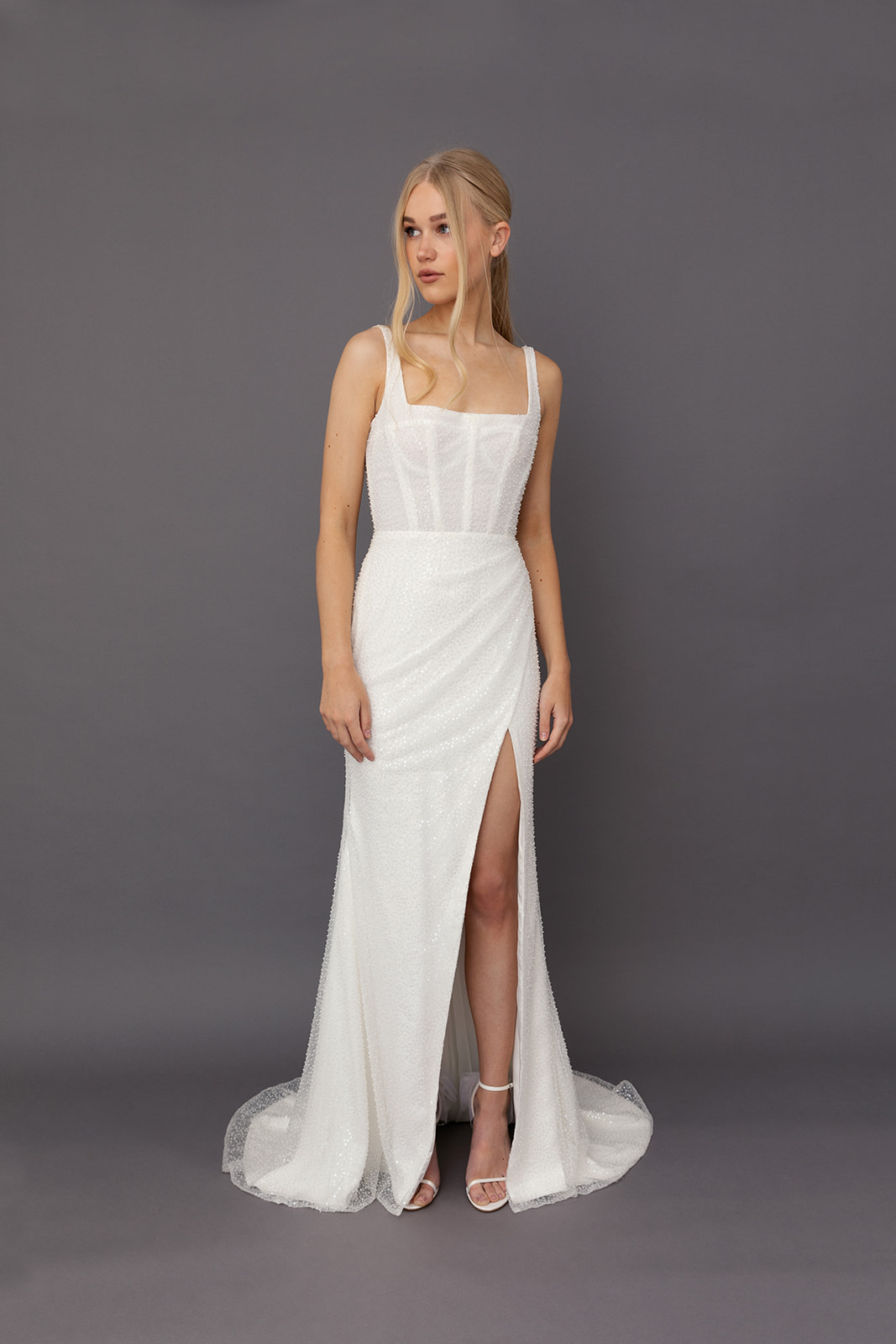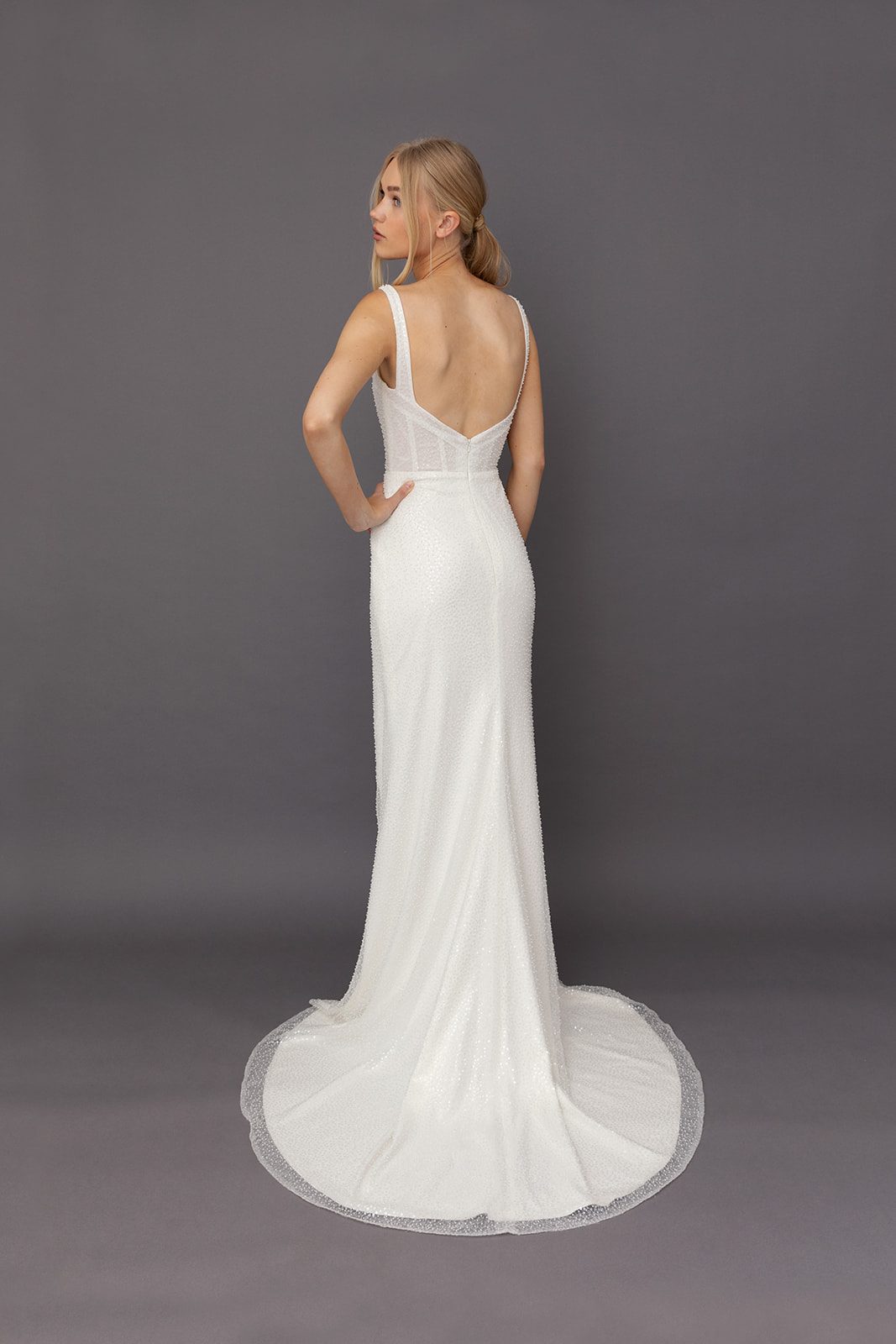 4. Banks
The perfect gown to achieve a show stopping, glamorous look
Banks is an eye-catching, fully beaded gown with a boned corset bodice and a draped skirt. The sexy slit and flattering square neckline brings Banks to perfection. It's the perfect statement dress for the bride who wants to shine all night long and sparkle in the evening light.
How We'd Style Banks
We would style Banks with our Trixie Crystal Drops and Candlelight Veil from Untamed Petals for a dazzling look.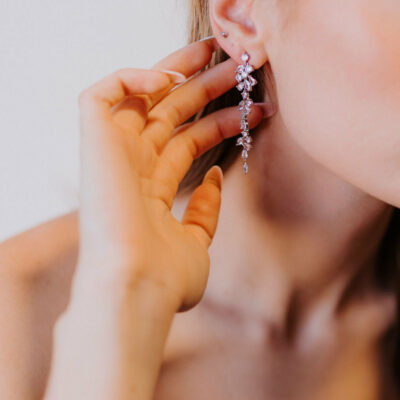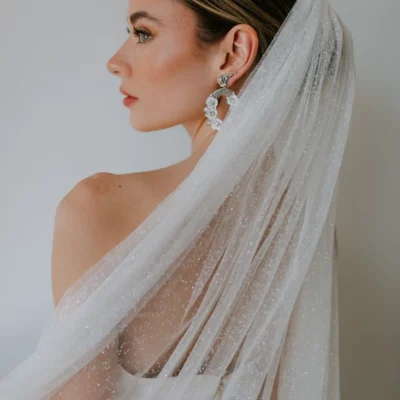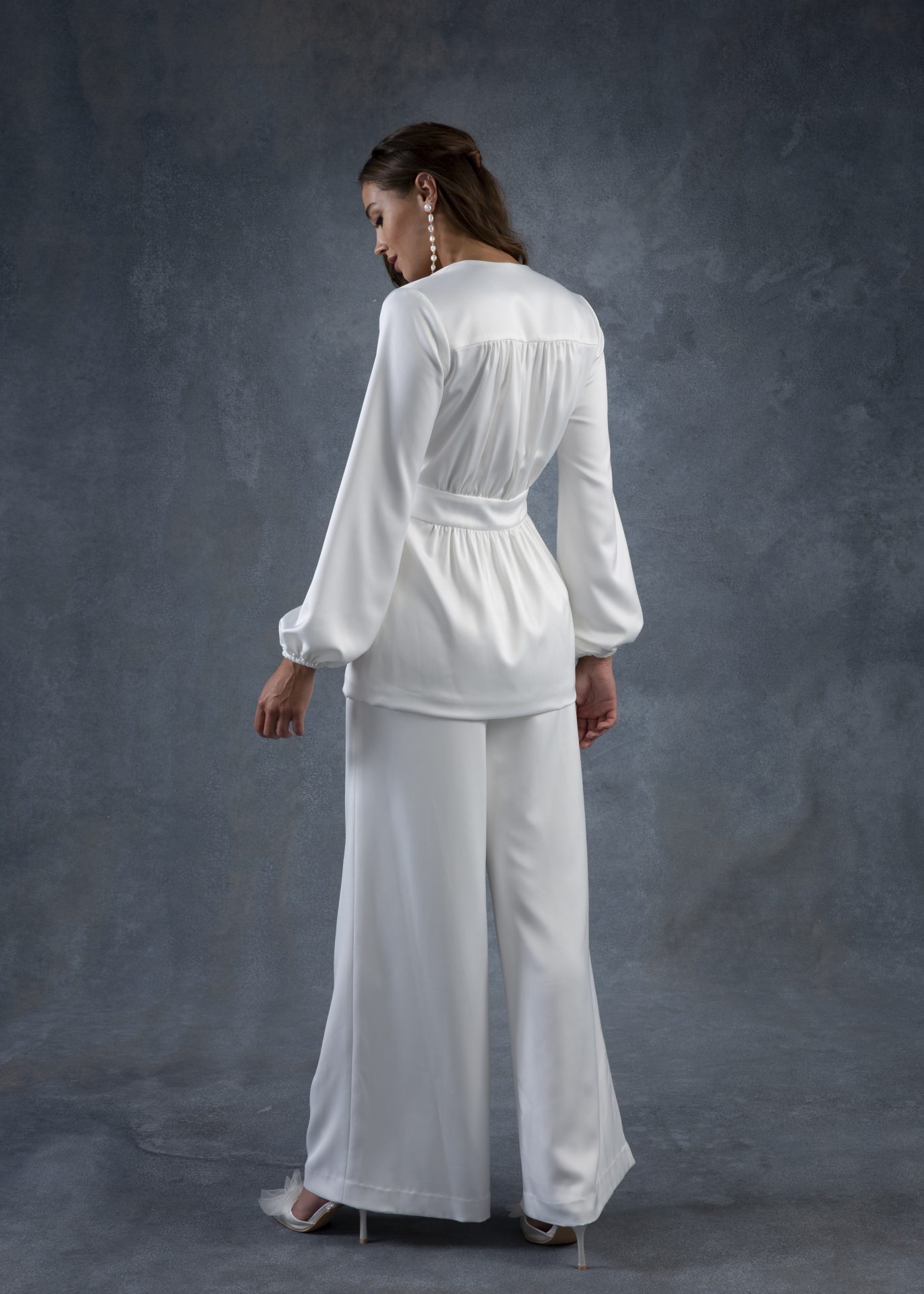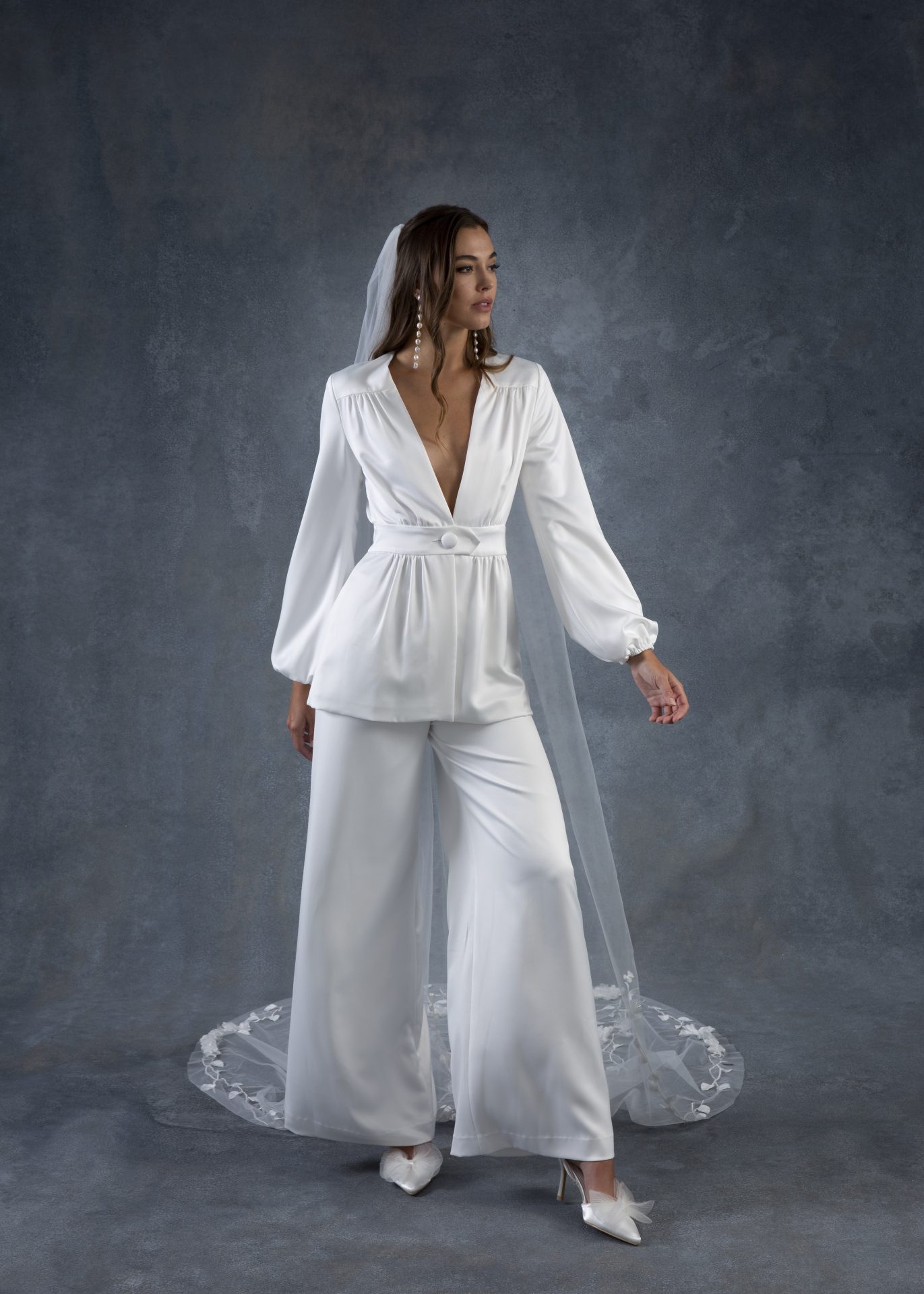 4. Dionne
The perfect wedding outfit to achieve a bold and eccentric look
Dionne is a uniquely stunning wide-leg silky pantsuit with a wrap around bishop sleeve jacket and a plunging neckline to add a bit of sexiness to the look. The luxurious fabric and button fastened belt at the waist makes this the perfect bold look, down to the details.
How We'd Style Dionne
We would style this with the Bardot Veil from Tara Lauren and the Harper Pearl Drops from Untamed Petals to dress up this playful pantsuit.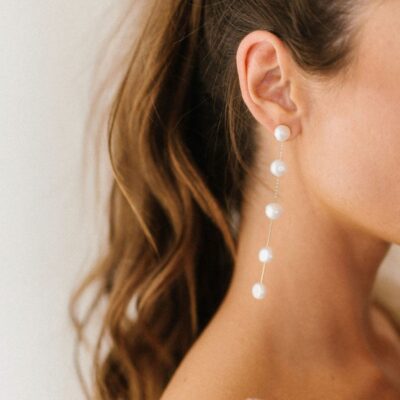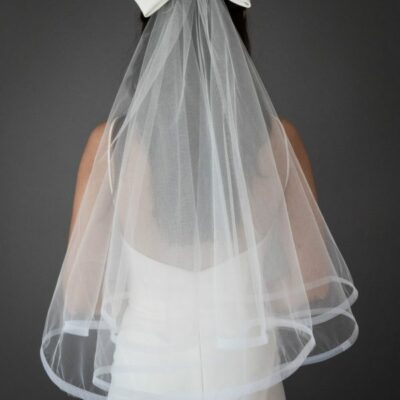 The 2022 Collection from Tara Lauren is versatile, unique, and incredibly beautiful. These five looks are just a preview of everything we will have in store for the trunk show from September 16-25!
If any of these looks are jumping out at you, book in with us for the trunk show to try on these styles and many more! As well, if you are liking how we have styled the new collection in this blog, we encourage you to book in for an accessories consultation with us to try out the pieces mentioned above! 
Book Now