New York Bridal Fashion Week Through Our Eyes
What is New York Bridal Fashion Week?
One of the most exciting events on the calendar of most bridal boutiques is New York Bridal Fashion Week, taking place in April & October every year. This must-attend event for the wedding fashion industry experts allows boutiques access to Bridal designers from around the world.
This year Marisa, our Boutique Operations Manager, was able to attend April NYBFW in person for the first time since 2019! At the Melange De Blanc and One Fine Day event she scoped out the newest styles from designers we carry, as well as looking for the perfect new collections to bring to Ottawa.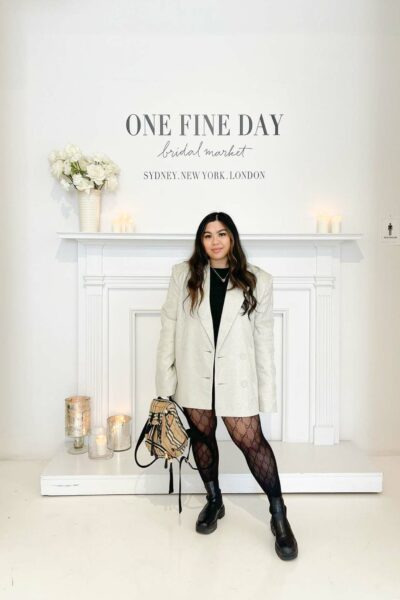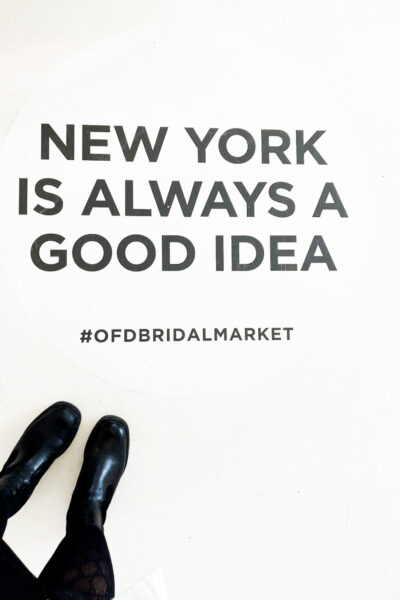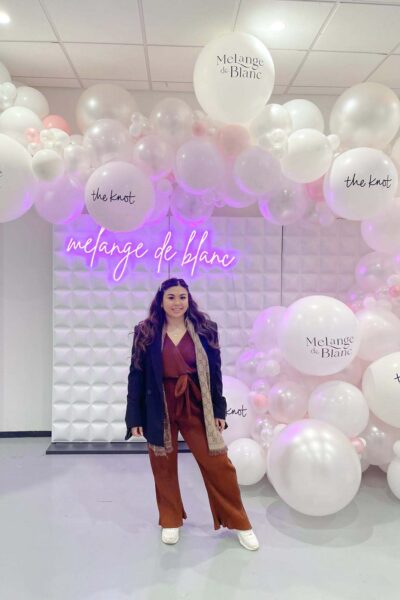 What We Saw – 2023 Bridal Trends
With new collections from Anna Kara, Laudae, Aesling, & Truvelle to browse, Marisa had the opportunity to get a first look at their latest styles, and safe to say the 2023 Bridal Season is looking stunning. Textured sleeves, bold laces, daring slits and non-traditional necklines are the hottest looks of the next year, and our designers have absolutely killed it with a whole host of stunning styles that we cannot wait to bring into Revelle.
Who We Met
We first stopped by to meet with White One at Sixth Floor Loft to view some of the gowns from their vast collection of shapes, styles and silhouettes to suit every bride, even getting to meet the designer Aldin who talked Marisa through his collection. Marisa also had the opportunity to meet with Florida-made Penelope & Lex who showcased their beautiful designs at One Fine Day, designed especially for the chilled out bride, with a mixture of soft fabrics and statement laces.
At One Fine Day, Marisa was able to meet with Jeannelle L'amour who is based out of South Africa where all her gowns are made and handcrafted, so cool! They cater to that luxe bride who wants the bling, the lace, the plunge, the PARTY! They even released some short dresses that are perfect for any bridal occasion!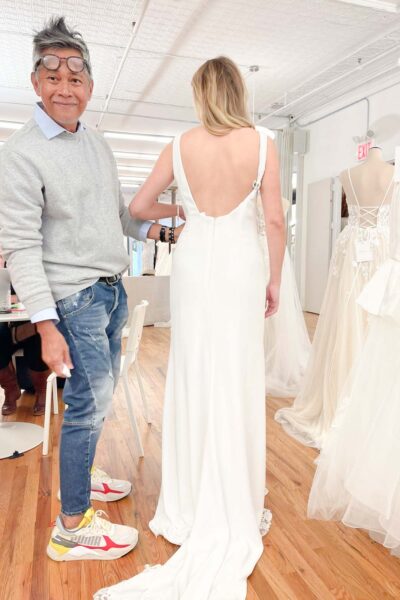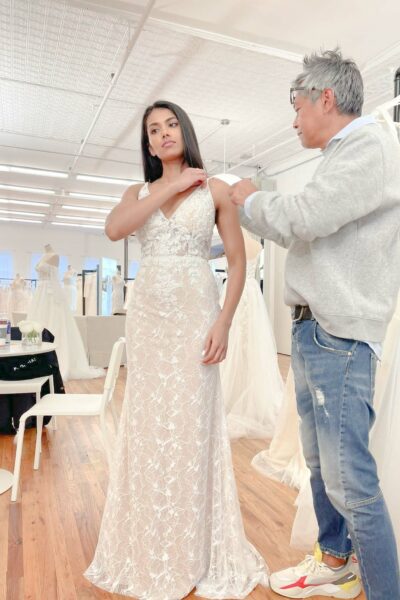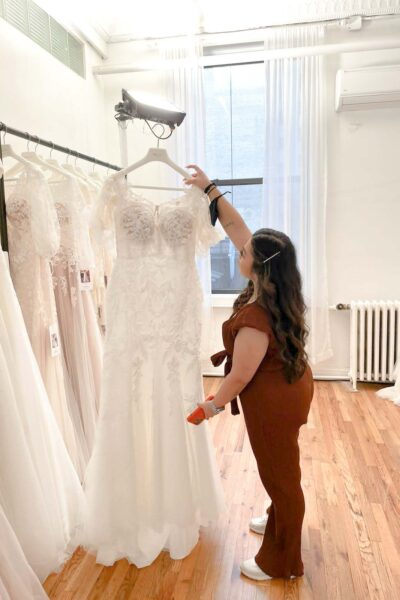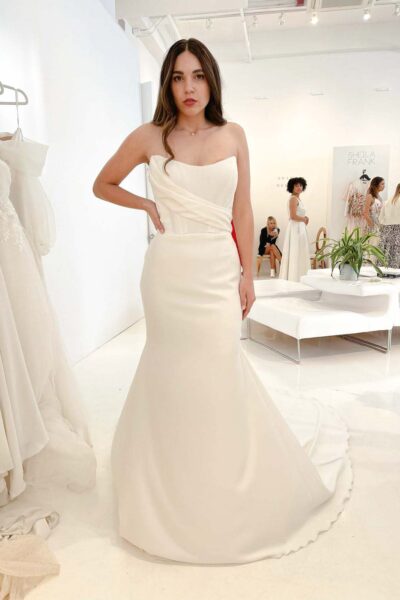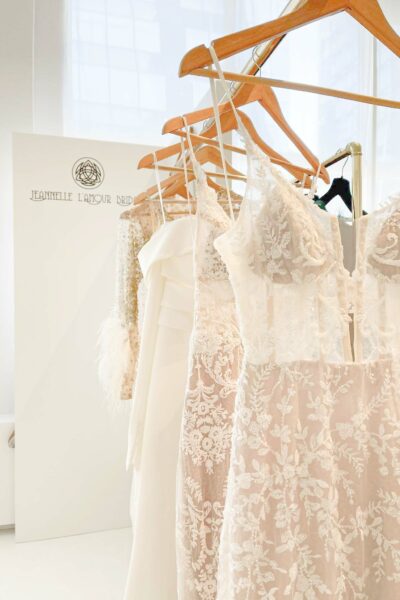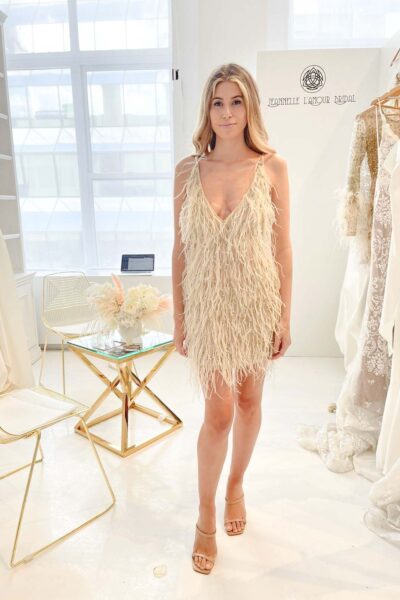 We made it to Melange de Blanc where Marisa was able to meet with Coterie White's new Love Story based in London, UK. They offer minimalistic, modern gowns with plunge v-neck options and also have a few separates! They cater to those brides-to-be who are looking for that effortless, luxe look!
How can we check out all bridal designers without taking a peek at accessories that would go well with these gorgeous dresses. We visited our fav Untamed Petals who are killing it with their jewellery and veil options! We have their new new coming to Revelle very soon!  
We also met with Jade Oi, who is not yet (hint hint) one of our permanent stockists for Revelle Bridal. After meeting her, she is one of the cutest accessories designer who works out of Brooklyn, NY, we quickly became aware that they would go perfectly with any one of our gowns. If you're the bride looking for more pearls, those chandelier earring options, pearl scrunchies, stay tuned as Revelle might have to add her to our accessories roster and bring more new accessories options!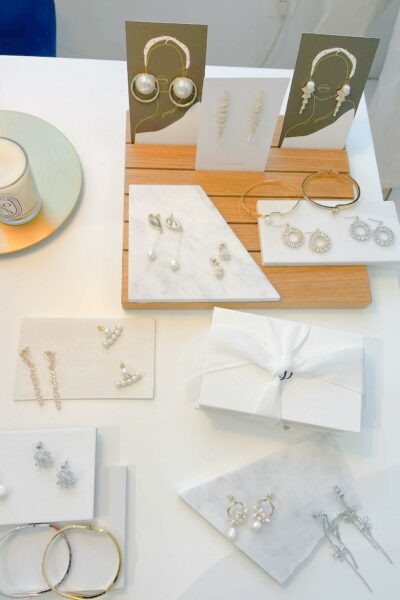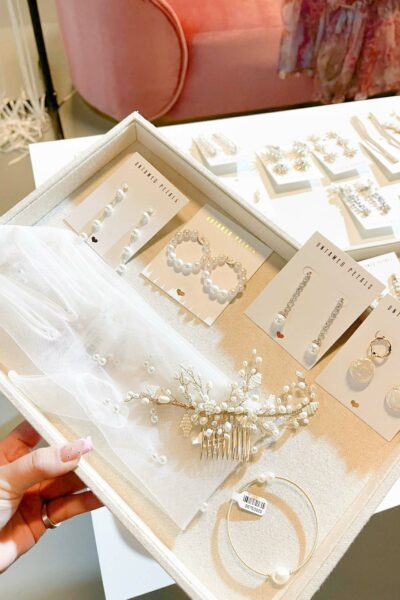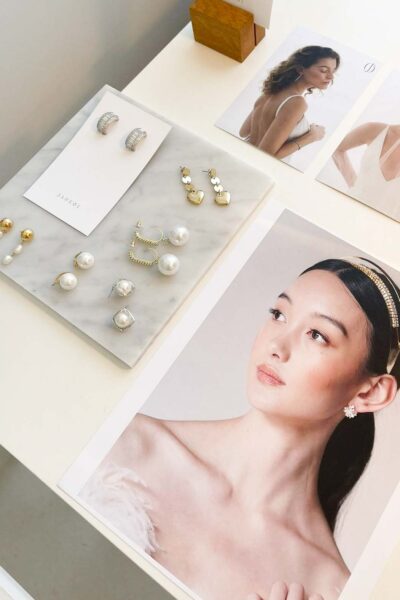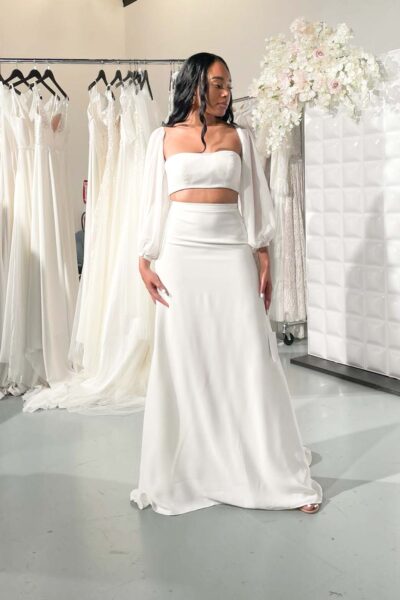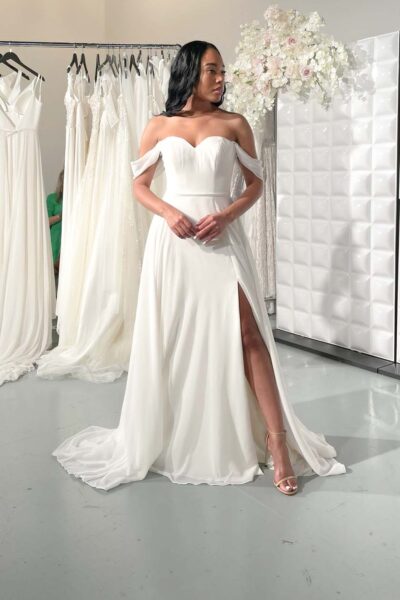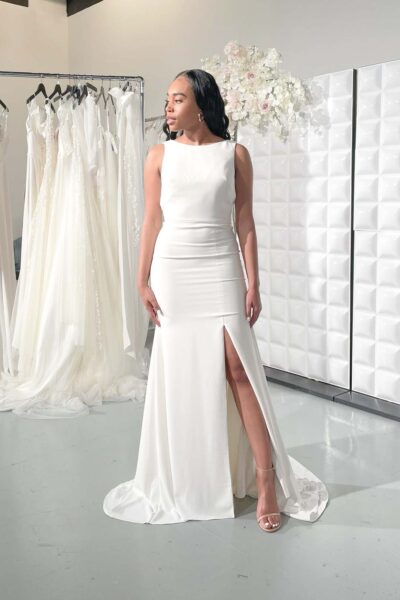 October Market Here We Come!
We love connecting with our stockists to see what they have been working on for their next bridal collections and meeting with new designers to see what would best fit our selection at Revelle. We also enjoy connecting and meeting new and old bridal industry friends from all over the world! We are so grateful for the opportunity to have gone, and we so look forward to October Market. As always, let us know what you brides are looking for and what you think we should add next!