Designer Spotlight: Made With Love
Since Revelle's inception in 2017 we have seen so much change, from rebrands to a global pandemic, but one of the things that has remained constant is how much our brides love Made With Love. Made With Love was not only the first designer that Revelle became a stockist of when we decided to branch out from second-hand, but all of us here at Revelle are so proud to be one of the top three Made With Love stockists in all of Canada, an honour that we do not take lightly. Made With Love is one of our best-selling designers and we cannot wait to host the Made With Love Trunk Show from July 8 - 17!!
About Made With Love Bridal
Created in Australia by Carla Jenkins, Made With Love is a luxury bridal brand with stunning gowns for the effortlessly chic marrier. The brand came to be in 2013 when Carla struggled to find her dream wedding dress on the pre-existing market and has now become an internationally recognized, family-owned, bridal brand. Just like Revelle, Made With Love would not be what it is today without the help of family and the support from the important women that surround us. The Made With Love team is continuing to aim for releasing two or three new gowns every few months to keep creating new looks for all of our future clients and we cannot wait to see what they come up with!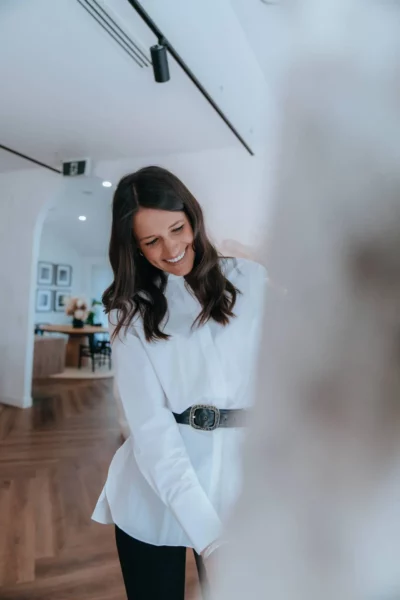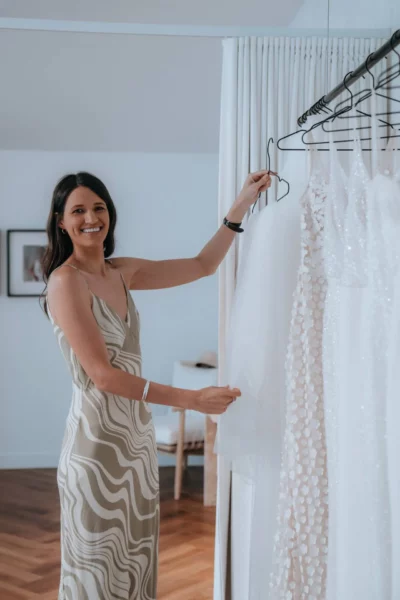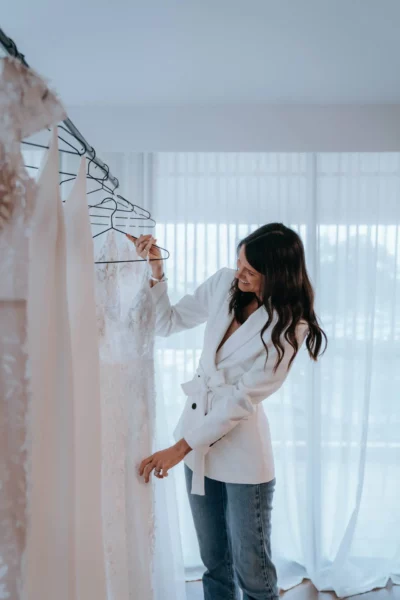 What We Love About Them
There are so many things that we adore about working with Made With Love, but overall, we absolutely love their mission to empower and inspire each and every one of their clients while retaining their down-to-earth roots. Each new gown that they present to us is stunning and on trend but simultaneously unique to ensure that they never get lost in the mix of bridal brands. The relationships that they cultivate with each of their stockists just adds to the many reasons why we feel so grateful to work with them, as they are always happy to help with any questions and concerns and are willing to attempt almost any customization a bride inquires about to help get their dream dress. 
Customize Your Wedding Dress
While each Made With Love gown is already to die for all on their own, the customization options that the Made With Love team makes available allows for the dress shopping process to be much easier and helps our clients create their dream dress. For example, almost all of the Made With Love gowns have the option to raise or lower the neckline to ensure that the client is as comfortable as possible and won't be worrying about adjusting the dress all night long. Many of the dresses are also made in a fitted and a flowy version so that if a client falls in love with the patterning of a certain dress but doesn't feel that the fit of the gown suits them, they have the option of switching it up to find the perfect gown. Another one of our favourite customizations here at Revelle is the option to add buttons on their crepe gowns, whether it be buttons down the zipper or all the way to the bottom of the train, these gorgeous french crepe buttons add an elegant touch to every gown. Made With Love also has different colour ways for each gown and various train customizations, as well as many other more specific customization options that enhance and personalize each and every gown to make sure that the client is feeling their best on their wedding day. Every step of the Made With Love creation, design, and production process is done with intention and integrity and we carry those practices into our business everyday here at Revelle, which makes us the perfect pair.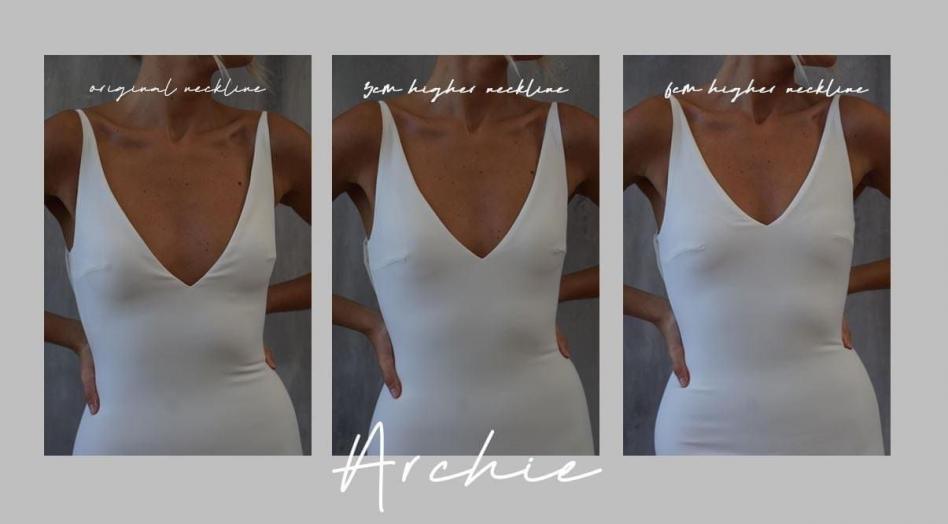 While we have many of the Made With Love designs in our inventory already, the trunk show is a wonderful opportunity for our brides to try on some dresses from Made With Love's newest collection in different sizes, colours, and customizations than the samples we have in our store.
Made With Love has the perfect variety of gowns from sleek, crepe looks to romantic, lace styles and, of course, glamorous and elegant beaded gowns. They have provided us with classic and iconic gowns such as the Archie, which is a timeless crepe gown with a deep v-neckline and a low back with a draped cowl, a look that has now become hugely sought after by many brides.
Another one of their styles that we will never get over is the Ryder, an immaculately hand-beaded gown with a plunging neckline and flattering side cutouts, which never goes out of style.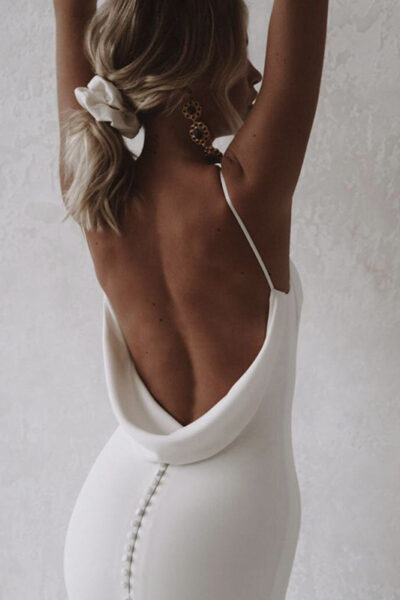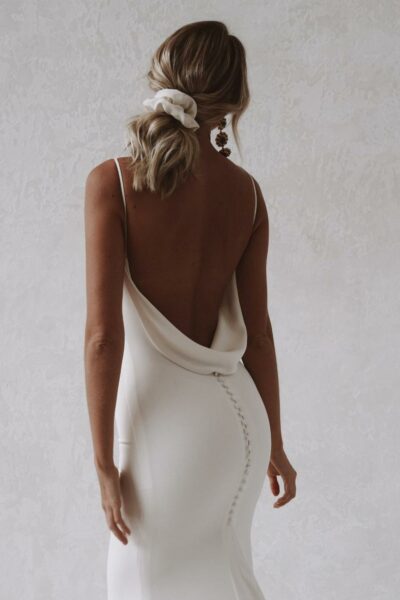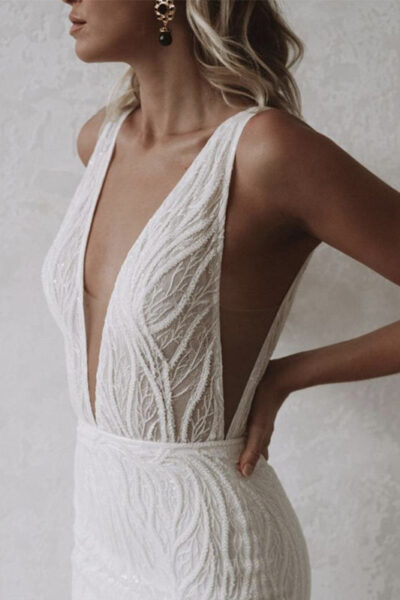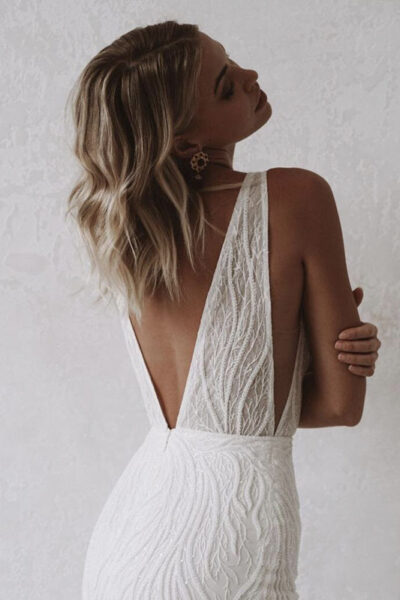 The newest Made With Love gowns are just as stunningly impressive as the ones before and they never fail to amaze us with their talent. Some of our faves are Tilly; a beautifully hand-beaded gown with an elegant scoop neck and playful spaghetti straps, Huxley; a stunning gown with floral lace detailing and an irresistible corset top, and Harry; a spin-off of the iconic Archie with the same figure-hugging crepe and plunging neckline, but with a removable flowy train streaming down the back of the gown.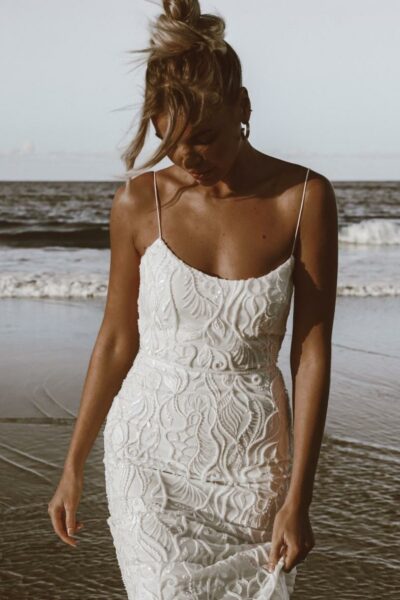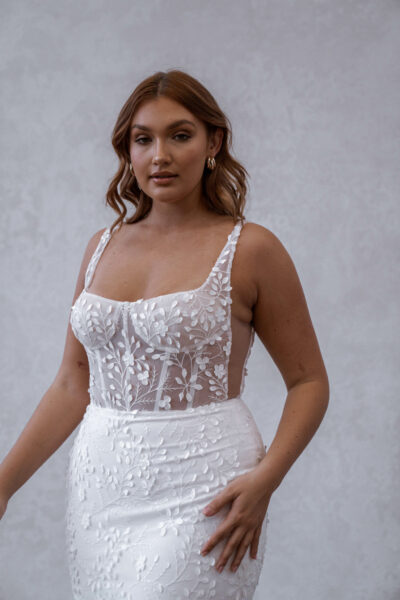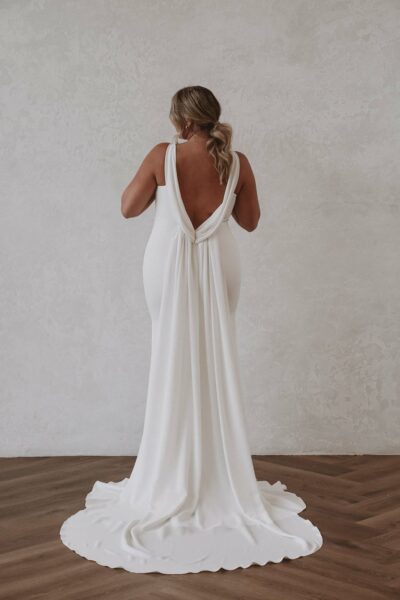 Book Your Spot In The Trunk Show
For more information on trunk shows, read more here!