Evie Young Designer Spotlight
You Spoke, We Listened
At Revelle, we are constantly trying to expand our collection to reflect the needs and wants of our clients to ensure that we are providing them with the styles they are looking for. We listen intently to the feedback we receive and keep our eyes out for new designers that fit our clients' desires, and then, as a team, we determine which gowns would fit best within our collection.
One of the main pieces of feedback we received from our clients over the past year was that they wanted to see a bridal brand that matched the style, quality, and vibe of our gowns, but at a lower price point than some of the other designers we carry. As a small business, we completely understand the desire for achieving an elevated look for a more affordable price, so we listened to our clients and this summer we picked up a stunning new designer Evie Young, whose price range is $1500 - $3000. Evie Young is a modern, unique, and versatile designer and we are so grateful to be new stockists of this amazing bridal brand!
About Evie Young
The Evie Young brand is designed by Creative Director, Liz Young, and behind the brand is an all-women team based in the Gold Coast of Australia. Everything from the design to the marketing is done in house at the design studio in Australia, but the Evie Young team has brought the gowns around the world to shoot strikingly beautiful campaigns that reflect the ambience of the collection and to showcase the gowns at bridal fashion shows.
Each gown is meticulously designed and produced with comfort in mind, ensuring that the bodices have adequate support, the fabrics are breathable and the skirts are not restrictive so that you can dance all night long. Evie Young also prides themselves on being size inclusive with a size range from 2-28 available to order and various customization options to give every client the opportunity to bring individuality and confidence into their gown. Evie Young gowns are designed for the unconventional bride with main character energy and we can't wait to see how our clients style their Evie Young gowns to reflect their personal style! 
This weekend will be the last opportunity for you to try on some of their most recent styles during the Evie Young Trunk Show at Revelle!
Our 5 New Evie Young Styles
We currently have five Evie Young gowns in our collection at Revelle and we are expecting more within the upcoming months! Below, we will introduce you to the gorgeous gowns we currently have in our stock!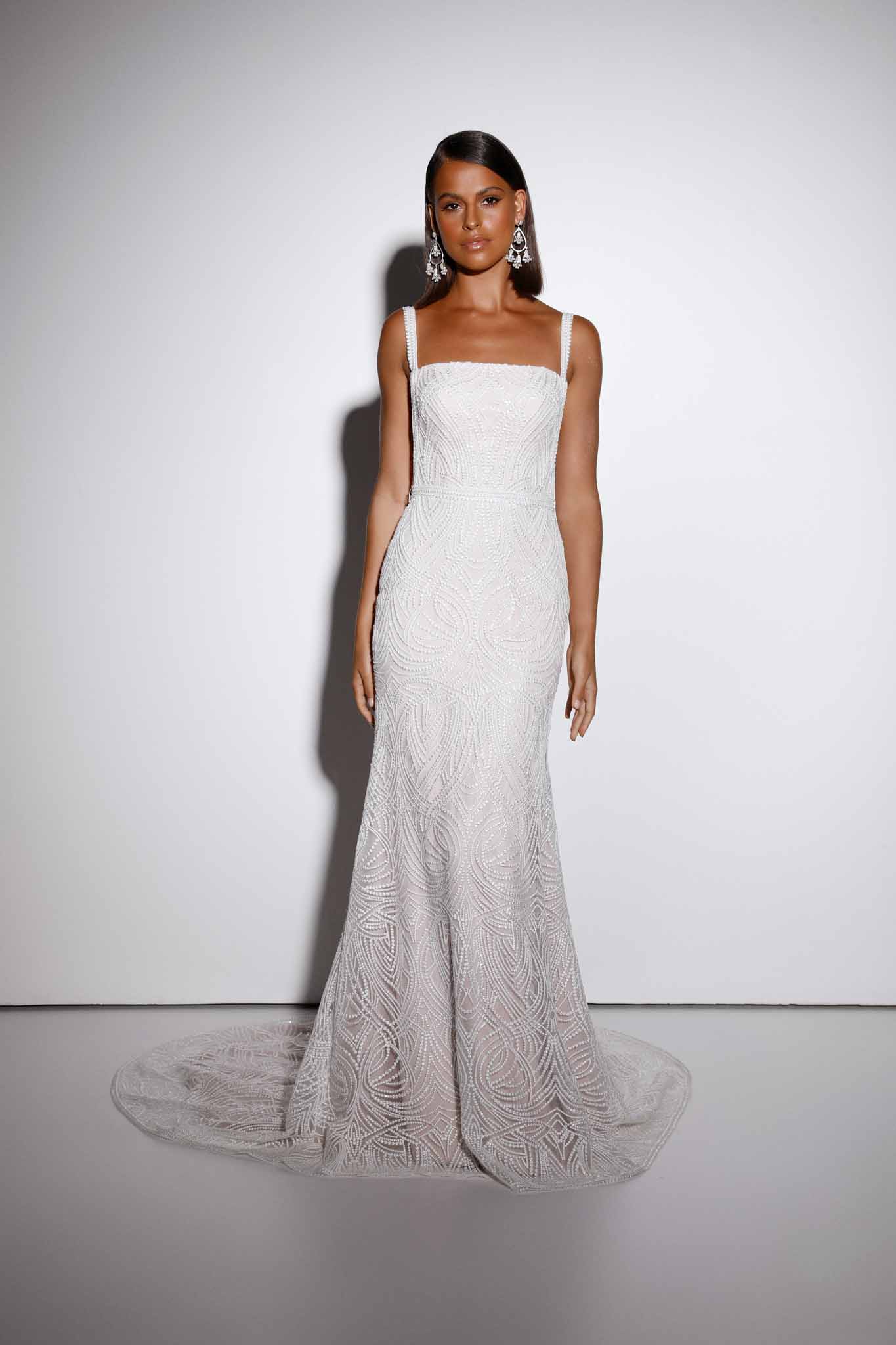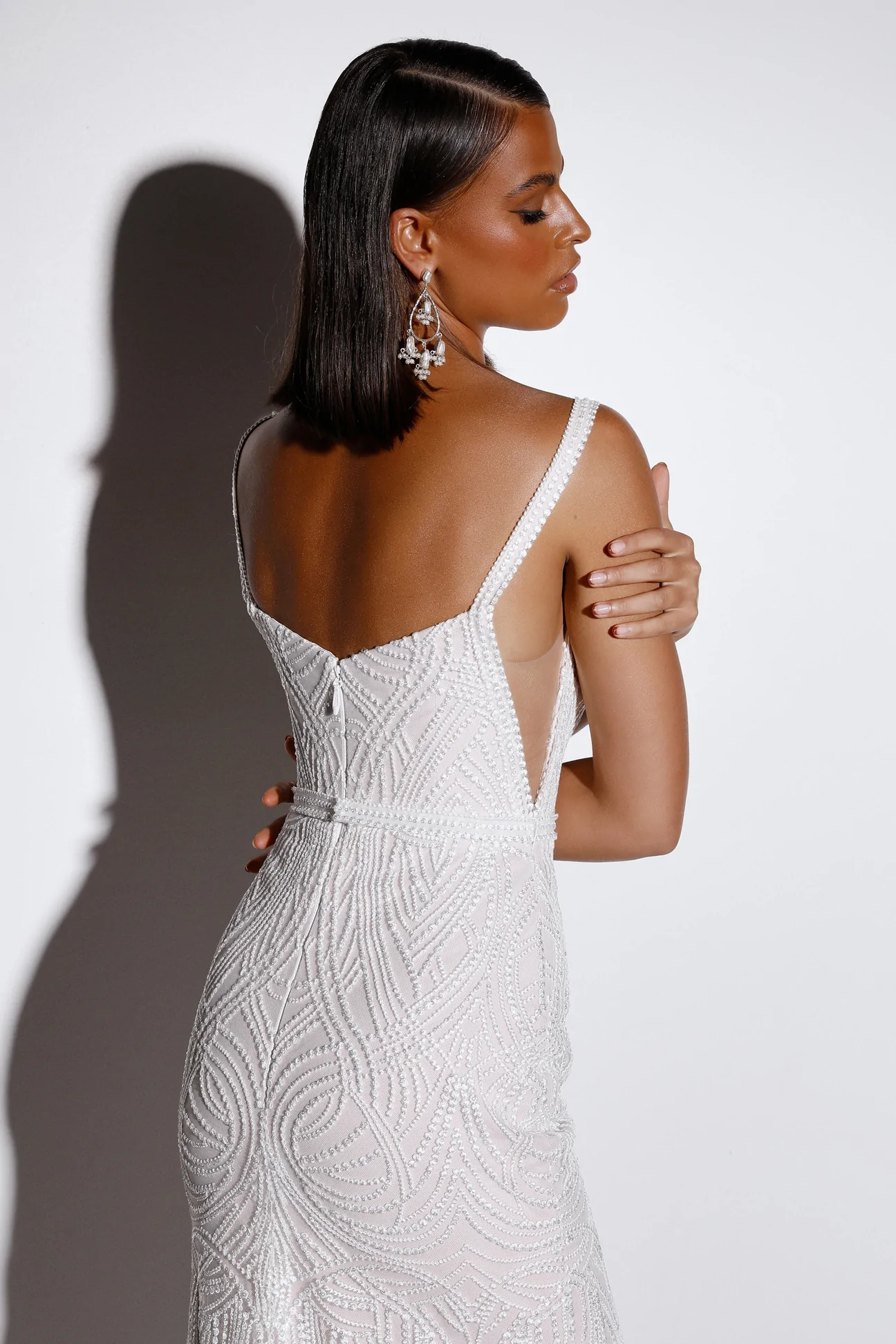 1. Reagan
Reagan is a stunning gown with all over dotted lace and a flattering square neckline. She has the perfect fitted silhouette with sexy side cut-outs to complement the modest neckline. She is available in multiple colours and is perfect for the client who loves simplistic detail and elegance! 
2. Miller
Miller is a gorgeous lightweight satin gown with an old Hollywood vibe! She has a strapless off-shoulder bodice, a beautiful plunging neckline and an elegant v-back for the perfect finishing touch. Miller is a timeless look that can be dressed up to reflect your personality while remaining elegant in nature!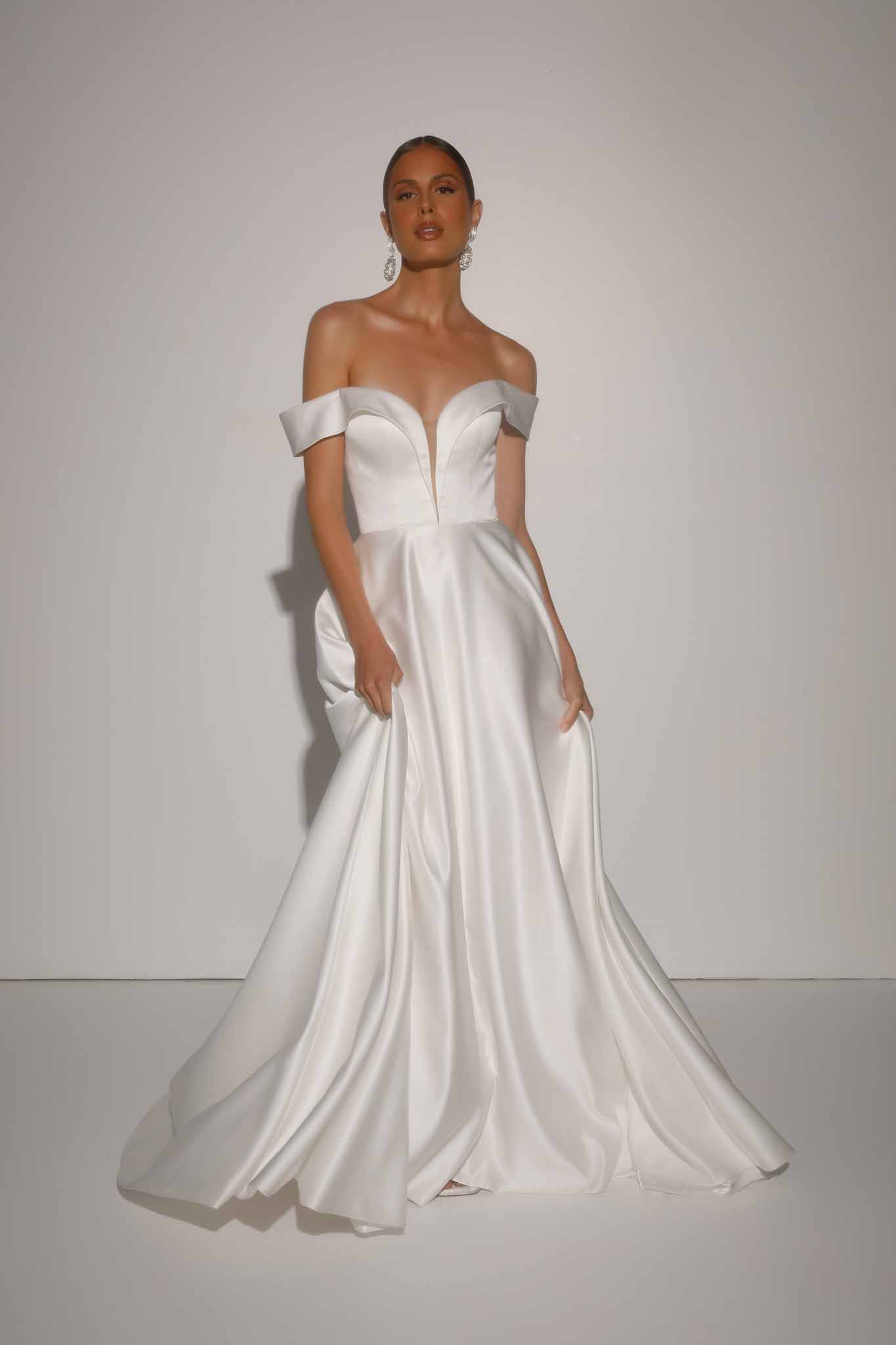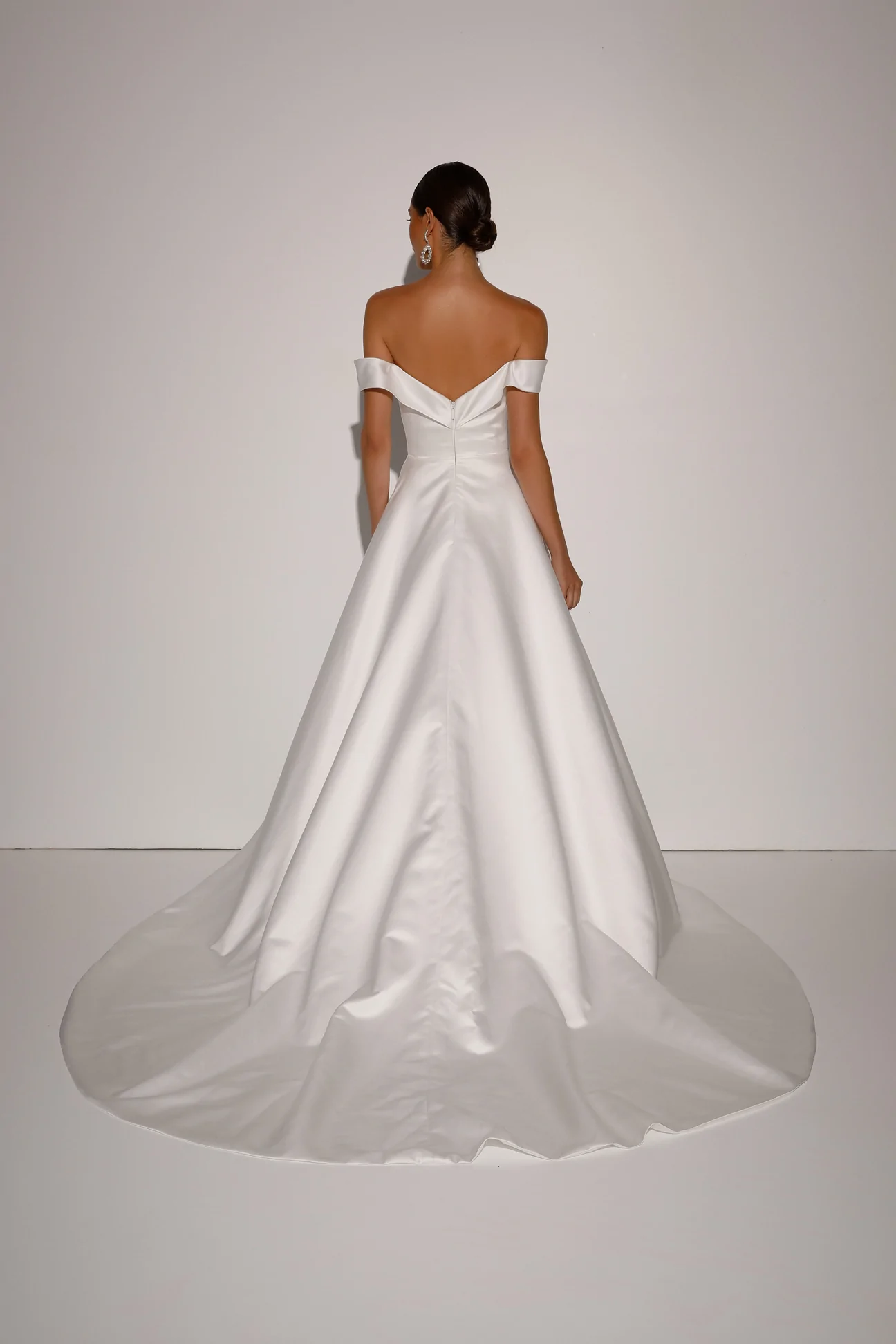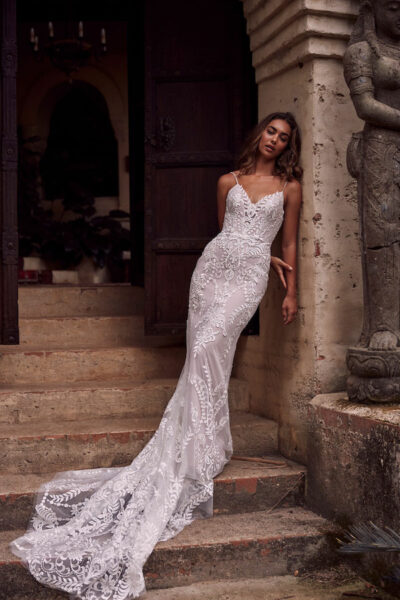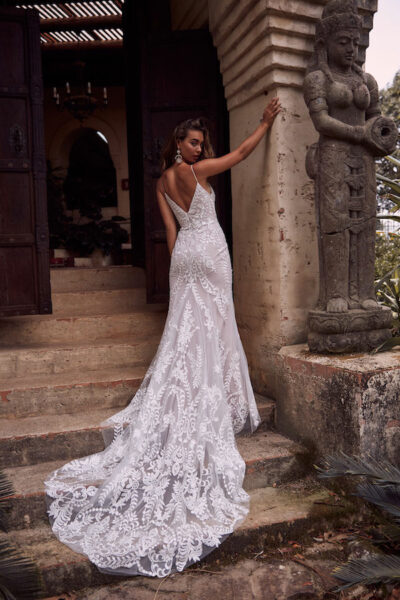 3. Ziggy
Ziggy is the perfect balance of elegance and boho with dainty spaghetti straps and bold, textured lace. She has a figure hugging silhouette and a flattering v-neckline and can come in this beautiful latte colour or a traditional ivory. She is perfect for the soon-to-be-wed who loves lace detailing and wants to make a statement!
4. Penn
Penn is the perfect gown for the minimalist spouse-to-be who wants to look effortlessly classy! This beautiful stretch satin gown has exposed boning in the bodice, a slight sweetheart neckline and an asymmetrical off-shoulder detail. This gown puts a modern twist on a classic bridal look with a traditional neckline and flowing train but a unique, contemporary bodice!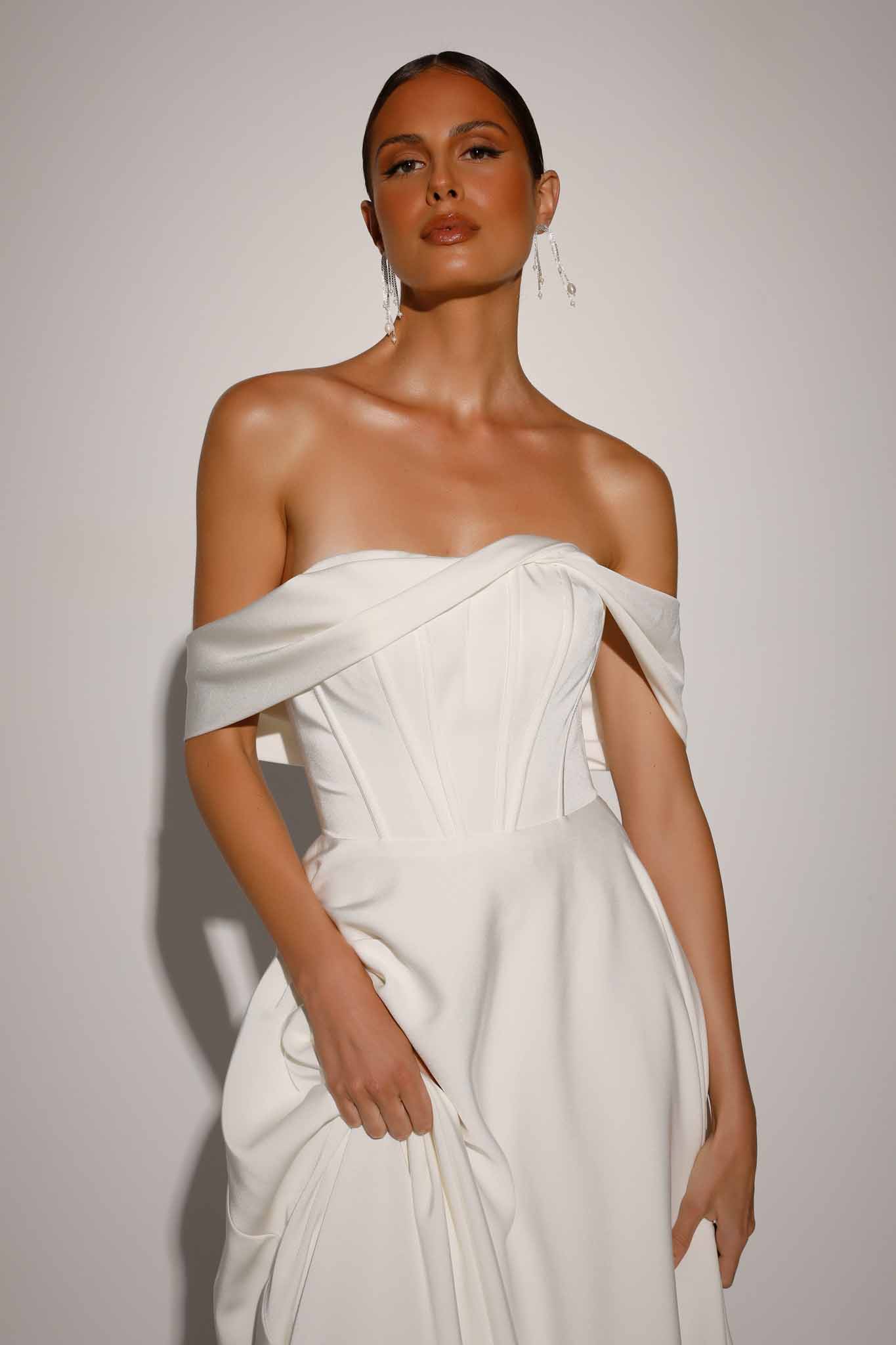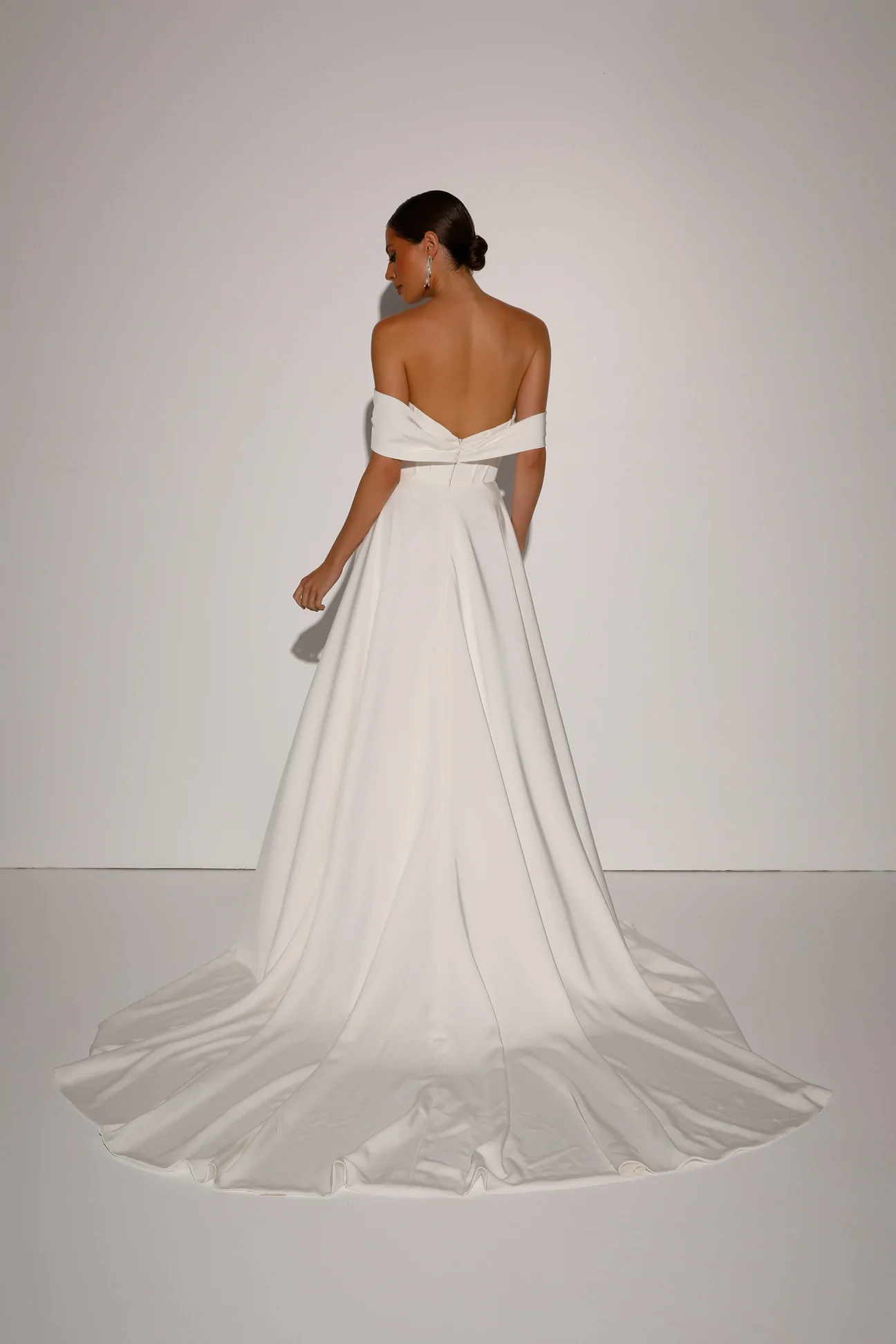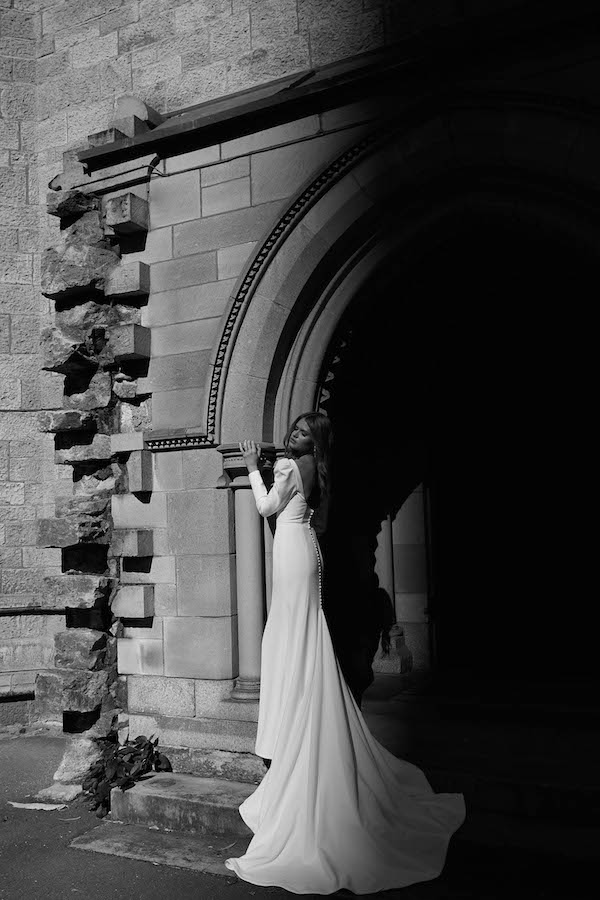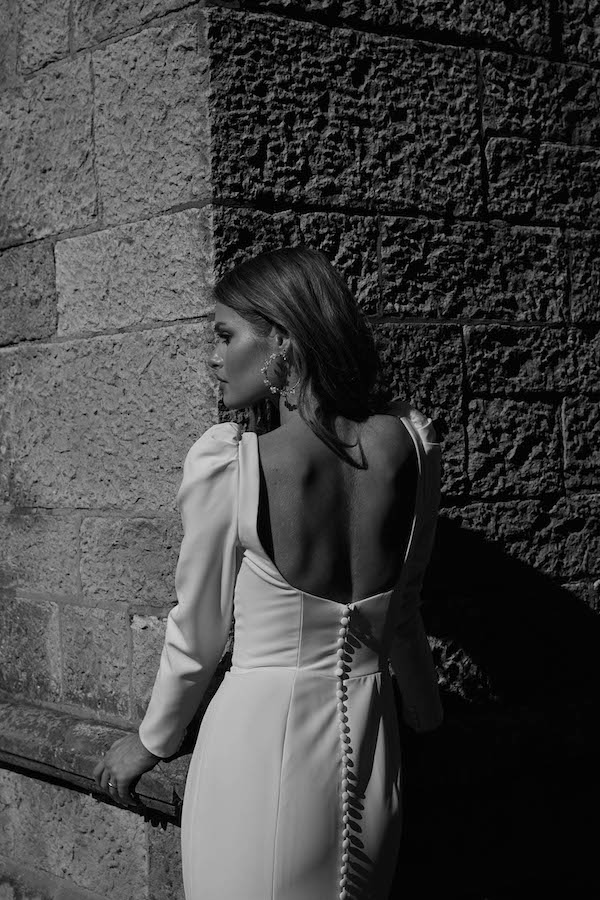 4. Lila
Lila is a sophisticated, luxurious lightweight crepe gown with a stunning fit and flare silhouette and a modern square neckline. She has a long fitted sleeve detail to elevate the look and buttons down the back of the gown to add some subtle detail to this simple gown. Lila is perfect for the modest, classy marrier and can be paired with a fun drop earring to add some personality!
These gowns are each breathtakingly beautiful and completely unique and we are thrilled that we get to share these amazing styles with you! If any of these Evie Young gowns are calling to you, be sure to book a consultation with us!
We are hosting the Evie Young Trunk Show from October 21-30 for their newest collection, Visions of Her, so be sure to keep an eye out on our social media for sneak peeks of those styles and book in for the trunk show to get an exclusive opportunity to try them on! If you have any questions regarding Evie Young, feel free to give us a call or send us an email!
Book Now