DESIGNER SPOTLIGHT: ANNA CAMPBELL
Revelle babes, we have a very exciting trunk show coming up from one of our fave designers: Anna Campbell!
Over the last year we have picked up over five new designers to add to our collection here at Revelle and one of those is the stunning and impressive Australian designer, Anna Campbell. The pieces that we have picked up from Anna Campbell are completely unique and the quality is impeccable, which gives us immense comfort in knowing that our brides will not only look amazing on their big day, but they will feel amazing as well. We will be hosting an Anna Campbell Trunk Show from June 24-26 so please keep reading to see if you think Anna Campbell is your gown!
Anna Campbell began in 2006 and all of the pieces produced by them are designed and created by a small team in Melbourne, Australia. The Anna Campbell team works on each collection for an entire year, as each piece is hand-embellished and made with intention.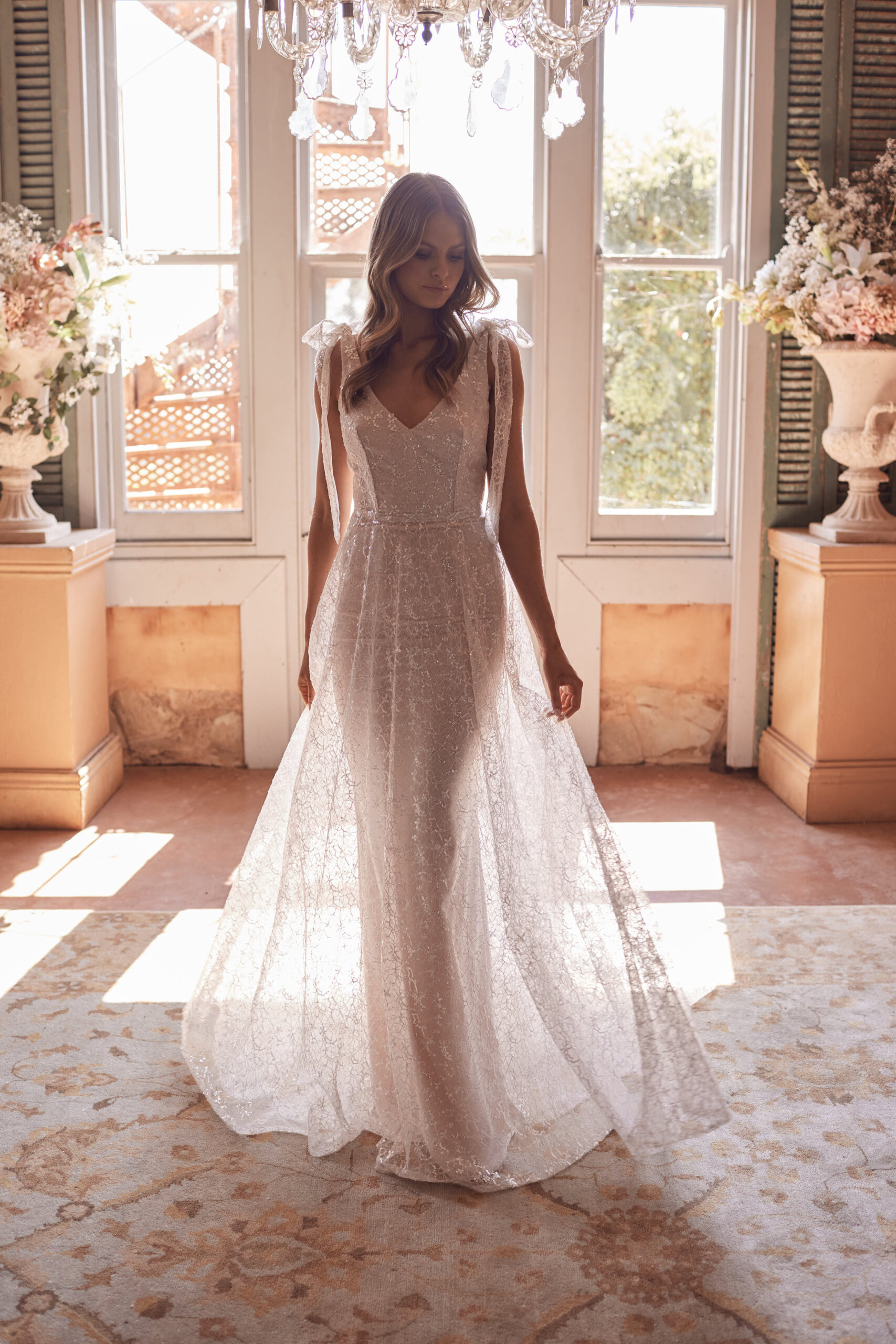 About Anna Campbell
Anna Campbell places quality over quantity, so while her collections may not be as large as other designers, the quality is exquisite, from sleek, figure-hugging crepe to intricate hand-beading. The Anna Campbell pieces are created with the romantic bride in mind and are all ethically and locally hand-made in Australia, which we love. We also love that Anna's advice to brides is to always stay true to your personal style when choosing your dress and make your wedding about you and your partner. As we know, weddings can be so overwhelming and it can be challenging to make the big decisions, but her advice is a reminder to remain grounded and focus on what is truly important, the love that is being celebrated between two wonderful people. 
Ethical & Sustainable Fashion
Of course, there are so many things we love about being Anna Campbell stockists, many of them mentioned above, but there are a few stand-out reasons that Revelle decided to pick up Anna Campbell in March of this year. One of the biggest reasons is that, as previously mentioned, the pieces are ethically and locally made in Australia by a small team. Working in the bridal fashion industry has taught us a lot about the importance of ethical and sustainable fashion. As a small, family-owned bridal boutique, we not only appreciate the value of small businesses but we also appreciate the importance of being leaders in creating opportunities for others to make more ethical and sustainable choices, so we are passionate about providing a space for brides to shop designers who promote these same values. We also chose to pick Anna Campbell up because of their unique beading and lace patterns that are modern, elegant and glamorous, all at once. Finally, we were so excited to pick up Anna Campbell for their spectacular separates. Bridal fashion is ever-changing and one of the biggest trends we are now seeing are bridal separates which we totally love!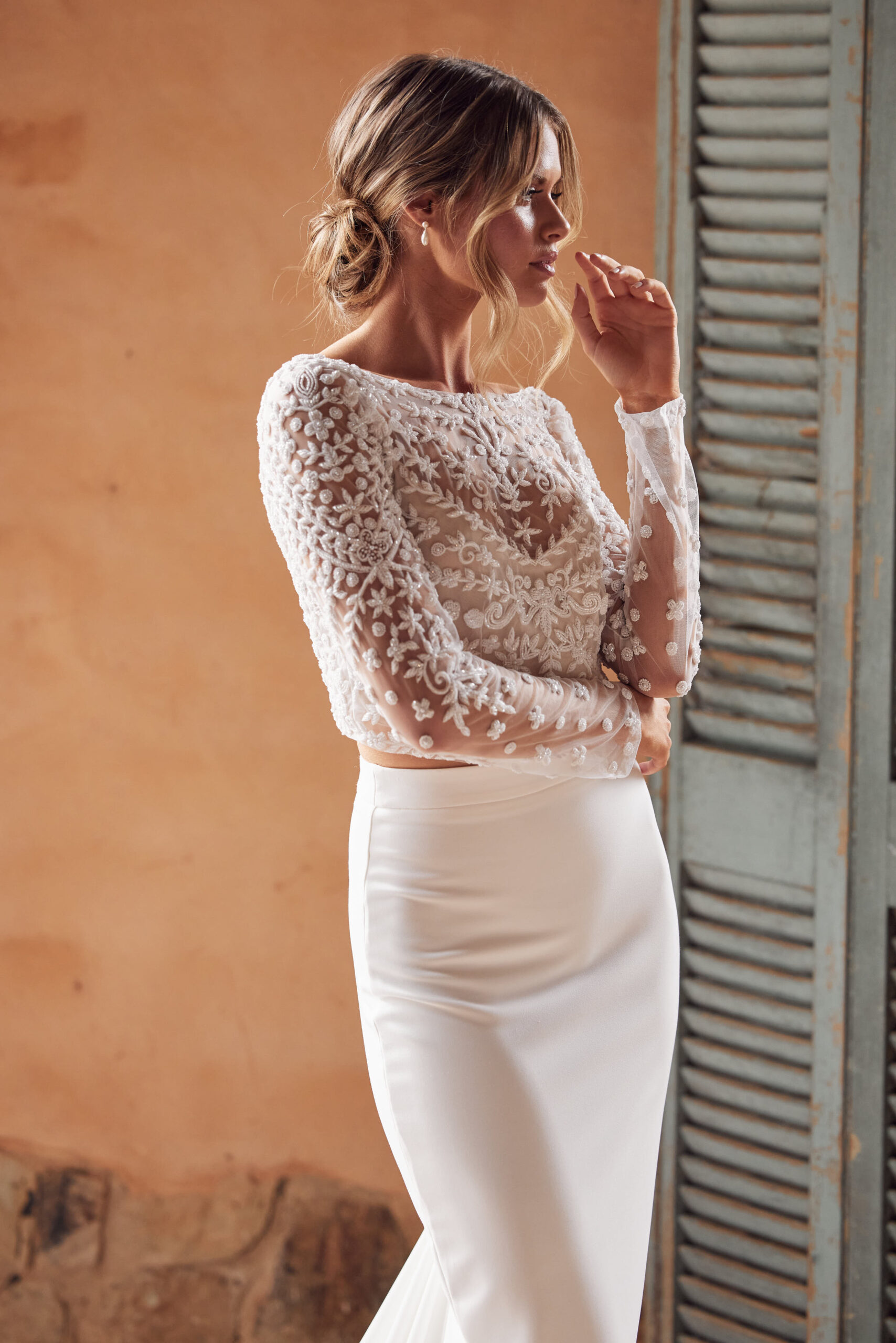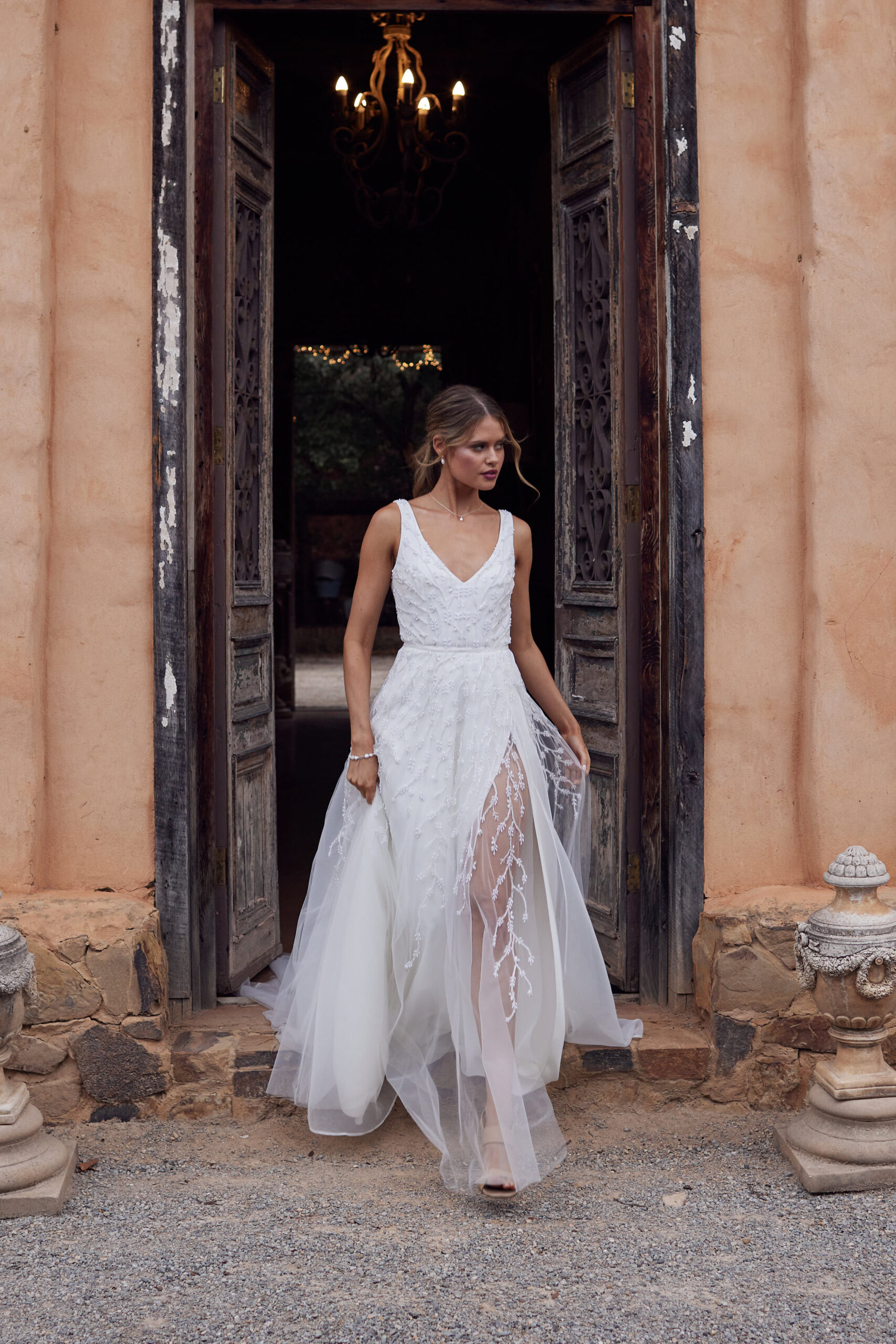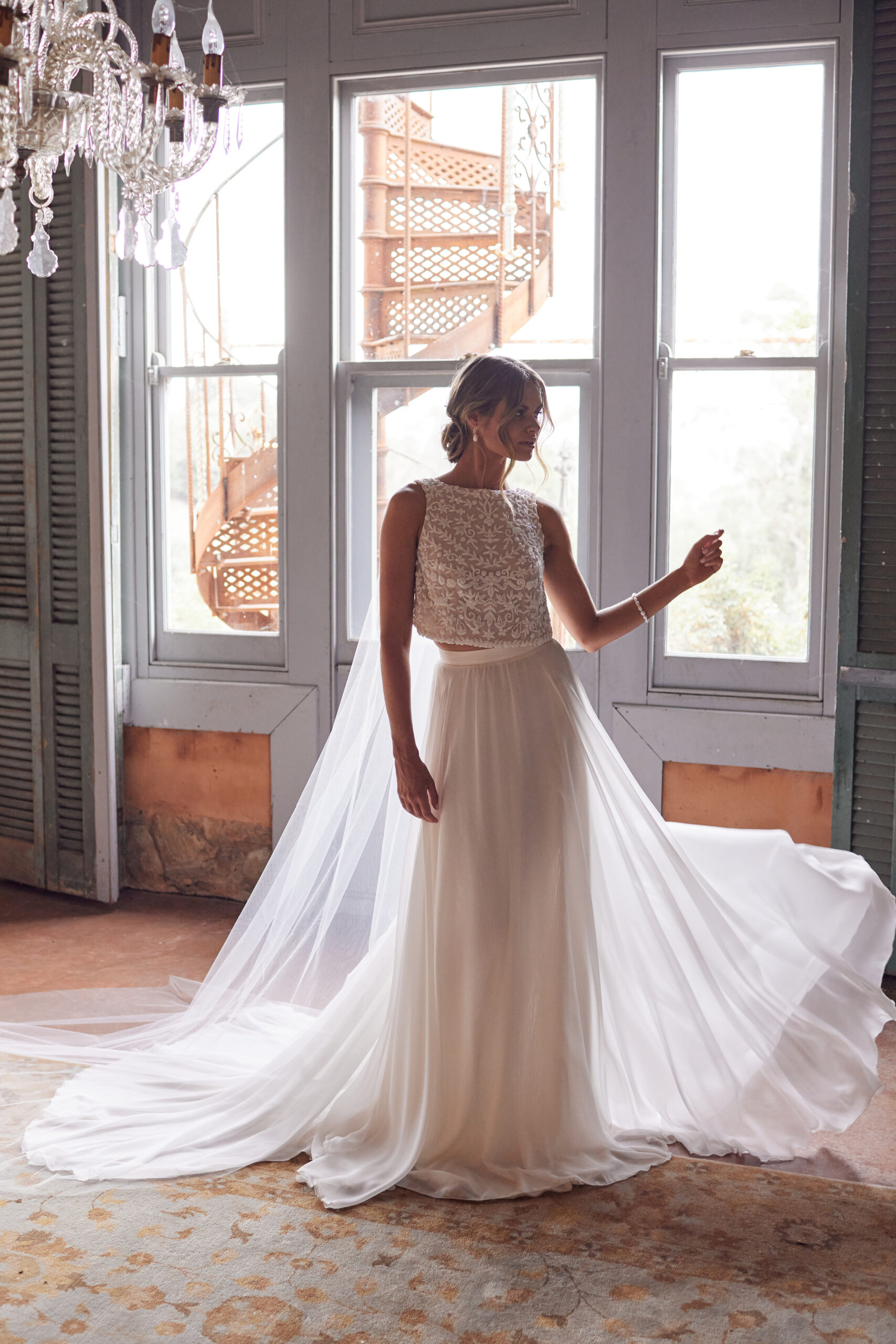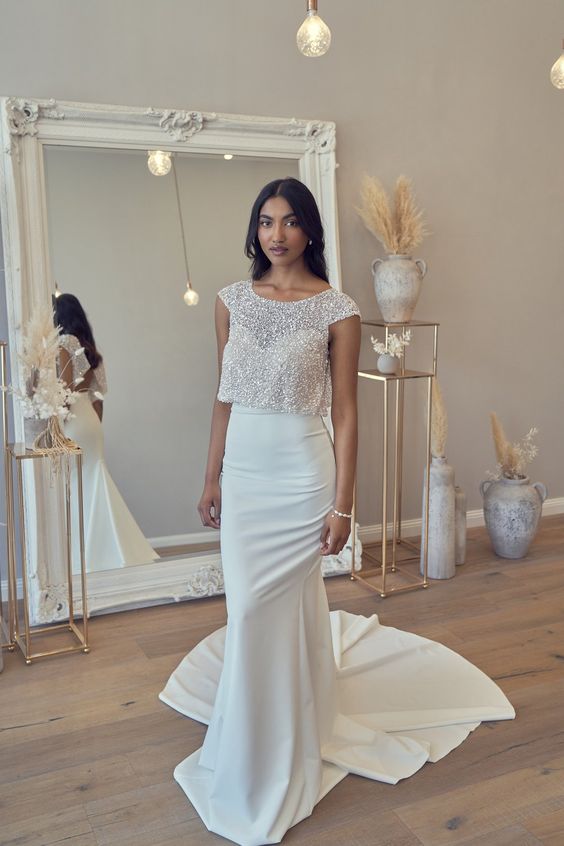 Their Seperates
One of our best-selling separates here at Revelle is the Meadow Topper and Darcy Skirt pairing. The Meadow Topper is a gorgeous, sparkly, hand-embellished top with cap sleeves and an open back and is often paired with the Darcy Skirt, a stunning, sleek, fitted crepe skirt. The two together are the perfect pairing of elegance and fun and we cannot wait to see how our Revelle brides style this look for their wedding day. We also love the Autumn Topper and Summer Skirt pairing; the Autumn Topper being a delicate, ivory, hand-embellished top and the Summer Skirt being a flowy, silk chiffon skirt, with a stunning waistband. The two create a gorgeous look for an outdoor summer wedding for the bride who wants to dance the night away.
Their Gowns
While bridal separates are a big fave of ours at the moment, the Anna Campbell gowns are equally spectacular so we have to introduce some of the stand-out pieces that we carry. The River gown is one that we have yet to stop thinking about since the first day we saw it, with its intricate, sparkling beading, modern square neckline, and showstopping open back. We also adore the Elle gown, with its floral-inspired ivory beading, classic v-neckline and flattering fit and flare shape.  We are also completely obsessed with the Finley Gown, with its embroidered dotted lace, flattering waistband, and a subtle sequin shimmer, it is to die for all on its own, but the detachable petal sleeves are the perfect finishing touch. They lend a little bit of edge to the sophisticated base dress and create a wonderful second look.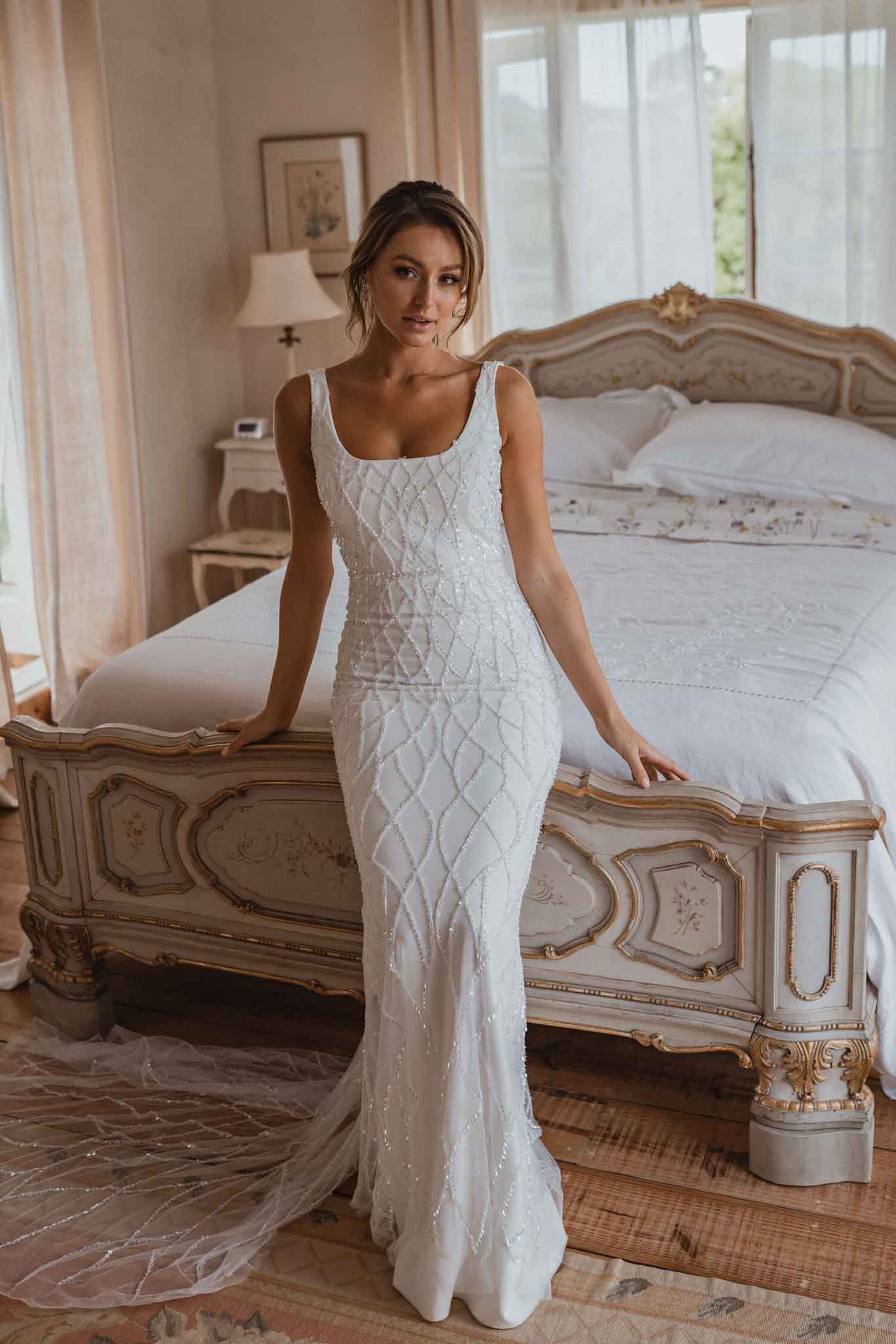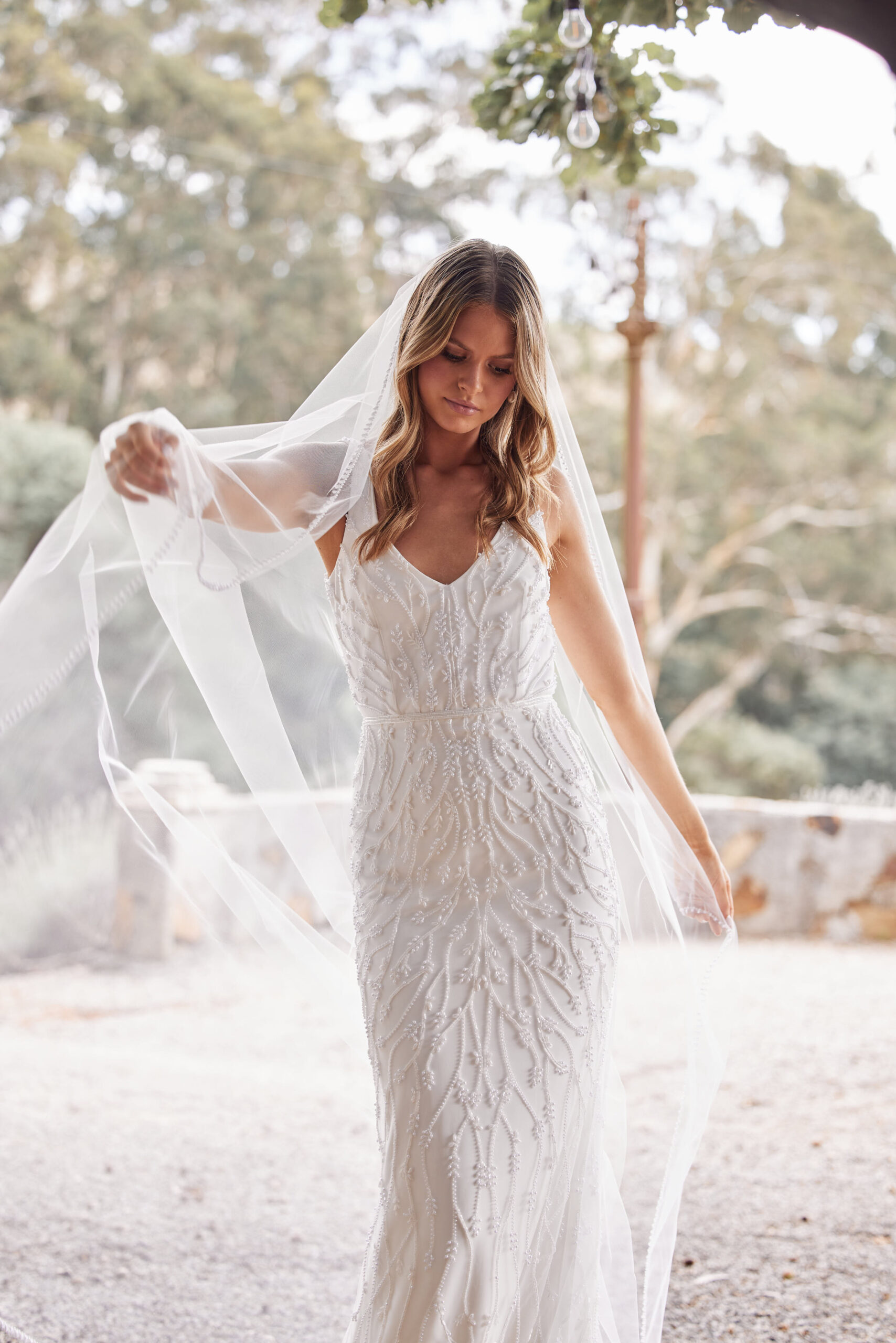 Shimmer Collection
Finley and Elle are just two of the fabulous pieces from their newest Shimmer Collection that will be available to try at the upcoming Anna Campbell Trunk Show that we are hosting at Revelle from June 24 to the 26th. The Shimmer collection is complete with intricate beading, stunning silhouettes, and fun separates. The gowns are available to order in sizes ranging from XXS to XXL and are at a price range of $3400 to $6000. The Shimmer Collection is available for order anytime at Revelle, however, the full collection will only be available to try during the trunk show, so if you are loving Anna Campbell, make sure to book a consultation during the trunk show so that you don't miss any of the amazing pieces!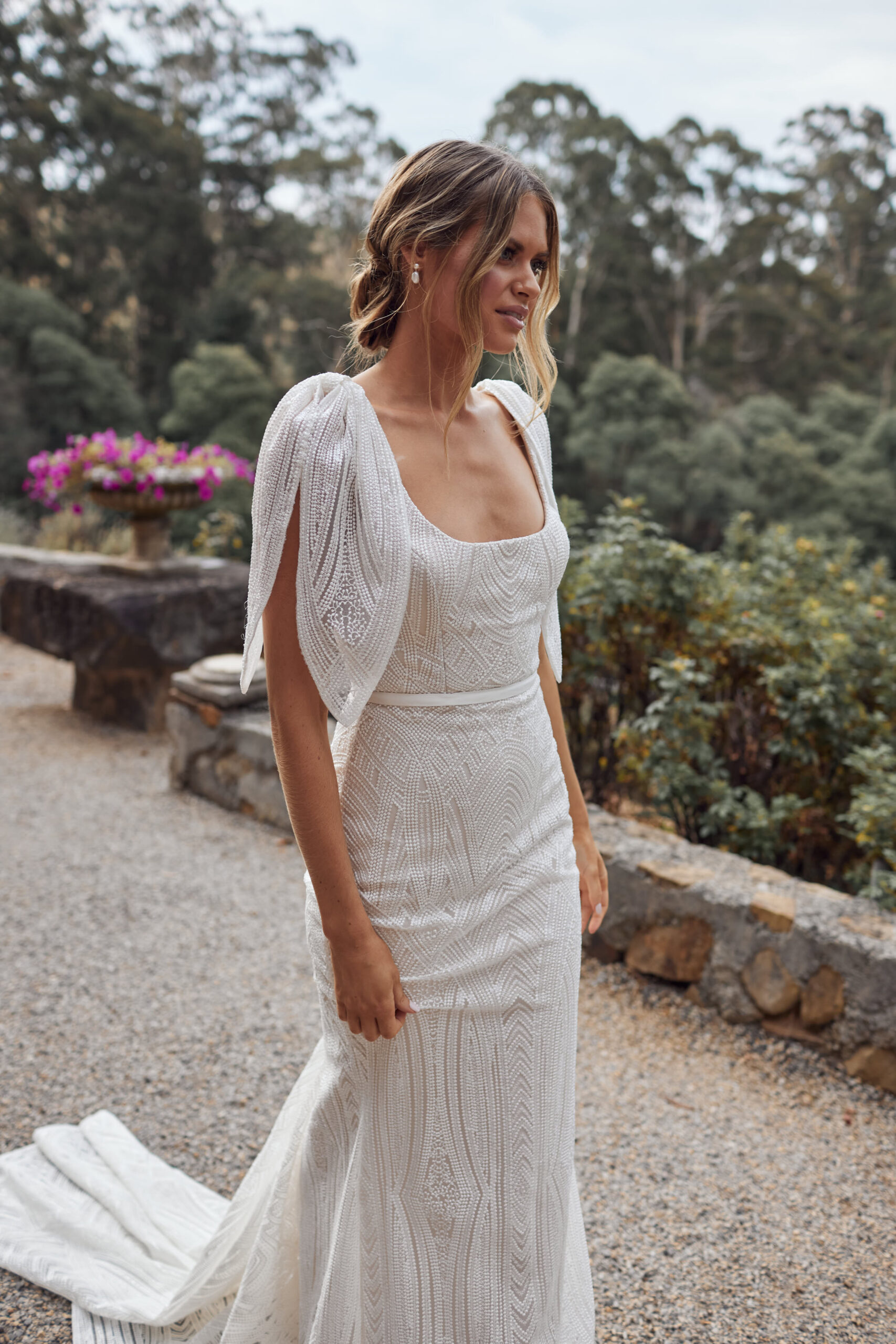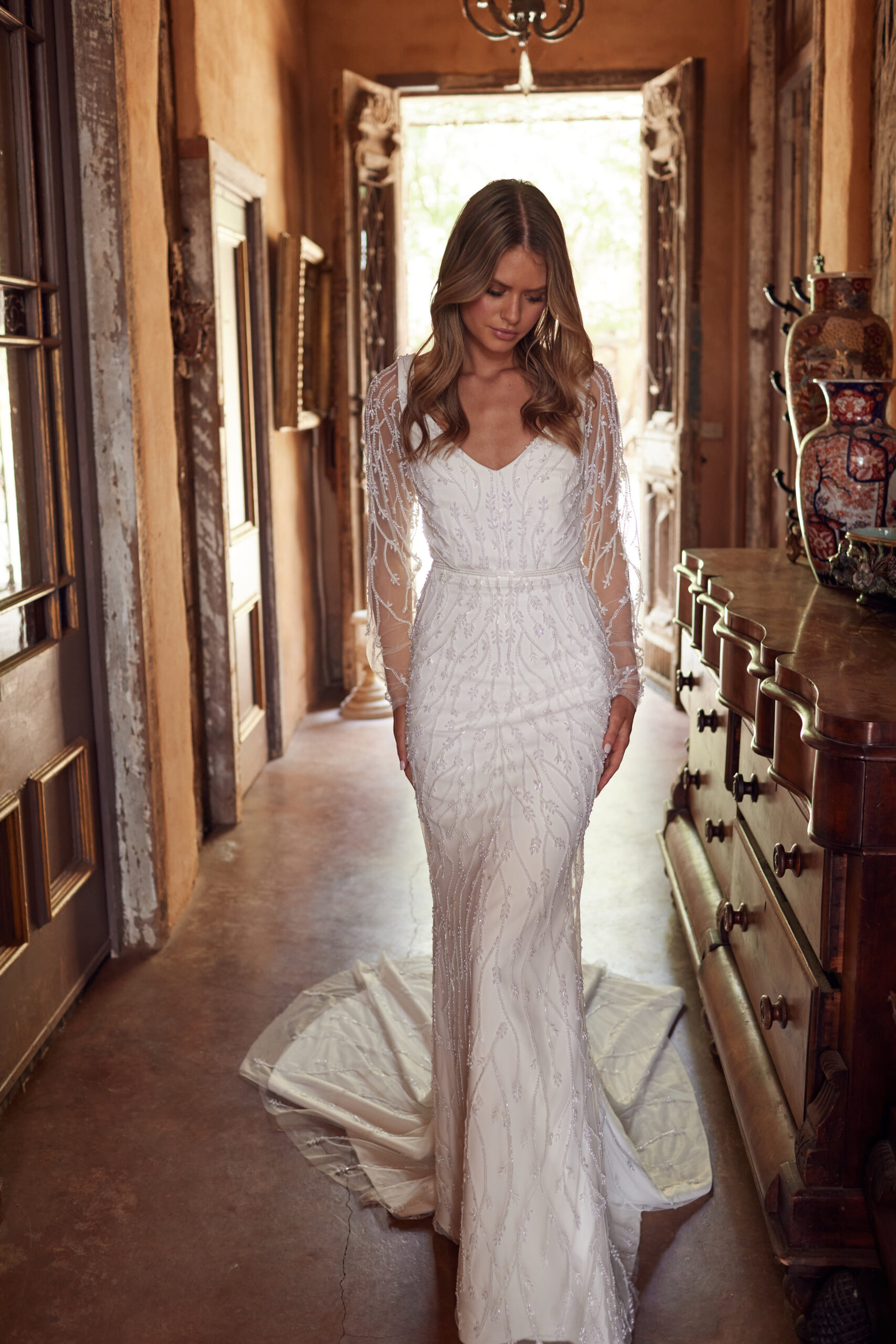 Tips for you
A few quick tips that we want to relay to all brides interested in Anna Campbell are, make sure to buy your dress 10-12 months before your wedding as Anna Campbell gowns take at least 6 months to produce and we want to leave plenty of time for shipping, handling, and alterations, and play around with different options for each look, for example, try a gown you love in different colors, add some fun sleeves, or switch up the separates to make sure your final look is everything you hoped for and more. 
Book with us!
Thank you so much for reading and keeping up with our blog, and if you have any further questions, do not hesitate to contact us directly! We hope you are all loving Anna Campbell as much as we are and we cannot wait to help you create your dream look at the Anna Campbell Trunk Show from June 24-26!