Shop Sample Gowns
Frequently Asked Questions
All the questions!
Interested in purchasing a sample gown online but still have a few questions? We've got answers! Reach out to us anytime for additional information.
Why would I want a sample gown?
Purchasing a sample gown is a great way to save both time and money. If you are looking for a designer wedding gown but have a limited budget, a sample gown is the next best thing. Our sample gowns have been tried on by other brides at Revelle but have never been altered or worn outside the boutique. Please note that the price of each gown reflects the gentle wear and tear of each dress. However, most of these gowns are in excellent used condition.
If you are concerned with your wedding timelines and need a dress right away, purchasing an off the rack sample gown is perfect as you can have the gown as soon as possible. If your wedding is sooner than 6-10 months, you may not have time to purchase a made-to-order gown or you'll be subject to additional rush fees. Alternatively, when you purchase a sample gown from Shop Revelle it will get shipped to you right away and you will receive it within 1-10 days.
Are the sample gowns used?
All of our sample sale gowns are just that – our former samples. Our prices reflect the condition that each gown is in. Although they were tried on by other brides, none of the gowns were worn or altered and most gowns are in good to excellent condition.
What is the price range of sample gowns?
Our off the rack sample wedding gowns range in price from as low as $200 to $2000 with the majority priced between $700 to $1500. These sale prices reflect savings of up to 70% off original retail prices.
What is the size range of the sample gowns?
The sample sale gowns range in size from 6 to 18. Please keep in mind that bridal sizing is about 2 sizes smaller than regular street size.
How do I know what size I am?
Bridal sizing is quite different from street sizing so we highly recommend that you take your measurements using our guide. Once you have taken your measurements, check the applicable designer size chart included in each product page. Most of our samples are bridal size 8 to 12.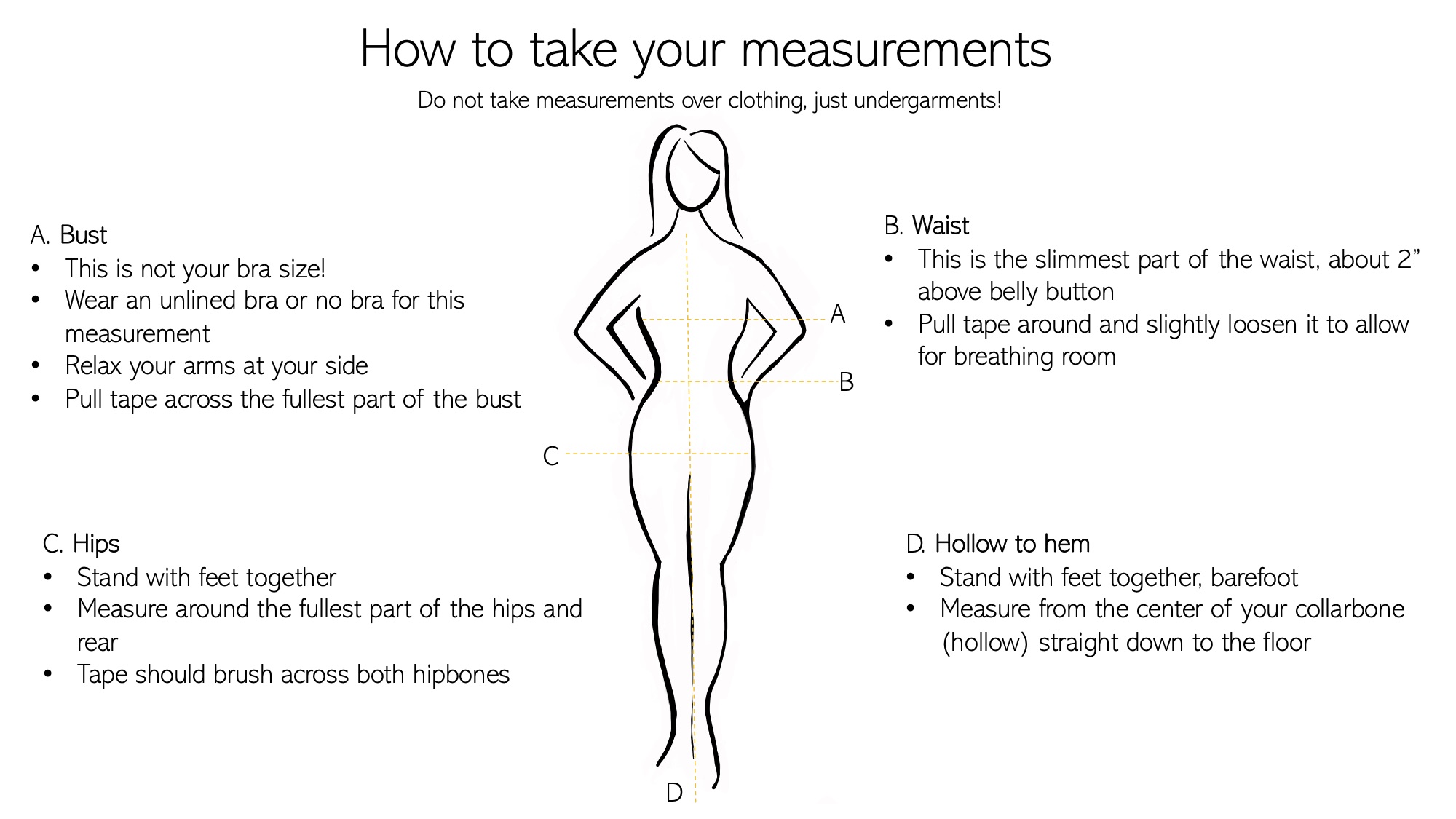 What if the only size available is too large or too small?
If your dream dress is not in your size, our alterations specialists can work with you to make sure it fits perfectly. As a general rule of thumb, we don't recommend altering a dress if it is more than 2 dress sizes off from your size as the integrity and structure of the dress will be compromised. Most designer gowns don't have enough seam allowance to let out a gown that is more than 1-2 sizes too small. Alternatively, taking in a gown that is more than 2 sizes too big may change the actual design and you may end up not loving the end result. Either way, if you're unsure about what can or can't be altered contact us at Revelle and we can discuss your options!
What about alterations?
When you purchase a gown from Revelle Bridal whether it is a sample or made-to-order gown, you have the option to work with one of our very talented alterations specialists. We suggest to budget about $500-$800 for alterations. Please remember that the cost for alterations is not included in the price of your gown.
Can I try the gown on in-person before purchasing?
YES you can. Please give the shop a call to book your Shop Revelle appointment.
How long does it take to receive the item(s) I purchased?
Depending on the shipping rate option you choose, you will receive your package within 1-10 days. Please review our shipping rates closely to ensure you choose the proper one. If you aren't in a rush to receive your purchase and prefer to pick up at Revelle Bridal, please contact us to make arrangements.
What happens if I don't like the dress once I receive it?
We have a strict no return, refund, exchange or store credit policy. Please review our full policy here.
If there are certain things you would like to change about the dress (straps, train length, not enough sparkle, etc.) then you can work with one of our talented Revelle alteration specialists to make your dress perfect.