TRUNK SHOW ALERT… SARAH SEVEN!
Why go anywhere else, but Sarah Seven? Le DUH
Sarah Seven is a family owned and operated business based out of New York City, with flagships in Los Angeles, San Francisco, and Chicago. Sarah's goal was to combine old-world charm with modern touches to create a unique and beautiful bridal brand. 
We are hosting an in-store trunk show for both the Sarah Seven and Bride collection from May 5 – May 13th where you can receive 10% off your dream gown! 
WHY WE LOVE THEM.. I mean, these gowns are beautiful, timeless, unique and chic as shit ! We are lucky enough that Revelle has both the Bride and the Sarah Seven line in store and while they showcase different styles, they are equally as gorgeous in design and quality. Let's talk about some of the fabrics that Sarah Seven and Bride have to offer and the differences between both lines and their price points.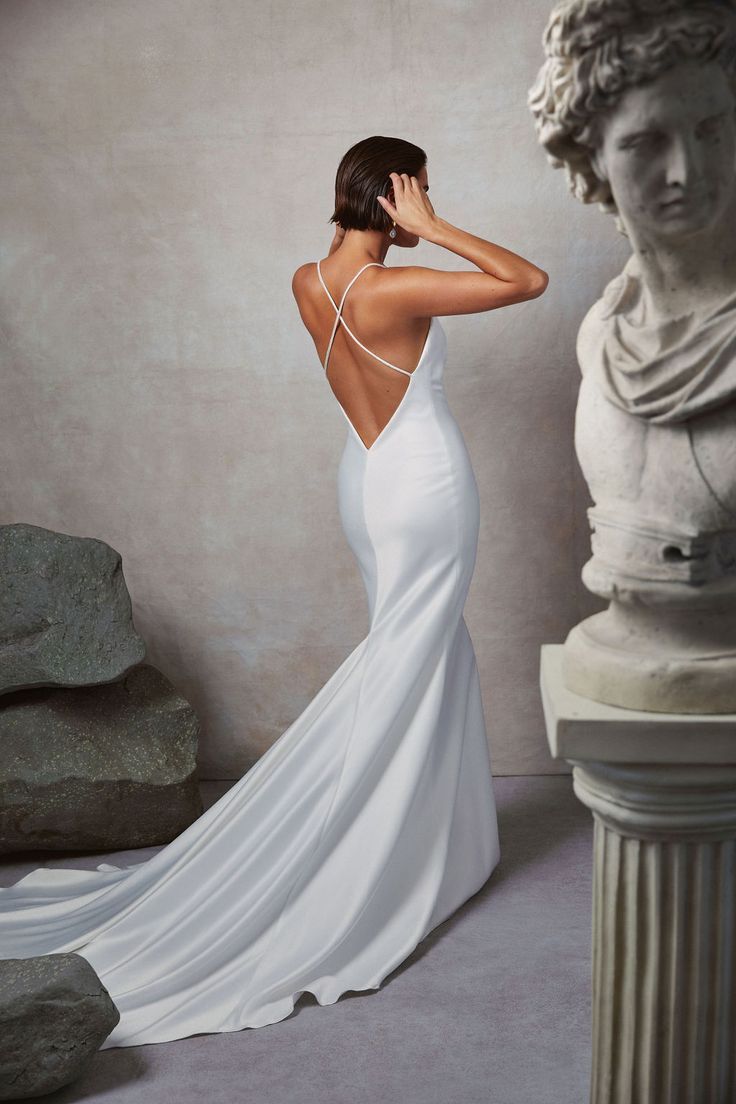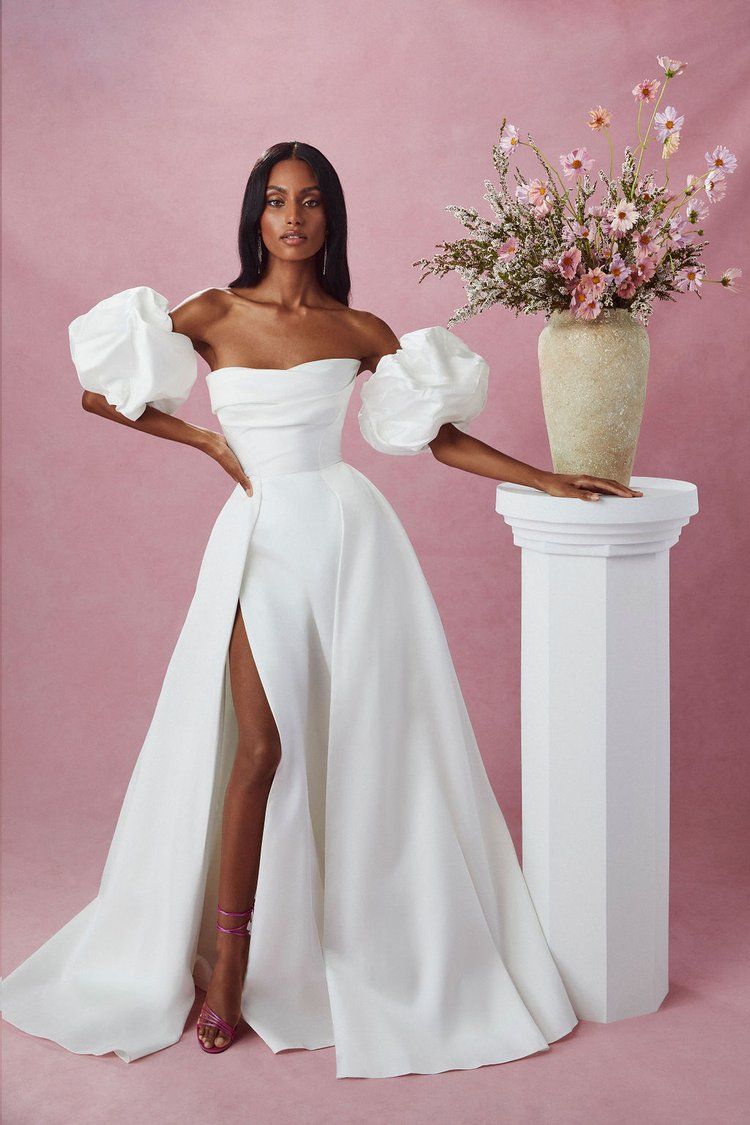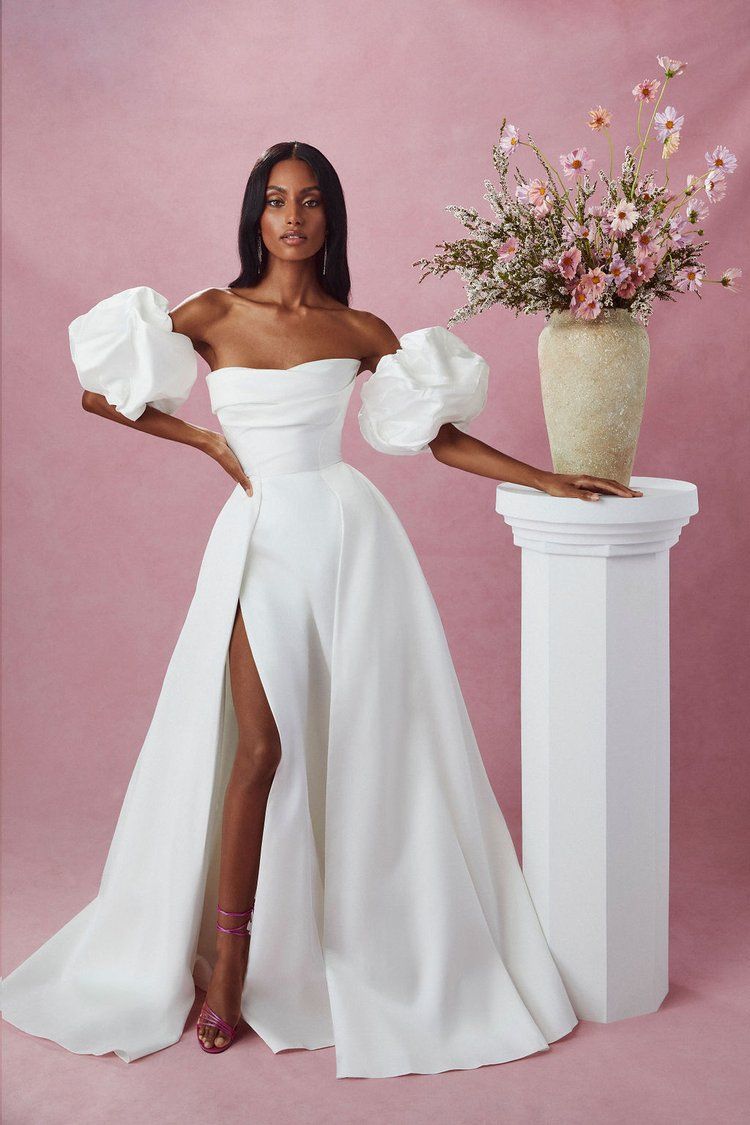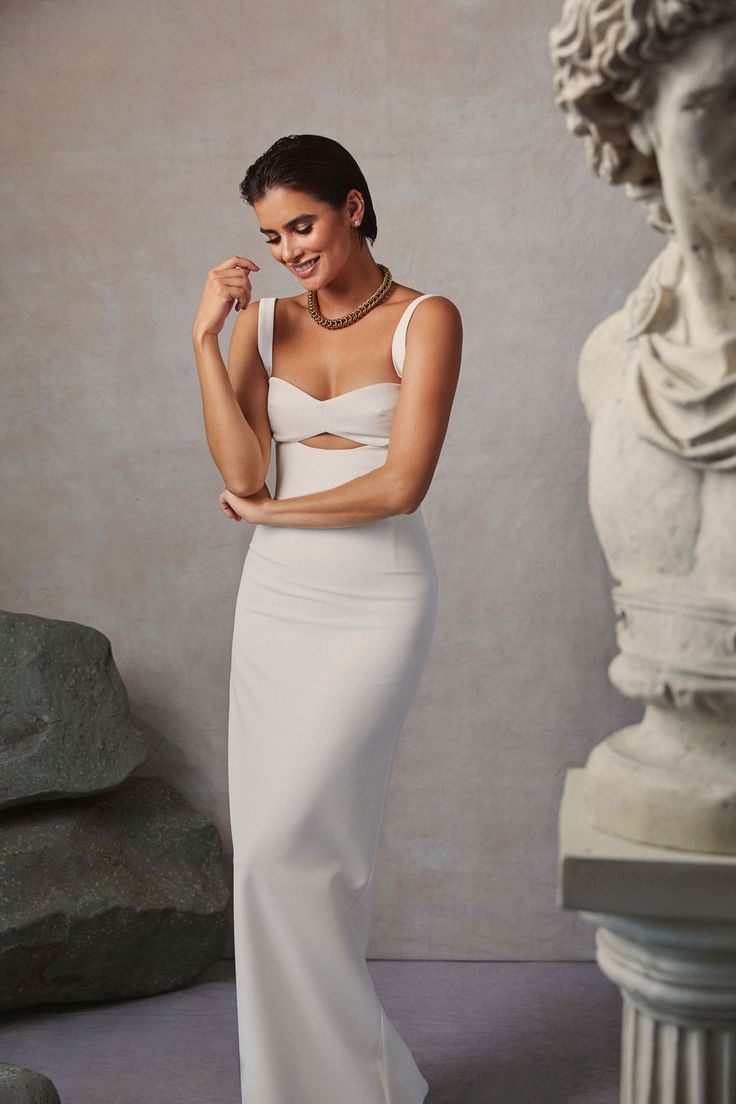 SARAH SEVEN LINE
The namesake line consists of stunningly chic gowns for the modern bride with fabrics such as satin back crepe, pearl crepe, and standard crepe, developed exclusively for Sarah Seven. Prices for this collection range from $3,450 to $5,100 CAD.
Satin back crepe
Take a look at both our Athena gown from the Greek Edit collection and Rosanna from their best sellers ! These gowns  are made of Sarah Seven's exclusive satin back crepe which is an elegant, silky fabric that has a smooth, lustrous front side, and more of a matte finish on the backside. It feels like butter and so luxe !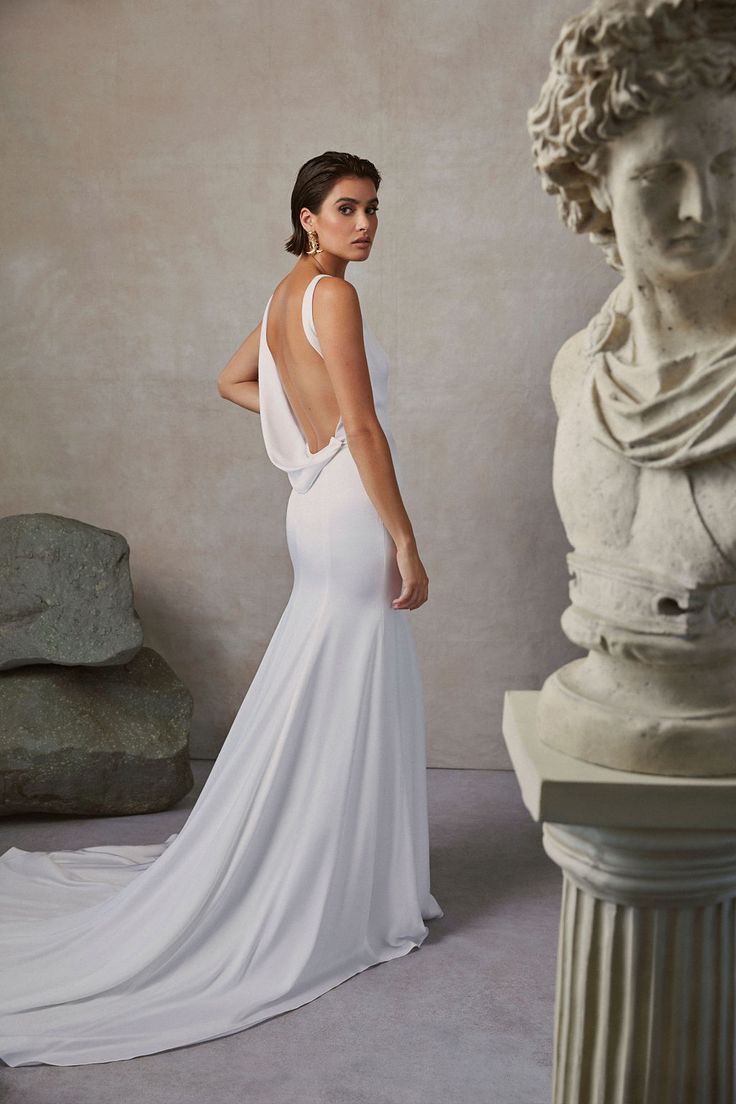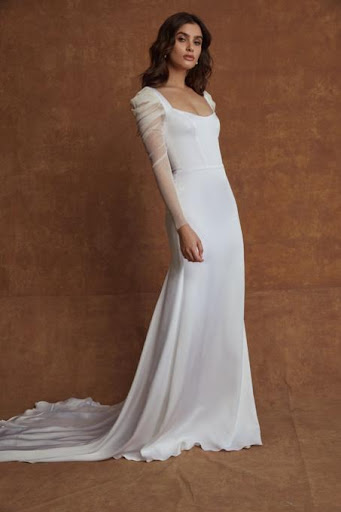 Meet, Athena & Rosana.
Athena is a stunning satin back crepe gown with thick straps, plunge v neck, no waistline, low back with cowl on one side, fit and flare gown!
Rosana is a unique satin back crepe gown with a scoop neckline, fit and flare gown with semi puff long sleeves.
Sarah Seven Crepe 
Believe us when we say that Sarah Seven crepe is unlike any other crepe you've met. Daphne and Cassiopeia are chic, sleek, minimalist style gowns made from this smooth and forgiving material. We love Sarah Seven's crepe material for its thickness, comfort and for its elegant and timeless look.
Meet, Daphne & Cassiopeia.
Daphne features a sweet heart neckline with thick straps, a gorgeous cut out in the waist, and square back.
Cassiopeia is a timeless look that features a high neckline with the cut out mesh on the sides, giving both sexy and elegance.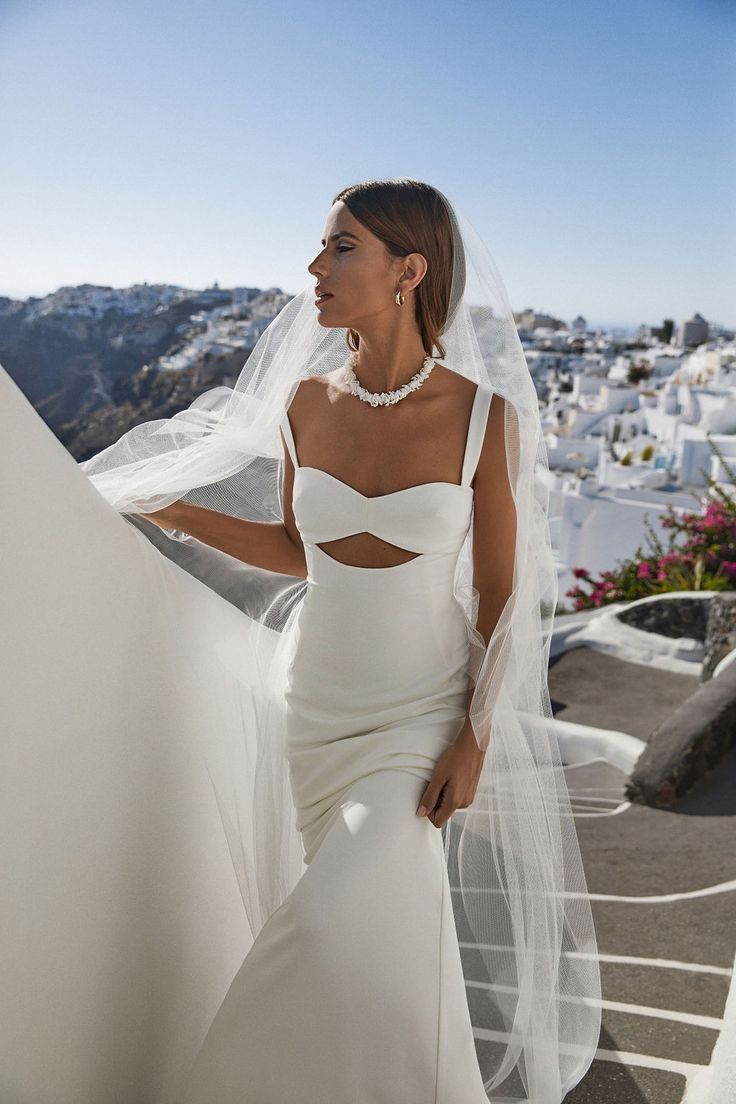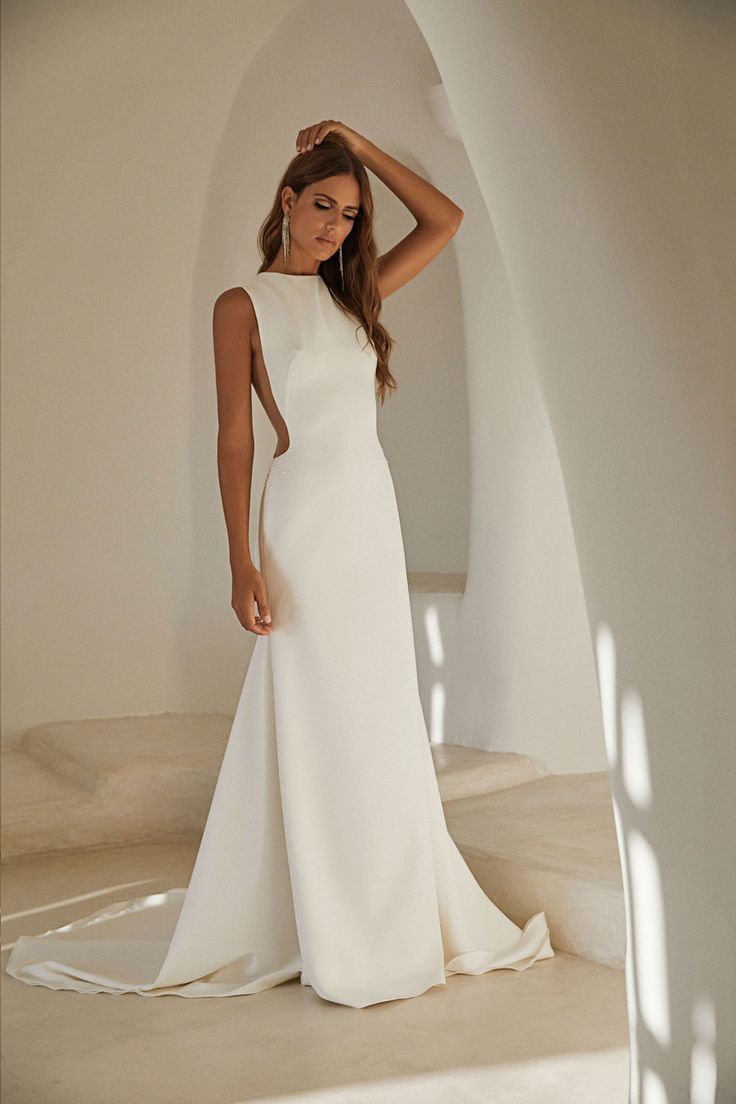 Pearl Crepe
Who doesn't love pearls? So elegant yet so gorg! If you are wanting something sleek and minimal but with a touch of drama, Sarah Seven's pearl crepe gowns are the answer.  Just like her standard crepe fabric with that smooth and comfortable feel, this material has the added touch of pearls scattered perfectly all over.  Bronte and Caterina are just the gowns for you if you love this fabric. . Dresses with pearls make for an eye-catching bridal moment and are still so timeless!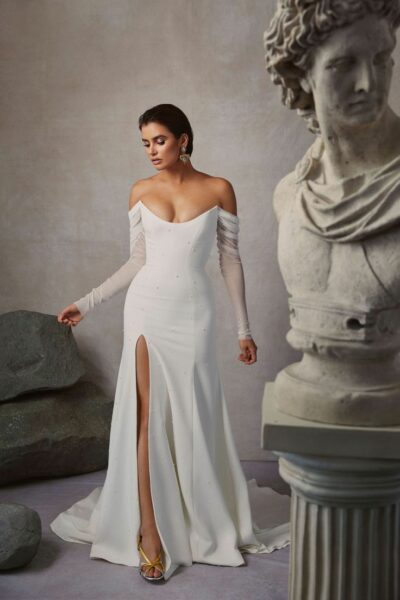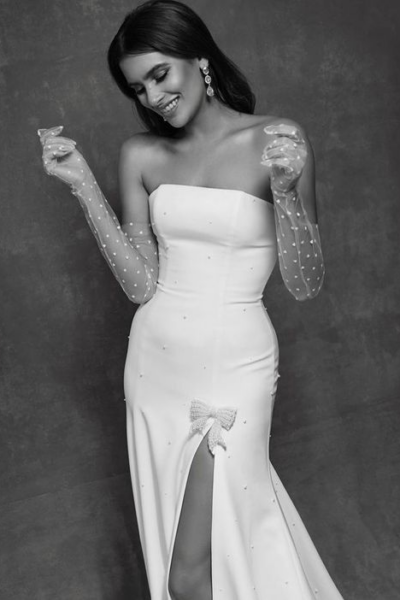 Meet, Bronte & Caterina.
Bronte is an off-shoulder, boning on the bodice with the scoop neckline crepe gown. This dress has PEARLS scattered everywhere and we are loving it!
Caterina is a strapless square neckline with pearl details spotted all over and finished with a gorgeous bow on top of the slit!
BRIDE COLLECTION
The Bride line is Sarah Seven's take on minimal maximalism, where intentionality meets the unique. It is grandiose and intentional, and for the bride who has a fashionable spirit with a love for the unusual. This line ranges from $5500 to $8000 CAD and features a variety of luxurious fabrics such as cotton silk Mikado, silk crepe, and silk wool.
Cotton Silk Mikado 
If you are looking for a gown that has more weight to it but with more of a luxurious feel, you will definitely love our Augustine and Francis gowns from Bride's "Grecian Era" collection. This cotton silk mikado is a luxurious type of silk and is perfect if you want structure to your gown! 
Meet, Augustine & Francis.
Augustine is a one off the shoulder gown with a ruching bodice, a fit to flare skirt in a cotton faille with silk mikado.
Francis is a stunning A line gown with slit, a structured bodice that has thick straps in a cotton faille with silk mikado.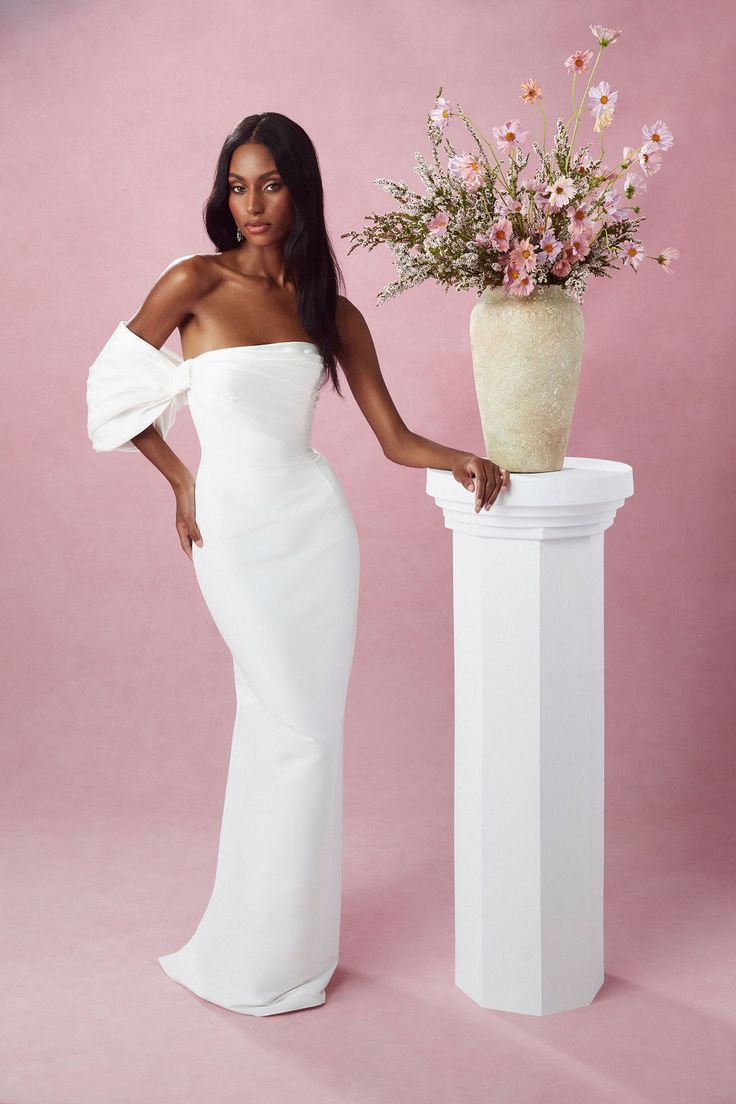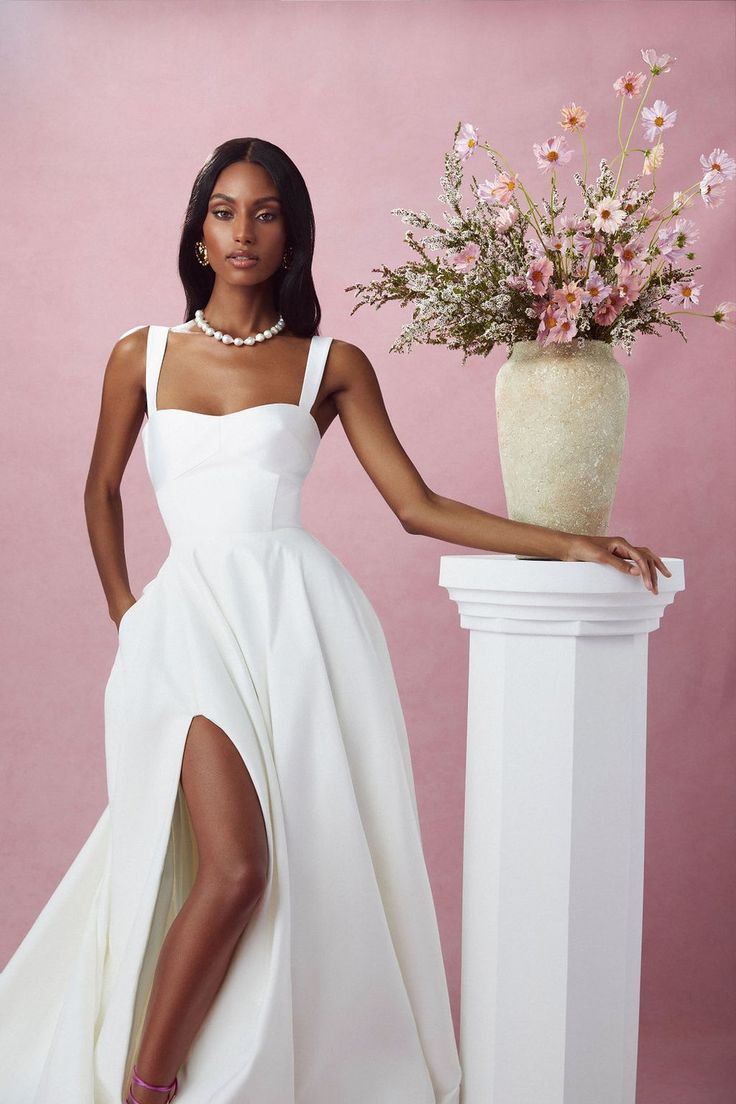 Silk Crepe 
One of our favourite fabrics in the Bride collection is Sarah Seven's classic silk crepe which has a lustrous, smooth and sleek feel to it! It is a character of silk, remaining strong and durable and very breathable and lightweight! The Inez gown from our Grecian Era Bride Collection and Blake from our best sellers collection definitely showcases this luxe fabric.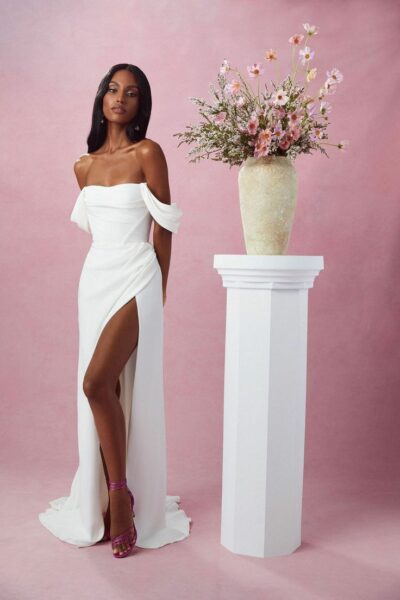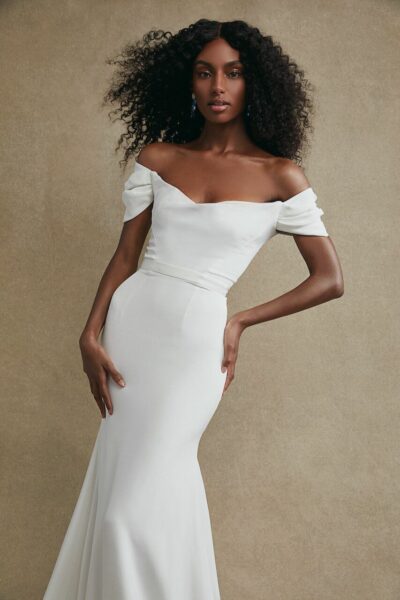 Meet, Inez & Blake.
Inez is a beautiful bodice gown with off the shoulder straps, side slit featured with ruching skirt in a silk crepe.
Blake is an off the shoulder gown featuring a structured corset and a fit and flare skirt.
Silk Wool 
Silk Wool is new to the Bride collection but we know it's going to be around for a while. We love silk wool's luxurious texture and although it is a bit heavier than other materials,  it has a nice warm shine that gives the gowns a romantic, almost vintage feel.  Joan and Regina are both great choices if you want some structure to a gown, but still keeping you feeling relaxed and comfortable. A plus for silk wool is that this fabric keeps your body warm in colder weather and cooler on warm summer wedding days!
Meet, Joan & Regina.
Joan is ICONIC with a sexy structured bodice, with spaghetti straps and fit and flare skirt in a silk wool.
Regina is an A line skirt with deep plunge bodice and a sexy side slit for the daring bride!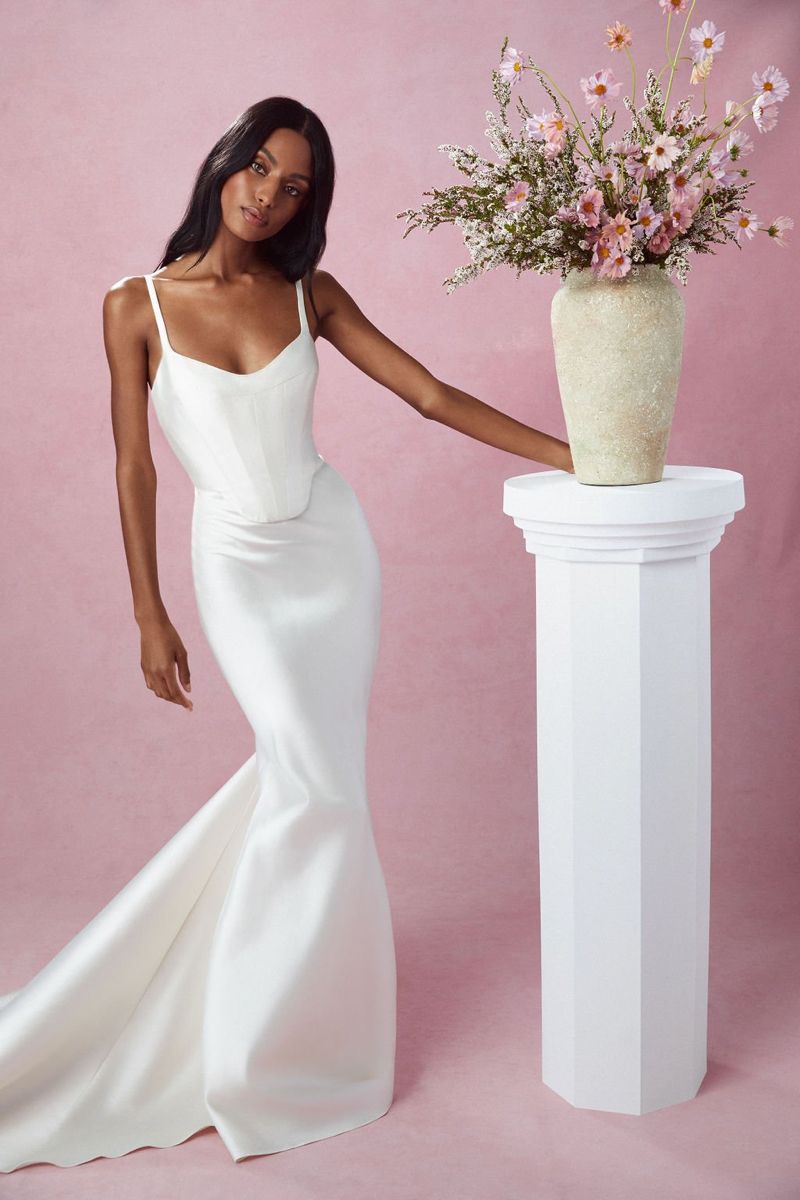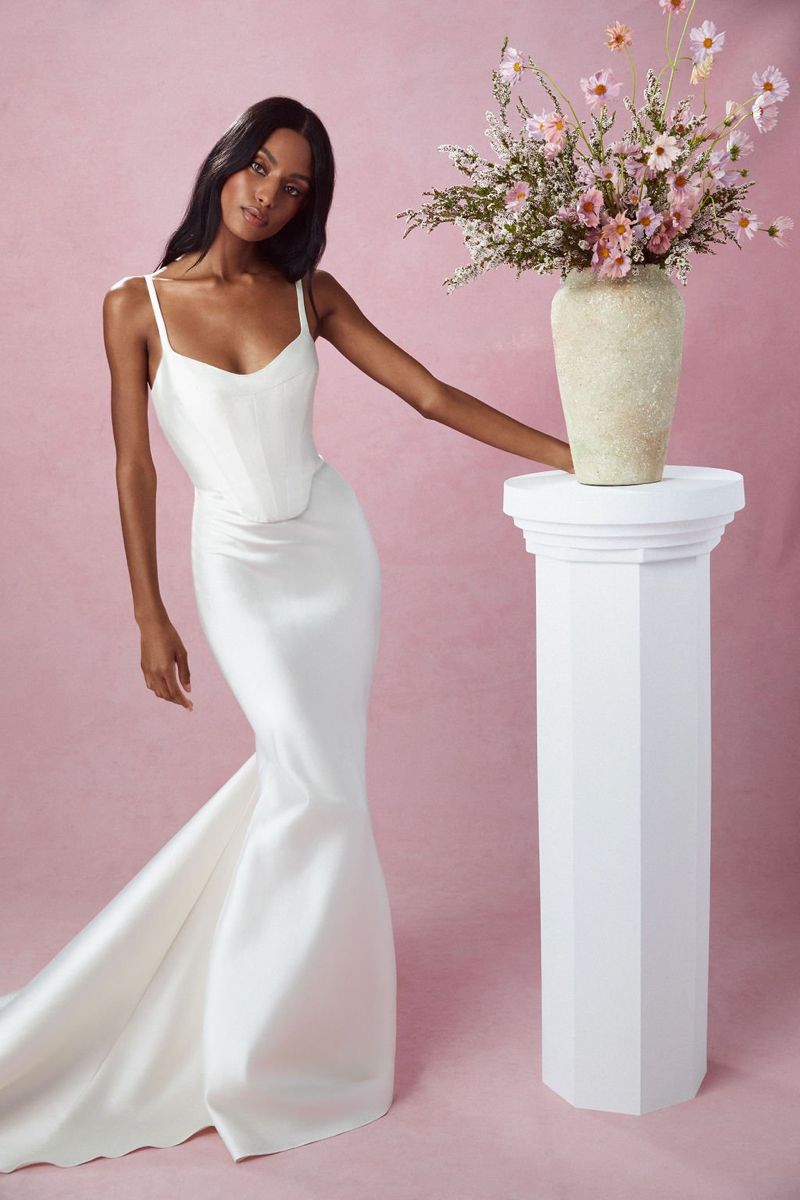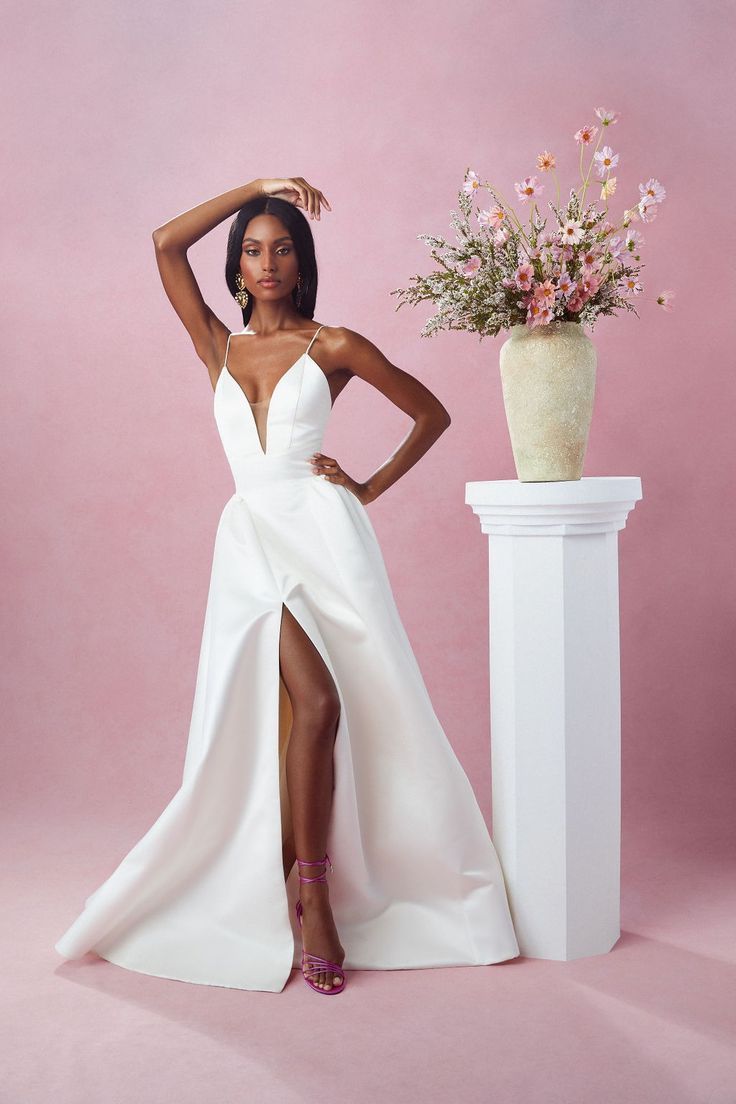 JOIN US! 
If you are Sarah Seven fan-girls like we are, you will definitely want to join us for our Sarah Seven / Bride Trunk Show that we're hosting here at Revelle Bridal from May 4-13th.  Simply book your bridal consultation during the trunk show period and if you say yes to a Sarah Seven or Bride dress, you will receive 10% off your gown. In addition, you will also receive a special Sarah Seven themed "say yes" gift bag.  Be Chic. Order Sarah Seven. Le Duh.
Be sure to book your trunk show spot now as availability is quickly filling up!
Book Now
Let's get Social:
Follow us @revellebridal to keep up with our Trunk Shows and other events!